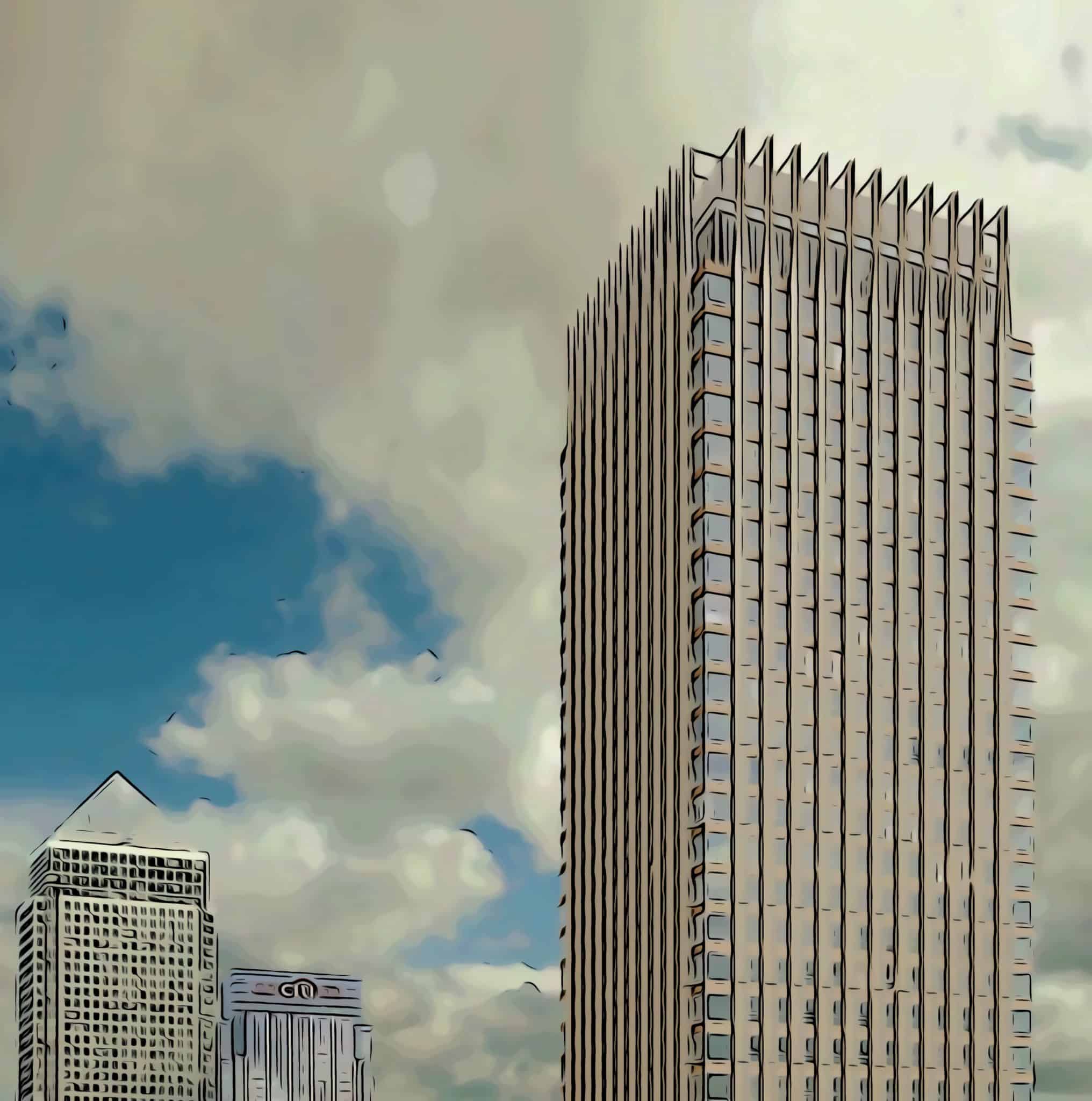 Park Place
---
56-Storeys, Canary Wharf
The latest designs for One Park Place in Canary Wharf take a dramatic turn from previously accepted plans. Replacing the giant, blocky office buildings of old, Skidmore Owings and Merrill have designed a slender 200 m + residential tower.
The ambitious plans involve creating a marker building in Canary Wharf, unlocking the waterfront of Middle Dock, and providing much needed new affordable rental homes in the area.
It's an ambitious plan, and is part of the Canary Wharf Group's growing desire to reinvent the financial district as somewhere to both live and work.
Despite the first iteration of this design suffering a planning setback in late 2021, there are plenty of reasons to see why this latest iteration of 1 Park Place will be successful. Here's the lowdown on Canary Wharf's newest development, and what to expect if the 2022 appeal goes ahead.
The evolution of one park place
One Park Place has an interesting history. From a development perspective, it has it all:
A prime waterfront location on the Canary Wharf estate with excellent transport links
Approved planning permission for multiple high-rise designs, to replace the ageing office space of the original Park Place
One of the most successful developers — with deep pockets! — the Canary Wharf Group

Despite this, the plot has sat undeveloped for over a decade since the demolition of Park Place's small office block in 2011. Previously approved plans have focused on commercial space only — the estate is a designated commercial development area — to complement the towering financial district led by One Canada Square.
This latest design iteration by SOM looks to get the go ahead where others have failed. 2021s Park Place plans bring an aesthetically pleasing, slimline tower, and a changed focus towards residential development. While there is a growing trend for residential developments in the Canary Wharf area, this plot sits firmly in the heart of the commercial financial zone, and will be only the second residential tower on the Canary Wharf estate itself.
Previous plan timeline
What's changed? A new outlook for the estate.
Wood Wharf — otherwise known as Canary Wharf phase 2 — is the CWG's attempt at reinventing itself as a residential destination.
Branded a 15-minute city, the group are looking to capitalise on the areas great transport connections, shops and bars, to introduce a more hybrid blend of working and living. This is a step-change from the previously commercial-focused estate.
Canary Wharf's latest 1 Park Place development plans capitalise on this change of usage. Alongside neighbouring Newfoundland — also managed by high-end rental brand Vertus — SOM are looking to create a mini residential hub within the commercial district.
This will provide over 600 new homes to the area, alongside a small portion of retail, providing an interesting living proposition among the commercial dominated area.
The slender tower is designed to act as a marker building, signalling the improved pedestrian links and waterside plaza area that the redesign of this dockside plot will bring.
---
SOM's latest development quick look
624 new homes spread over 55-storeys
One of the tallest buildings in Canary Wharf with a height of 205.6 metres
Slimline, single-tower development occupying only 20% of the plot area
Residential units are build-to-rent only, managed by Vertus
Some of the highest public transport access scores in London
New waterside regeneration and public plaza areas

Architect: Skidmore Owings & Merrill.
Developer: Canary Wharf Group
Building management: Vertus, a residential leasing company specialising in build-to-rent developments, and part of the Canary Wharf Group
Development key points
Here's a roundup of the promised benefits for Park Place, alongside some of the compromises that the planning committee are considering.
Affordable homes
Genuinely affordable homes are becoming an increasingly sought-after commodity in central London, and Canary Wharf is no exception. This development offers 180 affordable homes, in two differing types. These will be some of the first affordable homes available within the financial estate.
50 homes let at London Living Rent levels. A below-market rate offering to enable Londoners to save for deposits, with rates set by the Mayor of London following benchmarking of individual neighbourhoods
130 affordable units let at discount market rates which are set by Tower Hamlets council

New developments typically achieve 25-30% affordable homes. However, the One Park Place plans are aiming to achieve fast track planning permission by designating a high portion of the available units as affordable — at over 35% of the available units.
For qualifying households — with incomes less than £60,000 per annum — discounted market rents are significantly cheaper than nearby properties. One-bedroom apartments range from £1072 per month, but the greatest discounts can be found in larger properties. Three-bedroom apartments are forecast from £1288 a month, several thousand pounds a month cheaper than 3-bedroom market rental units.
To qualify as discount market rents, properties have to be leased at less than 80% of the market rate. However the groups plans for One Park Place involve genuinely affordable homes. With the area's sky high rental rental prices, the estimated rents at Park Place equate to approximately 39% of the local areas monthly rental costs, a huge discount.
Additionally, while many of the area's newest developments include huge provisions of one-bedroom and studio apartments, larger homes can be lacking. It is notable that the affordable home provision will also include homes for larger families. 20 units are planned as three-bedroom family-sized units — all to be offered at discounted market rates.
---
Excellent connections
The Isle of Dogs transport links improved massively with the development of the Canary Wharf financial estate, bringing the DLR and later Jubilee line extension to the area. Despite this as connections have always been tailored to the 100,000 workers on the estate, some developments in residential areas of the Isle of Dogs can be a 15-20 minute walk from the nearest transport connection.
One advantage of One Park Place's location — within the heart of the commercial area of the estate — is that it has some of the best public transport access in London. In addition to the 24-hour bus network the site is under 10 minutes walk from 4 major transport hubs: DLR, Jubilee line, ferry service, and upcoming Crossrail.
TFL score public transport areas using the public transport accessibility level (PTAL) scores, ranging from 1-6 according to distance and frequency of services. The site currently has a (PTAL) of 6a, and this is likely to improve to the highest possible score with the imminent opening of Canary Wharf's Crossrail station next year.
---
Waterside landscaping
Recent developments in Canary Wharf — such as residential Quay House, or retail-based Water Pavilions — have continued to try and improve and activate access to the waterside area.
With the initial Canary Wharf masterplan heavily focused on maximising internal office space, waterfront access can often come across as an afterthought. Dockside paths can be limited, and access to the waters edge restricted.
Inspiration for improving the public space has been taken from another ex-industrial area, the redevelopment of Kings Cross. Stepped waterside seating, water features and public plazas have helped open up access to the canal side and connect residents with the water.
Skidmore Owings and Merrill's plans for 1 Park Place's small 0.40 hectare site aim to continue to improve access to the docks and mimic some of the Kings Cross redevelopment's features. The tiny footprint of the slimline tower means that 80% of the site area can be dedicated to public realm and waterside zones:
New plazas surrounding the building
Wooden steps and waterside seating
Water feature and floating decking platform in middle dock

Clever landscape design aims to introduce a tiered public area, and will create two new pedestrian routes north-south. As a typical example of Canary Wharf's previous hostility to the waterfront, walking between West India Avenue to the Middle dock was previously inaccessible due to a near 6-meter drop between road level and dockside.
Access studies have shown this western part of Canary Wharf to be the least explored, and by creating new public areas and improving walking connections should significantly improve a currently underutilised space.
---
Creating a marker building
Architects SOM are no strangers to the area, having previously designed the original Canary Wharf masterplan. At 1 Park Place, the design reflects a challenging and at times contrasting brief.
Blending in from a distance
Firmly embedded within the Canary Wharf cluster of very tall buildings — classed as above 150 m — the tower needed sufficient height to blend in when viewed from a distance.
The design needed to minimise its overshadowing from neighbouring tower blocks, and create a coherent look to the cluster when viewed from Central London or further afield.
Standing out up-close
The docks dividing Canary Wharf and the northern half of the Isle of Dogs heavily restrict north-south walking routes. Part of the site's major landscaping works aim to improve this north-south connectivity — something 91% of residents voted in favour for in initial consultations.
To highlight this improved new walking route from the ground, 1 Park Place needed to visually distinguish itself from neighbouring glass and steel office buildings.
The designers have achieved this subtle distinction, by creating a uniquely designed marker building, easily identifiable by pedestrians in Canary Wharf:
Despite exceptional height, at 205.6 meters, the slender tower has a tiny footprint, freeing up space for the walking routes and landscaping around the site.
The height ensures that it blends with neighbouring Newfoundland (220m) and twin HSBC and Citigroup buildings (both 200 m), without overshadowing flagship focal point One Canada Square (235 m).
Using a soft colour pallet to differentiate from the glass and steel dominated commercial towers nearby, it is easily distinguishable as a residential building.
A high slender ratio contrasts from nearby office buildings such as One Bank Street whose primary aim is to maximise floorspace for commercial rents.
---
Lack of outside space
While 80% of the site has been dedicated to public realm, that outside space has not been extended to future residents of One Park Place. Unlike Squire and Partners previously approved 31-storey plans, the sleek façade leaves no room for stepped roof gardens.
A combination of the slender tower and a desire to optimise energy efficiency means that the heavily insulated building doesn't offer any external amenities space. At ground level, waterside seating and public plazas are welcomed, but the paving-heavy landscaped design leaves little green space.
Technical studies — based on the performance of the building in high wind-speeds —are the reason blamed for the lack of external space. However, neighbouring new developments of similar height have managed:
Twisting flagship Wood Wharf development, One Park Drive offers, spacious balconies designed to cleverly shield residents from wind effects and placed to avoid overlooking neighbours.
Nearby Landmark Pinnacle also cited technical studies for not implementing external balconies in what is currently Europe's tallest residential skyscraper. Yet, it managed to provide plenty of outside amenities space with a vast residents' rooftop garden.

Current plans also don't include wintergardens — one approach to providing green space without external balconies. This lack of fresh air or garden space within the development might prove tiresome, especially for those aiming to reside and work nearby in the heavily air-conditioned offices of Canary Wharf.
---
Commercial area
The reinvention of the Isle of Dogs in the 1980s, from derelict docklands to international financial hub, was sparked by a change in the planning laws and a reclassification of the area as a commercial development zone.
To this day, the Canary Wharf financial estate defined as a Primary Preferred Office Location, with planning rules prohibiting using the area for residential development.
The success of Canary Wharf in providing jobs and high-incomes to the area mean that the area has hit its targets for employment early, and the site can be considered for some residential usage. However, potential Park Place residents will be firmly surrounded by the office towers of some of the world's largest banks and audit firms.
The planning rules mean that aside from neighbouring Newfoundland, it is likely that there will be very minimal further residential development, and the area will remain dominated by commercial tenants.
This brings excellent transport connections and a wealth of stores tailored for office worker conveniences — newsagents, hairdressers, cafés, and lunch places. It also brings downsides. Such as a large transient population, a smaller neighbourhood community, and a lack of residential facilities nearby such as community centres, schools, or places of worship.
---
Listed dock wall
Part of the debate surrounding the planning permission for the development involved the historic docks in the area. Conservation of the remaining portions of historic docklands' architecture is a common theme, with a similar issue eventually able to be overcome for the nearby Spire London development.
One Park Place borders middle dock, and with it a Grade 1 listed dock wall. Historic England categorise buildings of historic importance and interest in three categories, Grade 2, Grade 2+ and Grade 1. Grade 1 is classified as having the very highest heritage importance, with considerable weight given to its conservation and any surrounding developments that may disturb this.
In this particular case, it is an interesting trade-off. In current form, the historic quay wall is hidden away and many pedestrians in the area will not even be aware of its existence. The current plans for 1 Park Place involve removing part of the wall — heavily frowned upon for Grade 1 listed status — however the remainder will be much better served. There are plans to both preserve the more significant elements of the dock wall, and reveal them through the improved waterside access to the public.
After heavy debate, at the initial planning stage the Greater London Authority officers agreed that despite the partial loss of the heritage asset, the overall benefits outweighed the negatives.
---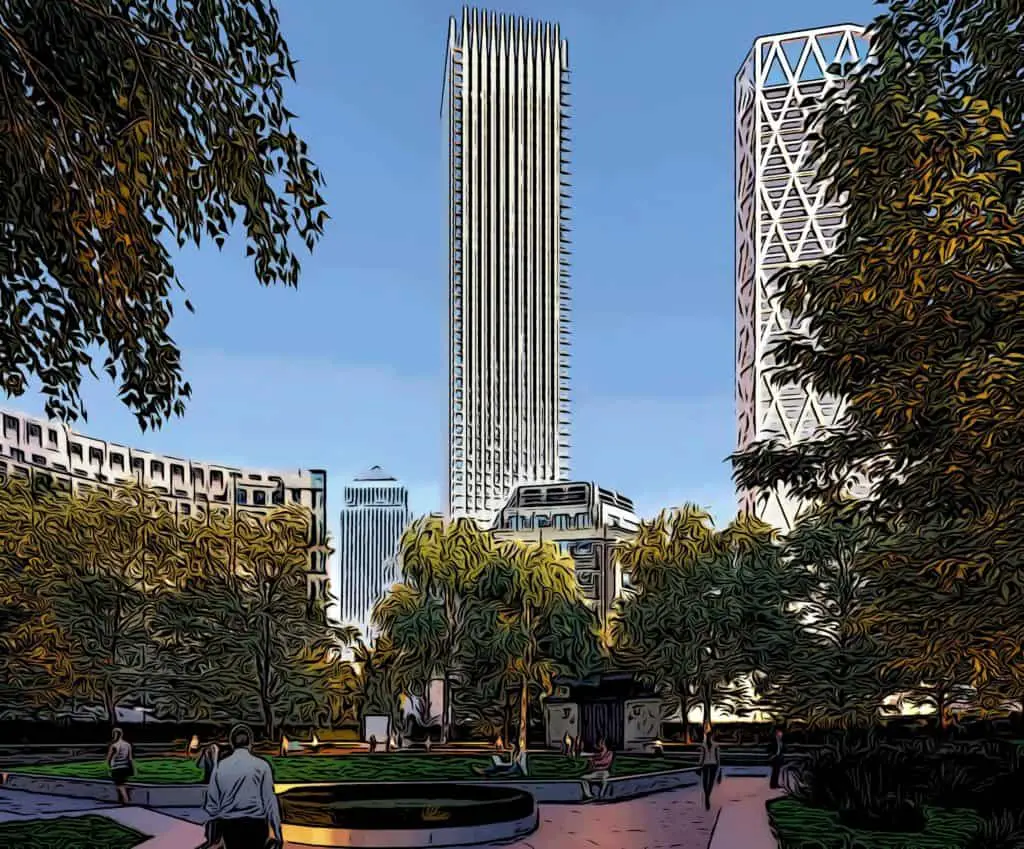 Summary
Will it be third time lucky for this small plots development? Arguably, Park Place has benefited from a lack of haste.
With each iteration of planning applications for this site, the designs have been refined to provide less visual mass, and improved architectural quality. Current office trends have also moved away from mega-offices, in favour of smaller, flexible workspace and mixed-use spaces. Looking back at 2008's approved 1.2 million square foot scheme, it is clear the latest tower provides a significant improvement.
If the SOM plan gets the go-ahead in 2022 it will be a significant boost for the area. The slimline 56-storey design provides a refreshing change from the bulkier, office blocks that comprise the majority of the Canary Wharf cluster. It also sets the building apart, as a marker point for pedestrians, highlighting a new pedestrian access route and public waterside space.
This is arguably the best point about the new development, with clever use of the space significantly improving access to the waterfront and unlocking the dockside for the area's growing residential population to enjoy.
There will be certain tradeoffs with this design. Green space is very limited, as is open air residential amenities space. Embedded within the office blocks of the Canary Wharf estate, there are also a lack of residential neighbours. This currently means the area doesn't have a residential feel in the same way that nearby larger scale developments such as Millharbour Village are creating.
However, there are plenty of upsides to the commercial location. With excellent public transport links, and the growing residential facilities of Wood Wharf a short 10-minute walk away, there is arguably everything you need nearby.
It was interesting to see the current plans rejected in late 2021, but it is likely that this will be approved with small amendments in 2022 — to the benefit of old and new local residents alike.