54 Marsh Wall — Redevelopment
54 Marsh Wall
---
41-storey and 16-storey towers
Nestled within an area of high development — a 5-minute walk from the financial centre of Canary Wharf — lies 54-58 Marsh Wall.
Architects Rolfe Judd have big plans for the intricately shaped plot. Current approved planning permission looks set to turn the current commercial buildings into an interestingly designed upmarket residential complex.
The two interlinked towers, ranging up to 41-storeys will provide 216 homes, a new café and 500 square meters of open public space.
Currently known as 54 Marsh Wall, here we will take a look at the design and overview of the new development, and the pros and cons for the local area.
---
Designing 54 Marsh Wall
Developers Daejan Holdings, a UK real estate developer, sought international architects Rolfe Judd to design the linked 41-storey and 16-storey towers.
Fifty-four Marsh Wall is located along a pivotal line in the South Quay masterplan area.
It bridges the area of the tallest towers in Canary Wharf, with the lower-rise residential neighbourhood to the south. As a result Rolfe Judd decided to stagger the two towers on the site, with the tower at the north 41-storeys and at the south 16-storeys.
This step down couldn't be achieved symmetrically, due to the sites shape. As a result, the intricately shaped site has led to an interesting combination of architecture with the towers joined but off-set.
The space generated by the smaller 16 storey towers roof, and smaller footprint of the 14-storey link have both been turned into roof terraces for residents use.
Residential apartments will be spread throughout the two towers, with the bulk of the affordable homes in the smaller 16-storey building.
103 one-bedroom apartments
83 two-bedroom apartments
20 three-bedroom apartments
10 four-bedroom apartments

---
Location and surrounding development
The site spans 54-58 Marsh Wall, and is currently occupied by low-rise 3-storey office buildings housing a Natwest bank alongside telecoms and commercial printing services.
Both buildings will be demolished, to provide a 2,000 square meter area for construction of 54 Marsh Wall. This area is undergoing significant redevelopment, and will become one of the most developed sections of the Isle of Dogs.
Sandwiched between two prominent Ballymore developments — Phoenix Heights and Wardian London — 54 Marsh Wall is located a short 5-10 minute walk south of the Canary Wharf estate.
The site to the immediate west, 50 Marsh Wall, is currently undergoing construction of 3 towers, known as Aspen at Consort Place.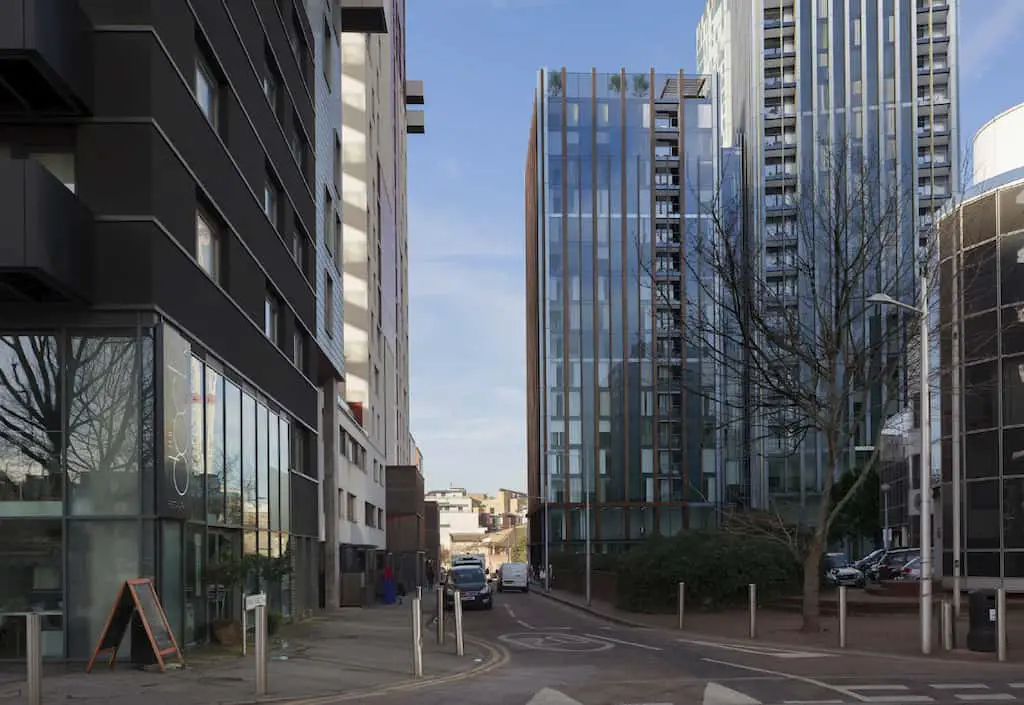 Address
54 Marsh Wall, Isle of Dogs, London, E14 9TP
---
Construction timeline
Planning permission submitted in 2016
A lengthy planning permission process approved in November 2018
Finance secured for development in April 2019
Estimated construction start date mid-2021
36-month construction period
Completion scheduled for mid-2024

---
Pros and cons
The current area for 54 Marsh Wall is an awkwardly shaped 0.19 hectare site. While the site sits very close to the Canary Wharf financial centre, the area has yet to feel the effects of regeneration that have stretched further into the Isle of Dogs.
Built-up, hostile and largely occupied by semi-empty 1990s office buildings, the site was described in impact reports as having no north-south route across and no public space.
Plans for 54 Marsh Wall involve 500 square meters of public open space, alongside new landscaped pathways north-south. In addition to the Consort Place development to the immediate west, this will really improve this part of the Isle of Dogs, and help link the residential areas including Phoenix Heights, with Canary Wharf.
Looking at the local environmental, plans for 54 Marsh Wall involve significantly more greenery than currently offered by the semi-derelict office buildings and tarmac car park.
Renowned landscape architects Fabrik London have designed the immediate surroundings of the two towers.
They have incorporated greenery into the indoor and outdoor kids play areas, a biodiverse green roof on the 41st floor, and planting on the lower roof terraces.

---
While the proximity to Canary Wharf on foot for the 58–54 Marsh Wall plot makes it a sought after location, this area has a wide-ranging public transport accessibility:
Situated on Marsh Wall, the main east-west access across the peninsula, Daegen's development site benefits from easy access to 4 bus routes.
The site is equidistant from South Quay DLR station, and Heron's Quay DLR, both around 5 minutes walk.
Located slightly further north than major redevelopment areas such as Harbour Central and Baltimore Wharf, 54 Marsh Wall is well-suited for pedestrian access to the upcoming Crossrail station — approximately 15 minutes walk.
The development has 22 car parking spaces planned, with half equipped for electric charging.
Embracing the use of cycling and public transport, the scheme also has a basement cycle store with 333 spaces

---
Within the immediate vicinity there are a range of new developments, offering a wealth of amenities and residents facilities. However, these are often geared to professionals, with family space relegated to a small indoor crèche room.
Nearby developments like South Quay Plaza have an envious list of residents amenities, however the majority are not family-friendly. Communal spaces are filled with rooftop hot tubs, fire pits and gin bars, alongside smart co-working spaces — a luxury for adults but leaving little for children!
In contrast, Rolfe Judd's plans for 54 Marsh Wall involve far more space dedicated to family-friendly amenities.
Tower Hamlets, and the Greater London Authority have guides for the amount of space they would like to see dedicated to children's play spaces and this development exceeds them both.
In total, there are 867 square meters dedicated to family play areas, split into three zones catering from different age groups between 0-15.
Unlike nearby Pan Peninsula and Wardian London — both with rooftop cocktail bars — 54 Marsh Wall has opted for ground floor retail units. These more low-key plans involve a café with inside and outside seating, and outdoor gym, helping to foster a more relaxed child-friendly atmosphere.
Residents play areas are spread across the ground and first floors of the tower, alongside landscaped rooftop areas on the 14th and 16th floors.
In addition, there are a generous proportion of affordable homes. With 60 units provided as affordable housing, split between 36 affordable rental and 24 shared ownership apartments.
---
Overlooked by taller neighbours
It is hard to imagine that the 140-meter 41-storey main tower would be overlooked.
The similarly tall 149-meter Baltimore Tower, located around 10 minutes walk to the southeast of this development offers spectacular views across London and Greenwich. However, Baltimore Tower stands alone as the tallest building in the heavily developed Baltimore Wharf development area.
Fifty-four Marsh Wall doesn't have this luxury, and falls within an area earmarked for ultra-tall buildings, the South Quay masterplan.
As a result, towers of 16 and 41 storeys feel particularly small in this part of the Isle of Dogs, and they are heavily overlooked by their neighbours.
To the immediate north, the twin Wardian London buildings tower over the 54 Marsh Wall plot, at 187 meters and 168 meters respectively.
Construction to the immediate west is also underway, with the primary tower in the Consort Place development — Aspen — standing a staggering 65-storeys or 217 meters.
---
Surrounded by further development
The area is likely to benefit significantly from the regeneration underway surrounding it. However, 54 Marsh Wall is almost uniquely placed and will have large-scale construction nearby for several years.
Immediately adjacent to the plot, there are huge redevelopment areas with the 6-tower Millharbour Village development to the immediate east currently under construction. To the west the 3 tower Consort Place development has several years of construction left.
While these two major developments will be finished shortly after 54 Marsh Walls current construction plans — there are several approved plans for new developments to begin. At nearby 30 Marsh Wall and Cuba street there are approved plans for skyscrapers to the immediate northwest, alongside the Quay House development to the northeast.
As a result, it is likely that building works surrounding 54 Marsh Wall will continue for several years after its completion.
---
Summary
Developers Daejan Holdings and architects Rolf Judd have put together an ambitious linked tower development for the awkwardly shaped plot.
Despite the spatial limitations on the 0.19 hectare site, the location is excellent and the development look set to continue to open up and pedestrianise a neglected part of the Isle of Dogs.
54 Marsh Wall has the ability to tie together both residential developments such as Phoenix House and the widely acclaimed Millharbour Village, with the expanding Canary Wharf site.
Situated within the South Quay masterplan area, this part of Marsh Wall is rapidly transforming, but the area will host multiple construction sites for long after the building is likely to be completed. Ultimately though, this family-friendly development manages to pack in a surprising amount of greenery and communal residential areas into the small plot.