A guide to the Canary Wharf Art Trail
One surprising fact about Canary Wharf is that it has a huge amount of art and sculptures dotted around the estate. In fact, the Canary Wharf art trail is the largest outdoor art collection in London!
At current count there are over 75 sculptures and outdoor art exhibits throughout the estate. The art trail is one of many great free things to do in Canary Wharf.
This brief guide will give you an overview of what to expect, some highlights of the Canary Wharf art trail, and provide some top tips.
---
Where to begin?
ScribbleForm
---
Julian Wild
(No.71, 2002)
A map of the art trail
The first thing you'll want to do is grab a copy of the art trail map. The Canary Wharf Group provide two printable maps, one smaller trail of 12 sculptures and artworks for children, and an updated 75-exhibit trail map.
---
Getting to the Art Trail
The Art trail begins at West Ferry Circus, so the best way to arrive is actually via the ferry! Canary Wharf's pier is immediately opposite, and travelling into the art trail via the start an enjoyable day out.
For the majority arriving via the Tube station, the easiest way to get to the beginning of the Art Trail — avoiding the art and doubling back on yourself — is to exit via the main entrance facing Middle Dock.
From here, walk on the southern side of Middle Dock, in the direction of Newfoundland (the large exoskeleton building pictured below). Once behind Newfoundland follow the steps up towards Westferry Circus and Canary Wharf pier.
The starting point is approximately half a mile (just over ten minutes walk) from the main Canary Wharf tube exit.
---
What should I bring?
Apart from a map and comfortable walking shoes — there is a decent amount of walking involved — there isn't a huge amount of planning in advance required. There are no tickets or tours required, and virtually all the art is publicly accessible.
While Canary Wharf has a myriad of underground levels, there are only a few exhibits inside, around 90% of the walk is out in the air so be sure to wear weather appropriate clothing. With a huge amount of high buildings around Canary Wharf has its own, often windy, microclimate!
There are plenty of places to sit around the estate, and a wealth of takeaway and sit in food and drink options.
The only exhibits that need prior permission to view are numbers 58, 59 and 63 — all located in Canada Square mall and the entrance ways to commercial offices above. Technically, they require prior permission from Citibank, so you could ask in advance, but in reality you can usually find one of the many Canary Wharf security guards to let you have a quick look on the day.
Between Theory and Practice
---
Peter Randall-Page
(No.65, 2019)
---
How long will it take?
The full art trail takes around two and a half hours to complete.
Following the suggested route from the Canary Wharf art trail map is around 2.5 miles (4 km), which is roughly one hour's walk. That's taking the most efficient route and without stopping to look at any exhibits!
Factoring in the interactive exhibits, photos — and potentially a coffee — if you want to do the trail in one go, leave a morning or afternoon free.
---
Interactive art features
Great for kids (or fully grown kids!) there are several interactive exhibits that have lights, sounds — or a combination of both.
If you aren't completing the full art trail, here are three interactive exhibits well worth a visit.
1. Constance De Jong — Talking benches
The first exhibit on the trail is a partnership between American artist Constance De Jong and the Public Art Development Trust — now incorporated into the Henry Moore Foundation.
The two benches oriented for river views have small loudspeakers next to them, broadcasting stories from people that live alongside the Hudson River in New York and the Thames.
---
2. Michal Rovner — Transitions
I never thought I would make such a big still-life, a portrait of the city. Are we aware of these lines of energy that are constantly passing through, so vividly, so fast, so powerfully, so intensely underneath the ground—this undercurrent of the city that adds another layer of time?

The Art newspaper — Michal Rovner
Number 57 on the Art Trail map is an interactive exhibit by Israeli artist Michal Rovner. It's one of ten artworks commissioned for the Crossrail Stations art program.
Located just inside the main central door of the Elizabeth line station, there are a couple of benches to sit and watch the short exhibit — and plenty of places for a coffee or some cake in Crossrail Place.
---
3. Alexander Beleschenko — Art Glass Wall
This glowing exhibit is located underground in Canada Place shopping centre and forms part of the subterranean entranceway to the Citi building's offices above.
A combination of resin, enamel glass and backlighting covers all three walls. You can see virtually all from the entrance doorway, but for a closer look, a nearby friendly security guard will often happily let you in.
---
Light exhibits — Best for after dark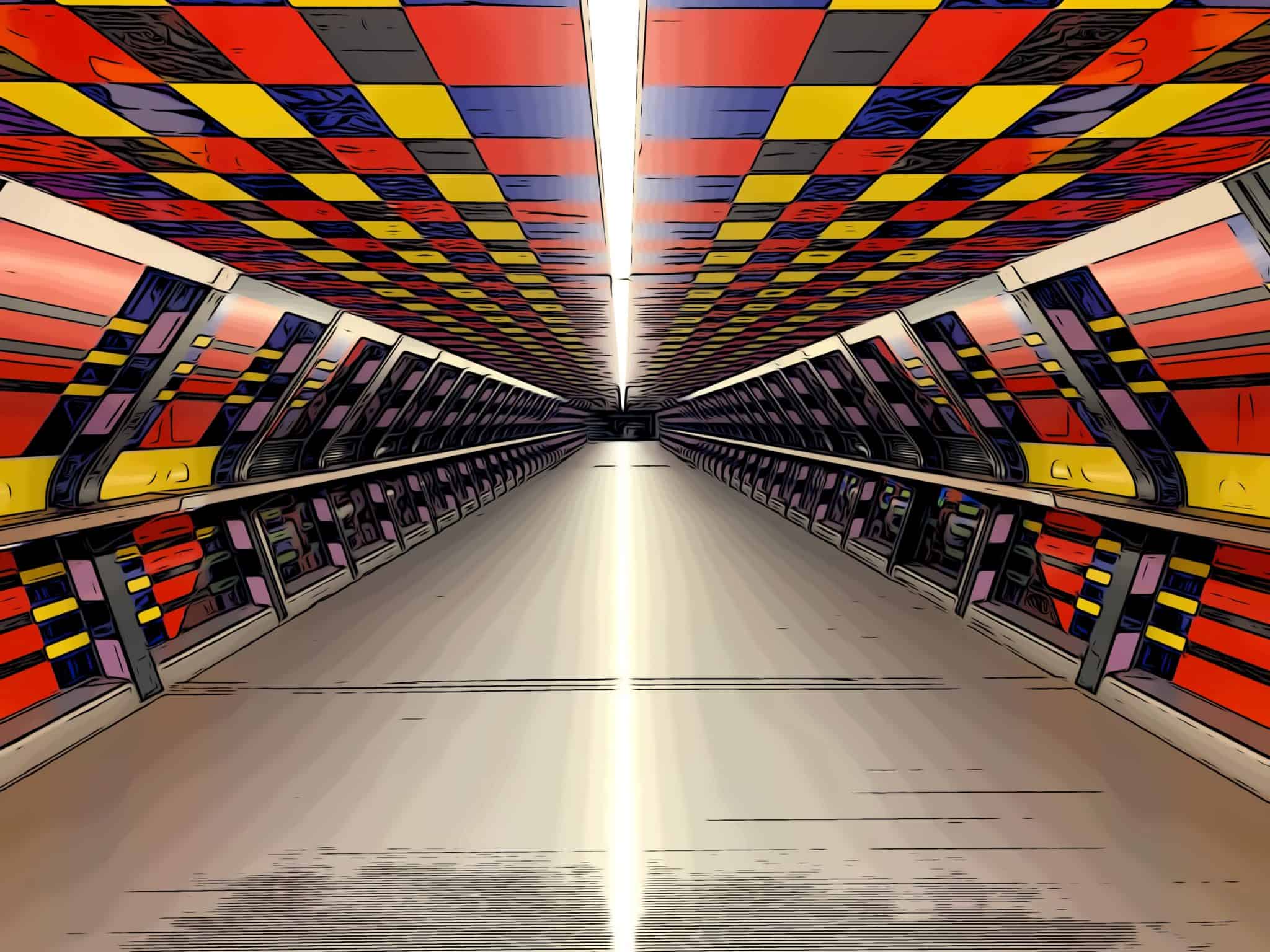 Canary Wharf runs an exceptionally popular Winter Lights Festival annually between December and February. However, there are some lit exhibits that are year round features.
These exhibits are usually switched on daily around dusk:
Number 20: Ottotto, The Clew

Originally a Winter Light exhibit, this is a LED circle made the cut and is now a permanent feature.
Number 18: Jeff Bell, Cast Glass Panels

These vast circular panels stand at each corner of Cabot Square, providing a nice backlight to the central fountain at night.
Number 66: Bill Culbert Coup de Foudre II

A regular feature on the Winter Lights map, this spiralling mix of LED lights is suspended from the ceiling in Churchill Place (behind Waitrose).
Number 62: Bernd Spiecker, Light benches

The instagram-friendly light benches are a permanent feature installed across London after their popularity in Lumiere Festivals.
Number 51: Camille Walala, Captivated by Colour

This injection of colour is the 2020 makeover of the Crossrail Place entrance tunnel, which was previously very clinical.
Number 29: Martin Richman, Float

Look up! Martin Richman turned the north exit from Canary Wharf's DLR station into a lit exhibit in its own right in 2002. After dark, the backlighting turns the already futuristic Canary Wharf area into something reminiscent of a Blade Runner-style sci-fi movie.
Number 54: Martin Richman, We Could Meet

Commissioned with the development of Crossrail Place — Canary Wharf's future Elizabeth line station — this is a collection of 500 colour changing LED standing similar to reeds in the water channel.

The Knot
---
Richard Hudson
(No.72, 2018)
---
Canary Wharf's Art Trail — Summary
Whether you are visiting the Crossrail roof gardens and want to see some nearby art — or if you are planning on a full 75-exhibit march around the entire estate, Canary Wharf's art trail is a great free addition.
The art trail is a pleasant way to spend a few hours browsing and completely free. It is open all year round, with no tickets required. A perfect time to visit would be late afternoon, to view the lit exhibits as dusk sets in.
Turning Point in the Sand
---
Oliver Barratt
(No.10, 2014)
Arguably the best thing about the art trail is that it is rapidly expanding. Previous iterations of the map only have around 60 exhibits, and there are now already a few extra exhibits dotted around the estate that are yet to be updated to the official map.
At each stage of the estate's expansion — firstly Crossrail and now a major new residential development Wood Wharf — the art trail has grown with new exhibits commissioned by the Canary Wharf Group. As a result, the collection of sculptures and art should remain London's largest outdoor art collection!