Pop-up Basketball at Canary Wharf
New for 2021, a collaboration with artist Yinka Ilori and the Canary Wharf Group brings a public basketball court to the area!
In time for this summer's heatwave, Canary Wharf's basketball court opened at the end of May. It is the first public basketball court in Canary Wharf — the only previous option located within high-end gym chain Third Space at Canary Wharf.
The temporary court is open until October. It will also play host to a limited edition designed basketball release by the artist later in the summer, alongside scheduled tournaments, and public events.
---
About the court
The unusually artistic basketball court is a 3×3 court. Designed for enjoyable and easy to organise games for all abilities, 3×3 basketball courts have one hoop and are the same width but half the length of a standard full court.
While the court is obviously primarily for basketball lovers, it was designed to be so eye-catching it could fit in with the estates growing collection of outdoor public art. Yinka doesn't like to disappoint, and the multicoloured court emblazoned with motivational motif Be The Best You Can stand out in stark contrast to the muted corporate office blocks surrounding it.
Constructed out of grippy, specialist interlinked tiles, the basketball court provides a comfortable high-quality playing surface.
These tiles have been 3D-printed with Yinka Ilori's eye-catching designs.
As a result, the temporary basketball court is a public art display in its own right.
Even if your playing days are behind you, it's well worth a detour from the Canary Wharf Public Art Trail.
Basketball location and opening hours
Located opposite The Quay Club in Bank Street park, Canary Wharf's basketball court is less than five minutes walk from the Jubilee or DLR stations.
Address: Bank Street Park, Canary Wharf, London, E14 4SG
The court is open daily between 12-9pm.
Between 12 — 6pm staff are on hand
Basketballs are provided if required (in staff hours)
The space is free to use, and first come, first served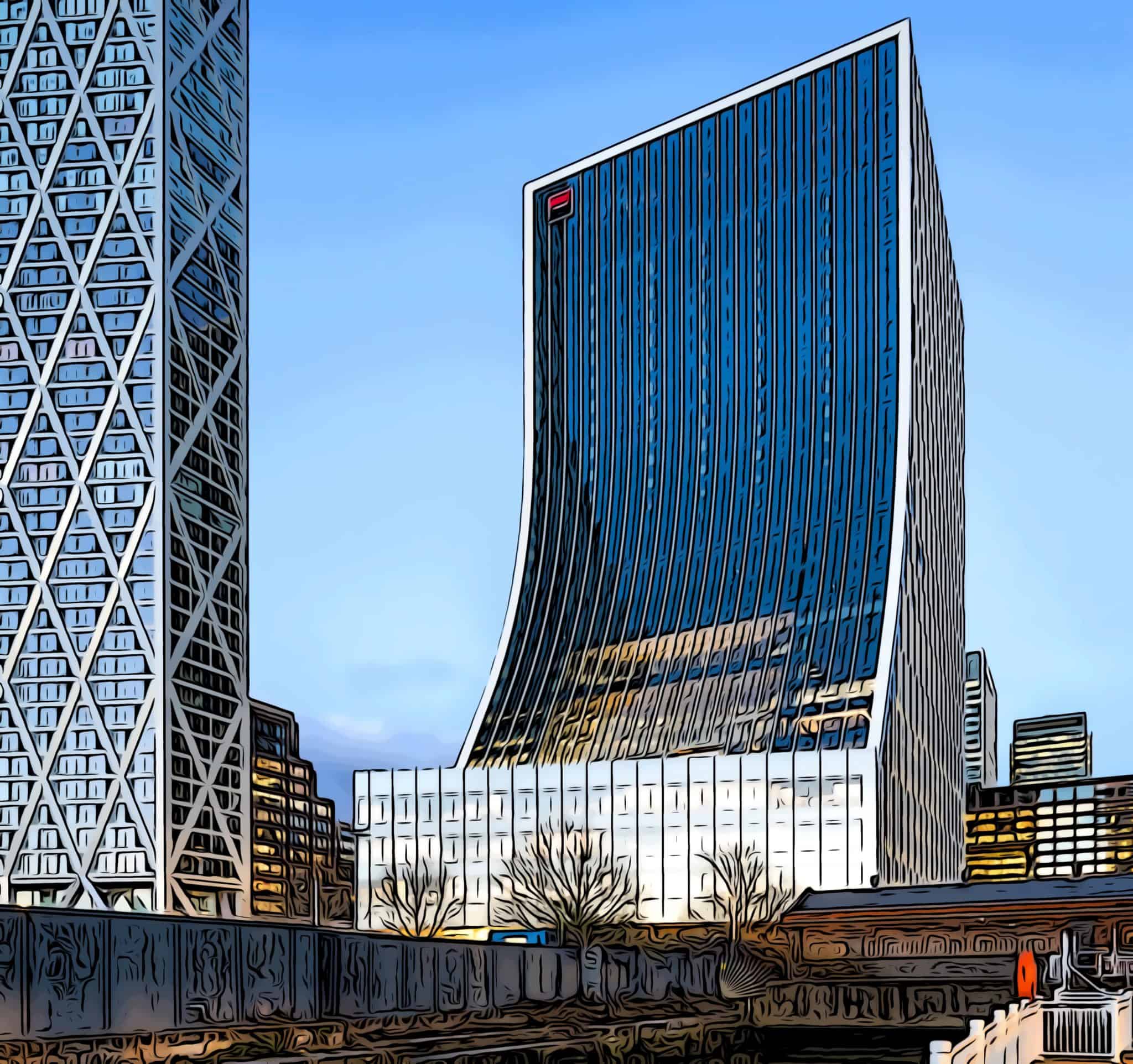 ---
Who is Yinka Ilori?
Described as colour-obsessed, London-based designer and artist Yinka Ilori is known for big, bold patterns. His style blends his British and Nigerian heritage. Since opening his London studio in 2011 he has worked with numerous brands from Adidas to Pepsi, Universal Music — and even Wandsworth Council!
Originally starting work upscaling furniture, Yinka and his studio of architects and designers have built a versatile portfolio. This has led him on an interesting journey, from the outdoor basketball court at Canary Wharf, to designing the 2021 Brit Awards stage.
Commissioned by the Canary Wharf Group to brighten up the temporary park, Yinka shares the group's desire that art — and outside spaces — should be enjoyed by everyone.
---
Why is it temporary?
Canary Wharf's basketball court will be a short-lived affair.
Located in Bank Street park — previously the site of pop-up mini golf, outdoor Third Space gym classes, and other free events — the venue will be taken down in October.
The towering One Bank Street building, home to Société Générale and overlooking the park, is part of one of two gleaming new skyscrapers for Bank Street. Planning permission has been secured for another Bank Street building, known as 10 Bank Street which will have a similar style to the curving One Bank Street and be built on top of this site.
Planning permission has been approved in 2017 for this new skyscraper. However, the Canary Wharf Group are planning a long construction time. In between construction, the site has been landscaped into a temporary park — where the basketball court is living until October — instead of being hidden away behind construction hoardings.
---