Canary Wharf Streetfood — Market Hall
Cargo at Crossrail Place is a new development immediately opposite the Canary Wharf Crossrail station bringing the streetfood market revolution to Canary Wharf. Alongside the 340,000 square foot of office space, the revamped building provides huge roof terraces, bars, a coffee shop and what is soon to be the largest food market in Canary Wharf!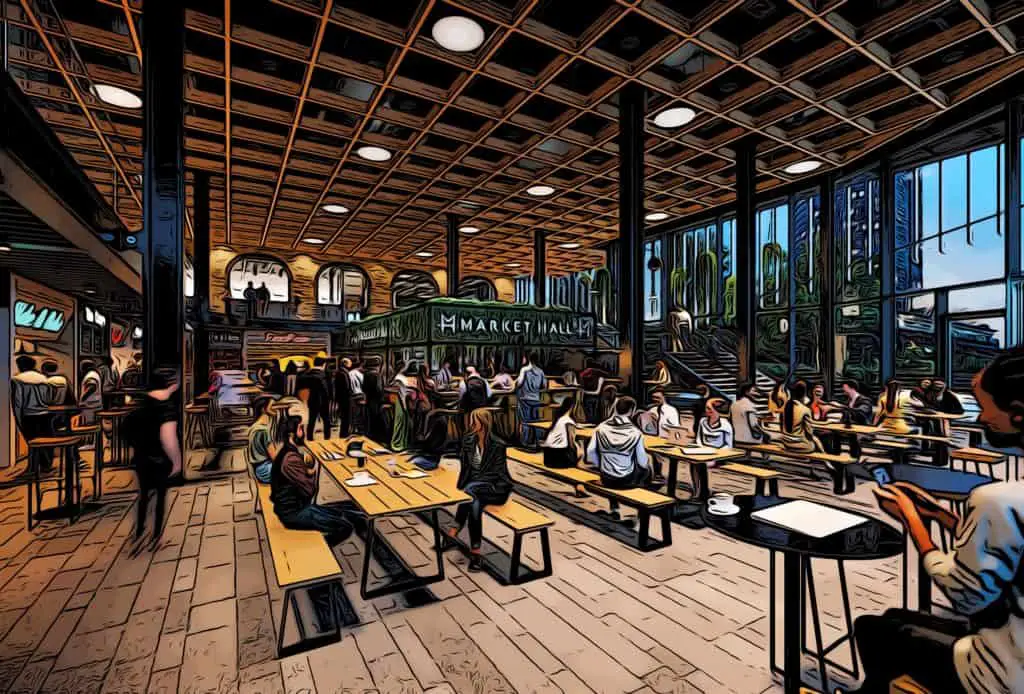 Ran by Market Hall, Canary Wharf's streetfood market — opening in 2021 — will be the successful London brands third, after venues in Fulham: Victoria, and the West End.
The original Fulham outfit won a host of awards including Restaurants R200 Opening Of The Year after its 2018 launch. The brand will be looking to replicate their successful street market recipe at Canary Wharf with fast, global cuisine from a range of different vendors for eat-in or takeaway.
Canary Wharf has been on our radar from day one as a perfect location for Market Halls. Blackstone's plans for Cargo are very impressive and with the eventual opening of the Elizabeth line we are very excited to have found the perfect site.

Market Halls co-founder Simon Anderson
---
Streetfood in Canary Wharf
Street food markets have some history in Canary Wharf. There are multiple vendors immediately outside One Canada Square in the famous Reuters Square plaza, and the area currently has two smaller food markets:
Market Hall will be on a completely new scale to anything already in E14, and is a 20,000 square foot market set over 2 levels that looks out across North Dock.
12 food kiosks
Inside space for 200 diners
2 Bars
Global cuisine

In addition to this space, the Cargo building will have an expansive rooftop, a coffee shop and outdoor seating for up to 500 people.
Address
Cargo Market Hall, 25 North Colonnade London, E14 5HS
Map Credits — Cargo, Market Hall
In addition to streetfood, Market Hall are famous for using their expansive sites for hosting a variety of events.
In the past they have hosted a mini Oktoberfest in Fulham, American style Thanksgiving and Halloween parties and even a dinner for dogs!
This new Canary Wharf Food Market cements the Crossrail Place development as a hub for bars and restaurants in the area. For up-to-date info on the Cargo site and Market Halls opening check out their twitter.
---
Canary Wharf's Market Hall FAQ
When will it open?
Originally planned for 2020, opening for Market Hall's Canary Wharf site was moved back to April 2021.
How to get there?
Market Hall is located immediately in front of Canary Wharf's Crossrail Station. It is 1-minute walk from the station, and around a 2-minute walk via Canary Wharf DLR or Jubilee line stations.
Why Canary Wharf?
With a considerable influx of workers — over 120,000 people per day work in Canary Wharf — there is a massive demand for fast and tasty food.
In addition, the Cargo site is next to Crossrail Place home of the future Elizabeth Line. In 2021, when this new line is running footfall will increase further, and Canary Wharf's newest food market will be accessible in around 10 minutes from central London.