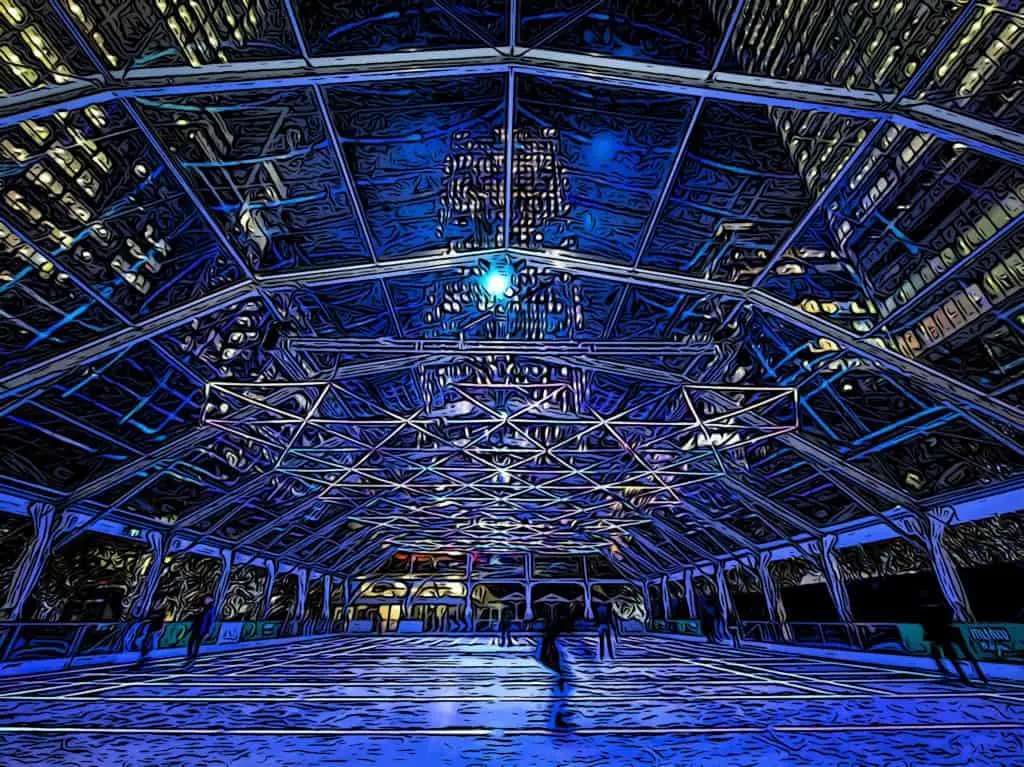 Ice Skating in Canary Wharf
---
Canada Square Park, Canary Wharf
Pop-up ice rinks with scenic backgrounds of London's most famous buildings are a family favourite, and arguably the best part of winter in London.
From the Natural History museum; to Hampton Court Palace, Tower Bridge, and of course, Canary Wharf's ice rink, London's skating — and the obligatory glass of mulled wine — are now a winter staple!
First appearing between October and November, London's pop-up ice rinks run throughout the festive season. The most popular demand is evening sessions throughout mid to late December. To secure your place, it's always best to book online in advance.
Here are all the details you need to know for this year's Canary Wharf ice rink.
---
When is the Canary Wharf ice rink open in 2021?
This year, the Canary Wharf ice rink will be open for 18 weeks, beginning on the Saturday the 23rd October 2021.
Previously open for 12-16 weeks, this years opening season has been extended to 18 weeks to make up for lost time! As a result, you'll be able to book skating in front of the famous One Canada Square until the last week of February 2022.
---
What happened to Canary Wharf Ice Skating?
The last time Canary Wharf's ice rink appeared was three years ago for the 2018-2019 season.
The ice rink was taking a planned break for the 2019-2020 season. However, Coronavirus put a dampener on the following year as well, with London in lockdown throughout the 2020-2021 winter schedule.
Fortunately, for 2021 the ice rink is reopening!

---
About the ice rink
The temporary ice rink measures 25 m by 45 m. This provides approximately 1000 square meters of skating space, enough for 350 skaters at once.
Keeping temporary ice rinks cold enough can be a challenge with unpredictable UK weather, but the clever set up uses waste energy from the chillers keeping the ice cool, to keep guests warm in the bar and changing areas!
In keeping with the area's high-tech vibe, Canary Wharf's ice rink embraces an assortment of sound and light shows similar to the Winter Lights Festival:
Originating as an open air affair, in 2016 Canary Wharf ice rink gained a covered roof and saw skaters underneath a futuristic LED light show
Previous years no-expense spared setups have involved thousands of LED's embedded within the ice to create spectacular lighting effects.
HD screens were introduced around the edges of the rink in 2018 displaying stunning scenic backgrounds

For 2021 Canary Wharf's ice rink will be fully covered — usable in all weather — and expect to see a return of the large-scale LED screens and lighting combination from previous years.
What do I need to know?
The Ice Rink at Canary Wharf website has a comprehensive FAQ section here, but here are some top tips from previous years.
---
It's family-friendly… with caveats!
The ice rink is available from 4 year upwards, however all under 12's need to be accompanied on the ice by a 13+ year old.
In addition, younger children that aren't great skaters are required to book a skating penguin / polar bear to cling onto — aka a skate aid! There is an additional £5 cost for each skate aid to factor in, and limited numbers of these are available. Frustratingly you cannot book the skate aids so arriving early is heavily recommended at popular family times.
The FAQ recommends arriving 20-30 minutes early, however for young families I would advise getting there slightly earlier and checking out the queue — you can always get a hot chocolate beforehand if it's unexpectedly busy!
---
It's great for date night
Canary Wharf's ice rink is open every single day throughout the 18 weeks apart from Christmas Day. Christmas Eve usually sells out rapidly, so it's worth booking in advance for dates in the peak festive season.
However, while the Ice rink is busiest during the festive period, it runs until February and is therefore also great for a Valentine's Day date night. In 2022, February the 14th falls on a Monday.
---
You don't have to skate
The al-fresco Grandstand Bar erected in Canada Square park in the summer months returns alongside the ice rink. Swapping sport for skating, summer Pimms is replaced by Baileys hot chocolates and mulled wine, and access to the bar is not ticketed or restricted to skaters.
The Grandstand Bar is the perfect place for people watching, with skaters of all abilities providing plenty of entertainment!
---
Where to park for the ice rink?
There isn't dedicated parking at Canary Wharf's ice rink, however, there are plenty of options nearby.
The closest carpark is Canada Square Carpark, postcode E14 5EW. Parking charges start at £4.40 for up to 2 hours, and it's cashless payments only.
However, on weekends, if you spend more than £10 at any shops, bars or cafes, it's free for up to 3 hours — make sure you ask for receipts to be validated!
---