Canary Wharf Winter Lights Festival — 2022
Free winter light festival
---
Canary Wharf estate — 2023
Strapped for cash? Whilst, there are plenty of free things to do in Canary Wharf, no other event attracts quite the same buzz as the annual Winter Lights Festival! Dating back to 2014, it's one of London's most popular winter events. Sorely missed last year, the festival was cancelled at late-notice in 2022 due to Covid-19 restrictions.
However, in 2023 Canary Wharf's lights is returning, in a new-look, short format. So, if you haven't explored the area before and want to see our top tips for enjoying the festival, or if you're keen to see what's different this year — keep reading!
What is the Winter Lights festival?
The Winter Lights festival is a family-friendly event, spread over the entirety of the Canary Wharf estate. There are usually around 30+ exhibits of various sizes, displayed both indoors and outside.
The art exhibits are all illuminated, similar to the Lumiere festival that runs across the UK, and was displayed in London during 2018. For that reason, it's normally held in the darkest part of the year, running between December and January.
Dating back to 2014, the event is the Canary Wharf Estate's way of giving something back to the local community. It's also a chance for the CWG to promote the area as a fun and exciting place to live, as the area rebrands itself as somewhere to call home, and shed it's reputation for solely being a financial district.
Recent light shows
2021's winter lights festival, Connected by Light, operated in a reduced, outside-only format to heighten coronavirus safety measures. 9 large scale exhibits were displayed to view at a distance.
Winter lights 2022 promised the return of up-close viewing, 20+ illuminated exhibits, with some specially commissioned new artwork to be enjoyed by all but was unfortunately cancelled due to Covid-19 restrictions.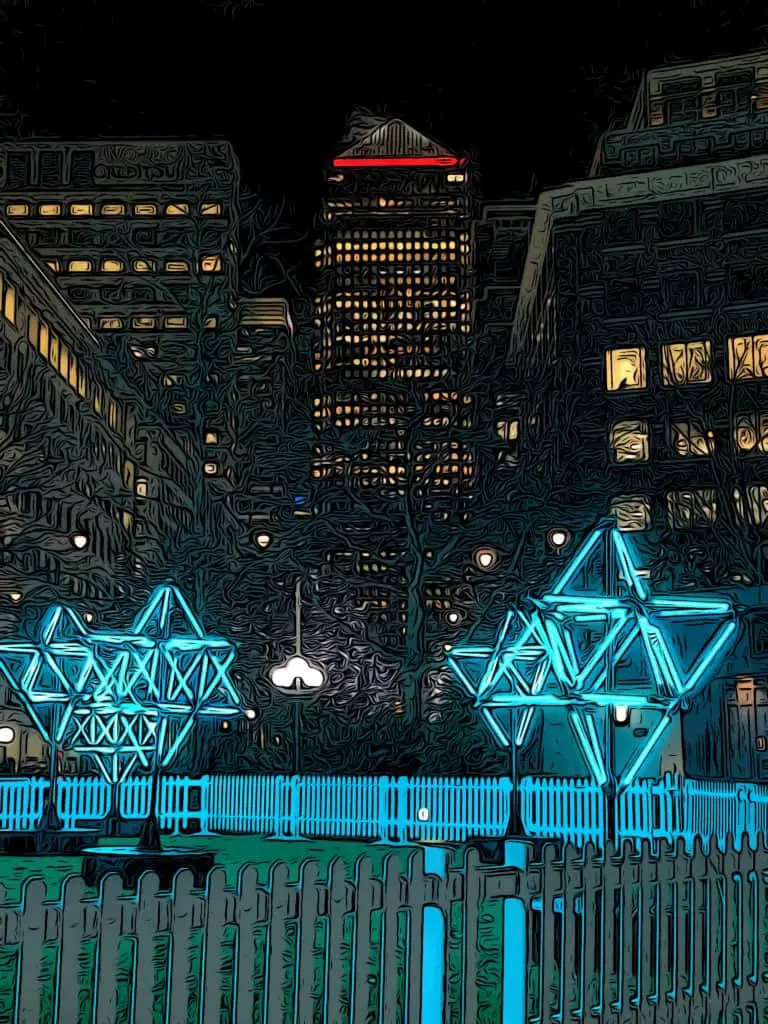 If you want to pre-plan your route — or are short on time and want to go straight to the newly commissioned works — the Canary Wharf Group will make the printed map handouts available online beforehand.
When is the light festival held and how do I get there? (2023 update)
For 2023, the organisers are trying something different. The Canary Wharf light festival will return in a short ten-day format between Wednesday 18th of January – Saturday 28 January.
Previous year's Winter Lights festivals have traditionally straddled the calendar year, running between early December and late February. While the longer duration helped to reduce crowding — especially helpful during coronavirus restrictions — it can be hard to sustain that special event feeling over such a long duration.
Sunset for London throughout January is around 4:15 pm, and there are additional Christmas lights in Jubilee park to explore beforehand, so despite the festival opening at 5pm it may be worth turning up early!
All of the exhibits are scattered throughout the Canary Wharf estate and start near Jubilee Place, Canary Wharf's tube station.
Not only has the event grown annually, but so has the Canary Wharf estate. As a result if you haven't been for a few years expect an expanded walking route, with additional lights in the newly constructed Wood Wharf area.
There are several ways to get to Canary Wharf, the quickest and easiest from most parts of London being the Jubilee Line. This runs until approximately 1am everyday, and overnight on Friday and Saturdays.
This year attendees from further afield should find it easier to attend, via the newly opened Elizabeth line. However, as the Elizabeth line is still in it's infancy, on some days trains finish surprisingly early, so definitely check the timetables beforehand.
---
6 top tips for Canary Wharf's winter lights festival
For newcomers or old-timers alike, here are our 6 top tips to help you navigate the Connected by Light event.
1 – Bring comfy shoes
Everyone talks about warm coats and jackets — which is true — but the lights' festival usually involves a surprising amount of walking!
The light features are scattered across the ever-growing estate, so covering them all involves quite a trek.
There are plenty of places to sit though, glowing colour-changing benches are frequent exhibits!
2 – Combine lights with some ice skating
Running alongside the festival, Canary Wharf's ice skating rink is open until February 23rd 2023. The outdoor ice skating rink is the perfect pairing with the winter lights festival and is located in Canada Square park.
This year the rink is fully-covered, so is also a great last-minute substitute if the weather turns on the largely outdoor winter lights festival!
Tickets are available on the door and to book in advance.
3 – Don't worry about printing a map or working out a route
Like the Canary Wharf Art Trail, the Canary Wharf Group also offers a downloadable map with all the exhibits and a suggested routing for their Winter Lights events on their website. However, if you don't have a printer I wouldn't worry about it, as there are several support staff on the night outside the main tube and DLR stations, handing out pre-printed maps.
Occasionally, exhibits change last minute or get moved. So picking an exact route or singling out specific exhibits you want to see isn't advised, as they may change anyway. (This is a bonus of picking up a pre-printed map from the staff — with any unavailable exhibits on the day crossed out!)
4 – Go on a weekday
The busiest time for the Canary Wharf light show is always Friday and Saturday evenings. There can be huge crowds, hence the decision to postpone last years festival during the ongoing pandemic.
Some people love the buzz, but to get the best views of the exhibits and not be quite as packed-in, avoid weekends and arrive early. With sunset as early as 4:15 pm in January, there's plenty of darkness at the opening time of 5pm to enjoy the exhibits before the late working Canary Wharf crowds begin!
5 – Bring a flask!
There is a thriving food scene at Canary Wharf, with food markets, café's and bars scattered around the estate. In addition, expect to see plenty of pop-up food and drink vans set up stall around the exhibits.
Plenty of Canary Wharf's coffee shops give discounts for bringing your own reusable cups, and with a cold-snap forecast for January 2023, it's best to bring a flask to keep your drink hot whilst you walk around to view the exhibits.
There are also plenty of refillable water stations dotted throughout the estates shopping malls.
6 – Book early for food or drinks
Despite the reputation as a no-frills business district, Canary Wharf has a huge variety of food and drinks and some top restaurants — from newcomer Pergola in Crossrail Place, to award-winning ROKA and longstanding Boisdale.
If you are coming for the event it is nice to make an evening of it and get some food afterwards, but especially on weekends, it can be difficult to get a table. This has been less of an issue in previous years, with events spread out over 8+ weeks, however with 2023's Winter Light Festivals shorter 10-day footprint, booking a table is arguably essential.
However, for last-minute food and drink without needing to book, the newly-opened streetfood market opposite Canary Wharf's Elizabeth line station has plenty to offer!
Looking for more free things to do?
While 2023's Winter Lights Festival is a two-week only show, there are plenty of year-round art exhibits to see.
Several lit exhibits from previous light festivals remain as permanent art features, scattered around the Canary Wharf estate.
The estate has also started hosting a Summer Lights Festival — to get an idea of what to expect see our coverage of 2022's summer lights.