4 — luxury living developments in Canary Wharf
The rise of luxury apartments across Canary Wharf
---
Isle of Dogs
Luxury living has changed almost as fast as the Canary Wharf skyline.
Once upon a time, a balcony and a lobby area with a receptionist was enough to class an apartment block as luxury — not any more!
With prices rising and prospective buyers demanding more and more, developers have entered into a race to provide the most luxurious amenities in their latest Canary Wharf developments. There are currently a wealth of amenities in new developments, ranging from golfing simulators, to panoramic residents roof terraces!
Here's a selection of 4 of the most luxurious apartment facilities on offer in Canary Wharf — to take luxury living to the next level.
(There are several luxury apartments in Canary Wharf under construction — this list will only feature completed developments with apartments available to move in!)
1 — 20th floor Sky-pool
Short and long-term rentals
Modern, tech-filled building
Panoramic views
Cocktail bar and in house restaurants
Offering a wealth of amenities there is everything from activities such as aerial yoga and cocktail making classes, to the fully kitted-out gym and private cinema here. There are so many activists and classes on offer the group have a dedicated app to keep track of them all!
Arguably the most luxurious feature of these rental apartments in Canary Wharf is found on the top floor.
No — not the rooftop chill out space and bar — but the sky pool.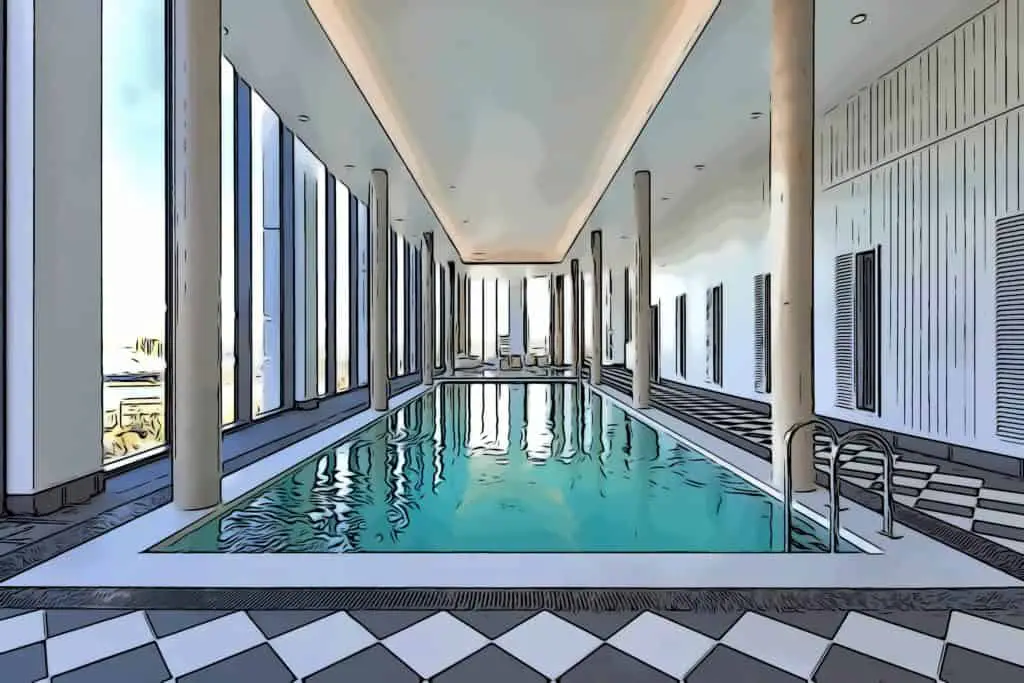 East London's highest pool has a large steam and sauna, jacuzzi and views to die for. The polished concrete pillars, and modern design, combined with the overlooking views across Canary Wharf set a new standard in Canary Wharf's luxury rental sector.
2 — Botanical gin garden
25 meter swimming-pool
Spa
Private cinema
Fully equipped gym
Private bar and dining rooms
Every single apartment at Wardian London has huge balconies — they are integral to the buildings design — and these can also be converted to fully fledged sky-gardens, grass, plants and all!
The Wardian's double-height lobby is half 5-star hotel half jungle — it has a giant glass Wardian case containing nearly 100 rare botanical specimens.
However, the height of luxury living in Canary Wharf is (quite literally!) found at the top.
At the top of the taller, 183 meter east tower, stands the Observatory.
Eclectic space evokes a botanical collector's den, and is perfect for meeting friends, reading or taking some time for yourself.

Wardian London
As far as luxury amenities go, the Observatory is hard to beat. It's London's highest gin bar, and offers beautiful views, private dining, and an impressive interior designed space packed with more botanical plants.
If resident's rooftop bars are your thing. Check out our list of The Best Sky Bars in Canary Wharf — featuring residential and commercial venues.
3 — Security & Valet Parking
48th floor cocktail bar
Room service via restaurant
Huge private fitness complex including swimming pool and yoga studio
Hydrotherapy pool and spa
The luxury interior — think leather lined walls, plenty of water features, and lifts with TV's inside — is combined with one of the largest private gyms in Canary Wharf. However, one of the most unmatched luxury features of Pan Peninsula is actually found underground. The carpark!
Developer Ballymore wanted to take security seriously at this luxury living development, and not only does it have 24-7 concierge, but it also has its private security centre.
Unlike buildings with nearby car parking and ramps leading to their basement, Pan Peninsula is one of only two residential buildings on the Isle of Dogs using a car lift — the other being Dollar Bay. Here, the car lifts are paired with valet parking.
If you are driving home to Canary Wharf, take the hassle out of parking.
Drop your car off by the front door of the impressive building, and the onsite staff will valet park your car in the underground car park via the buildings 2 car lifts.
4 — Rooftop Chef's!
Pet friendly
Fully managed luxury rental
Huge roof terrace
Private gardens
Residents Cinema
Looking to combine luxury living in Canary Wharf with pet ownership? Previously, there were very few options for pet owners in Canary Wharf. Until now.
This Wood Wharf hideaway is perfect for walking your four legged friends, and getting away from the hustle and bustle of the surrounding financial centre.
Outside space features heavily in these luxurious apartments, with plenty containing large terraces. Aside from a usual mix of high-end facilities and exceptional interior design, all the luxury living apartments at 8 Water Street get access to the roof terrace.
This 3,000 space, has been beautifully landscaped and contains seating and planting areas.
Vertus offer many communal events, from wine tasting to workouts, but pick of the bunch in terms of luxury would have to be their rooftop BBQ's. If the free bar doesn't temp you, how about a private chef?
The groups planned events involve bringing in a professional chef to cook for you — and your four legged friends — whilst taking in the views across Middle Dock. The height of luxury living!
The future of luxury living
While the features here showcase some of Canary Wharf's luxury living developments, the race to improve the high-end standard is only just starting.
There are huge amounts of luxury apartments under construction, with developers finding increasingly creative ways to improve their high-end offerings. New luxurious developments include:
The new high-end developments, and huge increase in residents across the Isle of Dogs, has meant demand for luxury gyms and spas has skyrocketed too. As a result, there are now multiple high-end gym brands in the area — Third Space Canary Wharf are opening a second branch shortly!
So if you're gazing at The Collective Canary Wharf's sky pool or Wardian London's botanical spa centre wishfully — don't panic! We've compiled a list of the best gyms in Canary Wharf.