South Dock bridge — Canary Wharf's new footbridge
The Canary Wharf estate has quite literally been reclaimed from the water. While transport links have improved massively — pedestrian links north and south to the estate have fallen behind.
A new bridge aims to address this, spanning across Middle Dock and helping to improve pedestrian access from the Peninsula
Tower Hamlets have hired Knight architects to create the new north south footbridge across South Dock. Knight architects are specialist bridge architects and are no stranger to the local area. They have previously developed the existing South Dock footbridge, and the new 8 Water Street bridge linking Canary Wharf and Wood Wharf.
Here is a brief overview of the plans for the new bridge:
Why does Canary Wharf need a new bridge?
Designing the new footbridge
Why new access is so important to the E14 area!
---
3 reasons Canary Wharf needed a new bridge
1). New Isle of Dogs developments
One downside to Canary Wharf's rapid development is that infrastructure can lag behind the housing boom.
Immediately south of the Canary Wharf estate there is huge redevelopment introducing 4000 homes in the Harbour Central area of the Isle of Dogs from Galliard and Ballymore. Alongside this, large scale developments Wardian London and South Quay Plaza are providing an additional 2000+ homes next to the waterfront at South Dock.
Tower Hamlets 2020 review of the Isle of Dogs highlights the need for infrastructure spending with the planning development:
Opportunity Area Planning Framework for the Isle of Dogs and South Poplar sets out the need and timing for some £1 billion of additional Infrastructure investment to support this level of growth

Isle of Dogs —Neighbourhood plan
There is currently only one central footbridge crossing, that was rapidly becoming unable to cope with large influxes of people as the new developments complete.
2). Crossrail connections
Significant new developments on the Isle of Dogs will generate greater pedestrian and cycling flows. The new Crossrail station will attract more pedestrians from the area and there is a need to improve access to South Quay DLR station.

Tower Hamlets
While the area now has a wealth of public transport options, the expansion of jobs in Canary Wharf has meant that the Jubilee line gets very busy at peak hours. To relieve this pressure, the new Crossrail station — now estimated to open in 2022 — was constructed at the northern end of the Canary Wharf estate.
This fast connection is welcome, but it is also expected to attract a significant increase in use of the DLR to access this new transport link. By adding this new South Dock footbridge, it will improve accessibility to South Quay DLR station. It will also mean that Canary Wharf has fast pedestrian access to four DLR stations!
3). Residents want easier access to Canary Wharf by foot
One of the key highlights from public transport assessments surrounding future Canary Wharf development area North Quay, was that the Canary Wharf estate is poorly accessible on foot and bike from the north and south.
Bridges are overwhelming popular from the public perception, as local residents don't want to have to rely on the DLR to transit north-south, or the Tube for east-west connections. In public consultations 85% of residents backed the — now shelved — east west Rotherhithe Bridge. And a staggering 96% backed this new north-south bridge.
With a drive towards sustainability, and getting more people to access the estate by bike, north south connections need to be improved to make it easier.
The North Quay development highlights a new footbridge link connecting the north of the estate to Poplar high street.
With this addition of South Dock's new footbridge — a second across the dock — connecting the south of the estate to the Isle of dogs it means it will be possible to walk in a virtually straight line south from Poplar through to Greenwich.

---
Constructing Canary Wharf's new bridge
---
Design
The bridge was tasked to provide a 15 m wide permanent channel of water for smaller boats (up to 3 tall) to pass continuously.
Middle Dock also needed access for larger boats so the bridge needed a 25 m wide navigable channel with no height restriction. This is being achieved through a hidden counterweight system, to raise two thirds of the bridge vertically, for passing boats.
Bridge dimensions
7.8 m wide at southern side
15.4 m wide at northern side
25 m (widest unobstructed channel)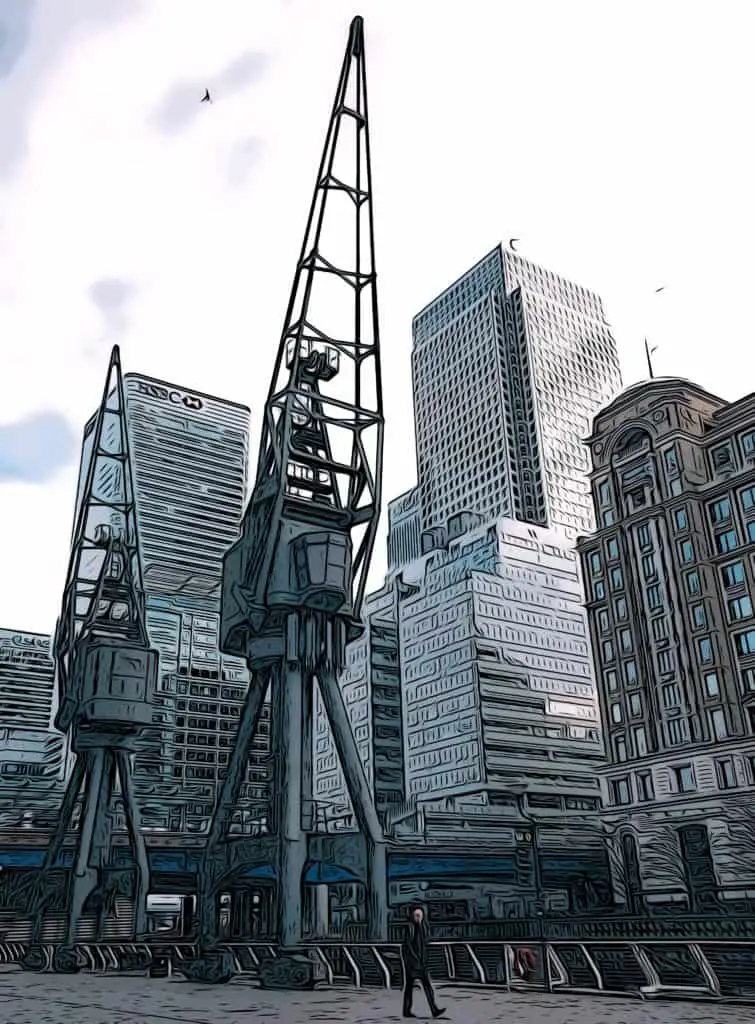 The new footbridge also needed to balance modern construction whilst keeping with the area's style and docklands history.
---
Improvements over South Dock footbridge
Throughout the public consultion plans were tweaked and Knight Architects reflected on their experience of the existing footbridge across South Dock.
There were several aims and some improvements for the new bridge:
New seats at northern end, and some within South Quay Plaza but not on the bridge itself to aid flow of traffic, instead leaning portion
Inbuilt gates to raise out of the floor to impede pedestrians when bridge about to raise
Integrated lighting and quiet walking surface to not disturb residents
Less slippery than existing South Dock footbridge

---
Timeline
The original bridge timeline coincided with the opening of the first tower at South Quay Plaza. Construction was set to begin in 2019 and completion in 2020.
The project has suffered some delays, however the initial design and public consultation are complete, and construction of the bridge is expected to start in 2022. Current forecasts suggest the bridge completing in 2023.
---
The benefits
The benefits of the new South Dock footbridge are likely to exceed simply providing increased foot traffic.
In the initial consultation, 96 Percent of residents were in favour of the new bridge, and its benefits are obvious. Additional public space, seating areas and improved connection to Canary Wharf will only continue to regenerate the surrounding area.
As it was identified by the architects of South Quay Plaza — Foster and Partners — the new development and bridge symbolises a bigger potential to improve the area.
The vision for the project was to unlock and transform the neighbourhood by opening up an unprecedented sixty percent of the site to public use, introducing over 1.5 acres of generously landscaped and accessible public open space, and creating new pedestrian routes to connect the residential areas of Millwall and Cubitt Town with Canary Wharf.

SQP Architects — Foster and Partners
---
When is Canary Wharf footbridge closed?
For routine maintenance, or the occasional transit of large boats, Canary Wharf's current footbridge across South Dock can be twisted 90 degrees cutting off the most convenient crossing point.
This adds an additional 5-10 minutes walking — via Westferry Road or Prestons Road — and, a large increase in traffic to this webpage!
While most bridge closures are of a short duration (24-48 hours max) longer closures are often announced on the Canary Wharf website, hidden away at the bottom of the pedestrian and cycle route page.