The Collective-Canary Wharf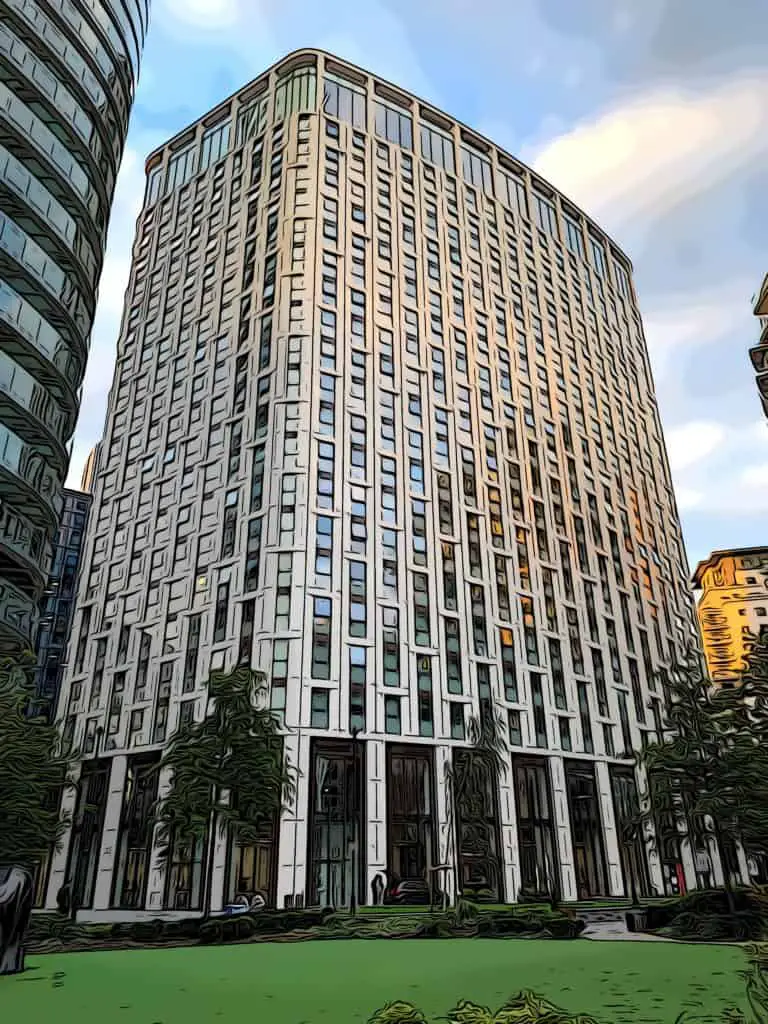 The Collective
---
21-storeys — Isle of Dogs
Baltimore Wharf meets communal living
The Collective was originally planned to be a normal hotel!
As part of developer Galliard Homes regeneration plan for Baltimore Wharf, an area to the east of Millwall inner dock, Galliard obtained planning permission for a 21-storey building.
Originally intended to be a hotel, it is adjacent to their flagship tower Baltimore Tower. 
Galliard Homes later sold the building rights to The Collective, a fast growing company specialising in micro flats and communal living, who decided to embark on turning the building into the largest communal living space in the world.
Designed by architects Skidmore, Owings & Merrill, the white and glass clad building is topped off by a panoramic double-height top floor.
The building itself stands at 21-storeys, with floors 0 and 1 and also floor 20 solely dedicated to amenities. The 17 floors spanning levels 2 -19 solely comprise of studio flats. The flats themselves are split into 4 sizes designated: cosy, standard, comfy, and big.
Building status
The last building to be constructed on the Baltimore Wharf site, construction works began in June 2017. A quick pace of construction followed with the exterior of the building largely completed in one year in July 2018.
The Collective opened its doors to its first hotel guests and tenants in September 2019. The commercial unit on the first floor underwent fitting out, and opened as the Dumpling Shack restaurant in September 2020.  
Who are The Collective?
The Collective are co-living developers, and were founded in 2010 by Rez Merchant. They have rapidly expanded in the following 8 years, having found success in New York, London and Berlin.
Aggressive funding rounds have enabled them to accumulate over £2.7billion in development value, and nearly 300 in house staff.
Their aim is to provide everything you could want for your living in one place. All their developments, The Collective Canary Wharf included, have just one payment. All the bills and taxes alongside all the things you would traditionally pay a service charge for, such as internet and cleaning, are covered.
Area and transport
Part of Baltimore Wharf, the immediate area has been nicely landscaped and undergone significant regeneration in the last few years.
Situated next to Baltimore Tower and the Baltimore Wharf Collection of apartments, there are around 1700 new homes on this site and the area has a relaxed residential feel that is surprising for the central location. 
Crossharbour DLR is a 3 minute walk, and its 4 minutes on the DLR or around a 15-20 minute walk into the financial district itself.
If you are driving to Canary Wharf, there are limited parking spaces available for guests on site. However, there are plenty of Ubers, Car Clubs and Zipcars in the area and the vast majority of residents don't own cars.
Amenities
Where to begin. The Collective Canary Wharf has dedicated 3 entire floors to amenities, and the list of activities is endless.
There is a virtual reality golf simulator, a multi-floor music venue, spa and gym, alongside mindfulness zones. There is even an aerial silks studio for budding acrobats! 
The top spot in the packed amenities list has to go to the 14 meter swimming pool. Located on the 20th floor, it is technically East Londons highest pool, and it provides great views over Canary Wharf, especially worth a visit after dark.
There are so many events and activities on offer it is difficult to keep track, so to help there is a bespoke mobile app which lists the events and experiences available for members. 
Pros
Social and like-minded community
The Collective have clearly got their sites set on a target market. The often described "millennial development" is officially aimed at students and young professionals.
The building is filled with tech, both in an effort to minimise energy consumption and to "optimise the use of space", and it is all controlled through their bespoke mobile app. The app itself displays amenities not not just listed by the groups organisers, but by the residents themselves. 
There has been thought put into the way the amenities are offered in the building, to encourage community. The large communal kitchens are on the first floor, and a panoramic bar and restaurant MTHR occupies most of the rooftop.
The amenities layout has been designed to create integration and spaces to mix. Indeed they also offer what The Collective call a cultural events program, offering everything from group nutrition classes and sound baths to cocktail making classes.
Moving to any new area can be a daunting place, and with a shift towards remote working further reducing opportunity for social interaction, living in a lively building with an abundance of social opportunities could be very appealing.
Short term rents
Often some of the most difficult accommodation to find, short terms lets have become synonymous with poor quality flats in dubious locations. Yet, for their target demographic of young professionals and students, short contracts and internships are frequent, and hence short term lets are often required.
The Collective has tried to fit into this niche, providing two different pricing structures for up to 89 days and 90 days plus. The less than 89 days rate is to accommodate clients that would otherwise stay in hotels and is priced accordingly.
The 90+ day contracts are significantly cheaper, and the associated drop in price means that they are competing against other commercial rentals like the Canary Wharf groups Vertus, or Greystars Sailmakers .
The advantage The Collective has over both of those commercial rental firms is that you can rent for as little as 3 months at a time. This was something previously difficult to find in the area and not offered by either firm with 12 month minimum contracts.
It's also good for those with overseas family, or those who want to try out the accommodation or an area before they buy.
Functioning as a halfway house between a hotel and managed rental accommodation, the up to 89 days contracts enable friends to stay over or professionals starting a new contract in the Canary Wharf to get a feel of the area before deciding where to commit to living. 
Cons
Tiny rooms
Room sizes at The Collective Canary Wharf are as follows:
| | |
| --- | --- |
| Cosy | 12 sq/m |
| Standard | 16 sq/m |
| Comfy | 18-25 sq/m |
| Big | 30 sq/m |
Room sizes at The Collective Canary Wharf
To put that into perspective, A UK parking space is around 11.5 square metres.
The smallest recommended size for living is 37 square meters, based on 1 person and a shower room, according to current UK government guidelines. 
In fact, if these flats were for sale its very unlikely it would be legal, and almost impossible to get a mortgage on.
It's very hard, if not impossible, to get loans on less than 37 sq m homes. I've been in studios that are around 40 sq m, and they are tiny. These things are less marketable for sure, and already square footage in UK is not as generous as other EU countries.

Adrian Kidd – Radcliffe and Newlands
The Collective would argue that those guidelines are for private homes and not simply for short term rentals or hotel accommodation. But for those planning to rent for any length of time, the space offered in all of the flat sizes offered really is restrictive.
Expensive, even for Canary Wharf
While it is no surprise that you will pay a premium for the convenience of an all in one bill and the wealth of facilities and activities on offer here, you might be suprised at how fast that adds up. 
Headline rates are stated as per week, for longer stays. At a first glance, for all of the facilities on offer £330pw doesn't sound exceptional for london rental prices. But that is for a 12msq room.
In comparison their larger room, the "big" studio, works out at £2817 per month. Comparing that with Canary Wharf's latest offering, 10 George Street by Vertus.
You could rent a a fully managed and furnished, one bedroom apartment in another exceptionally high quality, brand new building from £2300, nearly £500 pounds a month less. And the one bedroom in Vertus is double the size, at 60sqm. 
While Vertus boasts a focus on social activities, the offerings are not anywhere near the extent found at The Collective. However you do continue with the convenience of just one bill, and benefit from large communal spaces and gym facilities, concierge etc. 
Compared to another local managed rental, Sailmakers, a short distance the other side of Millwall inner dock the benefits and price lines blur even more. Prices are cheaper at Sailmakers, rooms are also more generously sized, and there are 16,000 square feet of amenities.
A managed "all-in-one" rental like The Collective is expected to be far more expensive than renting a room privately. But I don't think you would expect it to be significantly more expensive than other luxury all in one managed rentals in the area.
Summary
The Collective Canary Wharf is an ambitious project, and it provides a fantastic offering to the niche young professional and premium students market. Heavily invested in creating community, they are also sporting a charitable arm, The Collective Foundation, which focuses on affordable housing and social wellbeing.
The building is brand new and beautifully designed, and no doubt a nice place to spend some time. From the overarching tech focus to the small design details, even the interior of the lifts sport vinyl wrapped coloured interiors by interior designers.
However, the criminally small rooms will probably limit the appeal beyond long term stays and younger residents.
As a Hotel it has excellent reviews, and for short term rents it looks like it could be a great option for some. For longer durations, spending more than the weekly average london wage to stay in less than 30 square meter rooms, surely isn't a viable long term prospect, regardless of how it is dressed up.
There is a small part of me that wonders whether the focus on mindfulness and wellbeing is an added benefit of staying at The Collective, or a necessity for staying there.