Wood Wharf — Canary Wharf Group
Wood Wharf
---
Under construction — 2019
Expanding upon Canary Wharf
Canary Wharf is famous for being the UKs biggest financial hub, a private estate in the heart of east London. 
The success of the financial center has spurned massive regeneration and large residential development across the Isle of Dogs. Yet, up until now there have been no residential offerings from the Canary Wharf Group themselves.
Wood Wharf is the Canary Wharf groups first foray into residential development, and is a major undertaking. It is a largely new area, built over a disused dock and will eventually become a 23-acre mixed use site. 
Among the commercial units, the private estate is estimated to provide over 3000 new homes and 20,000 jobs.  
---
Wood Wharf's history
Once part of the thriving docklands area, Wood Wharf fell into disrepair with the downturn of east London's shipping industry in the 1970s.
With the Canary Wharf group focused on developing the commercial estate to its west, this area had remained largely ignored until the turn of the millennium.
Formal regeneration plans for the wharf have been around since the early 2000s. The Wood Wharf you see under construction now, is actually the third iteration of development plans for the area.
Plan one: 2000 – 2009
During the early 2000s with London preparing for their successful 2012 olympic bid, there was a renewed focus on east London regeneration
British Waterways owned the freehold to the Wood Wharf area, and began searching for a partner to redevelop it.
A £2bn scheme was proposed with Tower Hamlets council pre-approving the plan in 2004
Serial local developer Ballymore – later developing Pan Peninsula and Wardian London amongst others partnered with British Waterways and the Canary Wharf group to develop a masterplan for the area.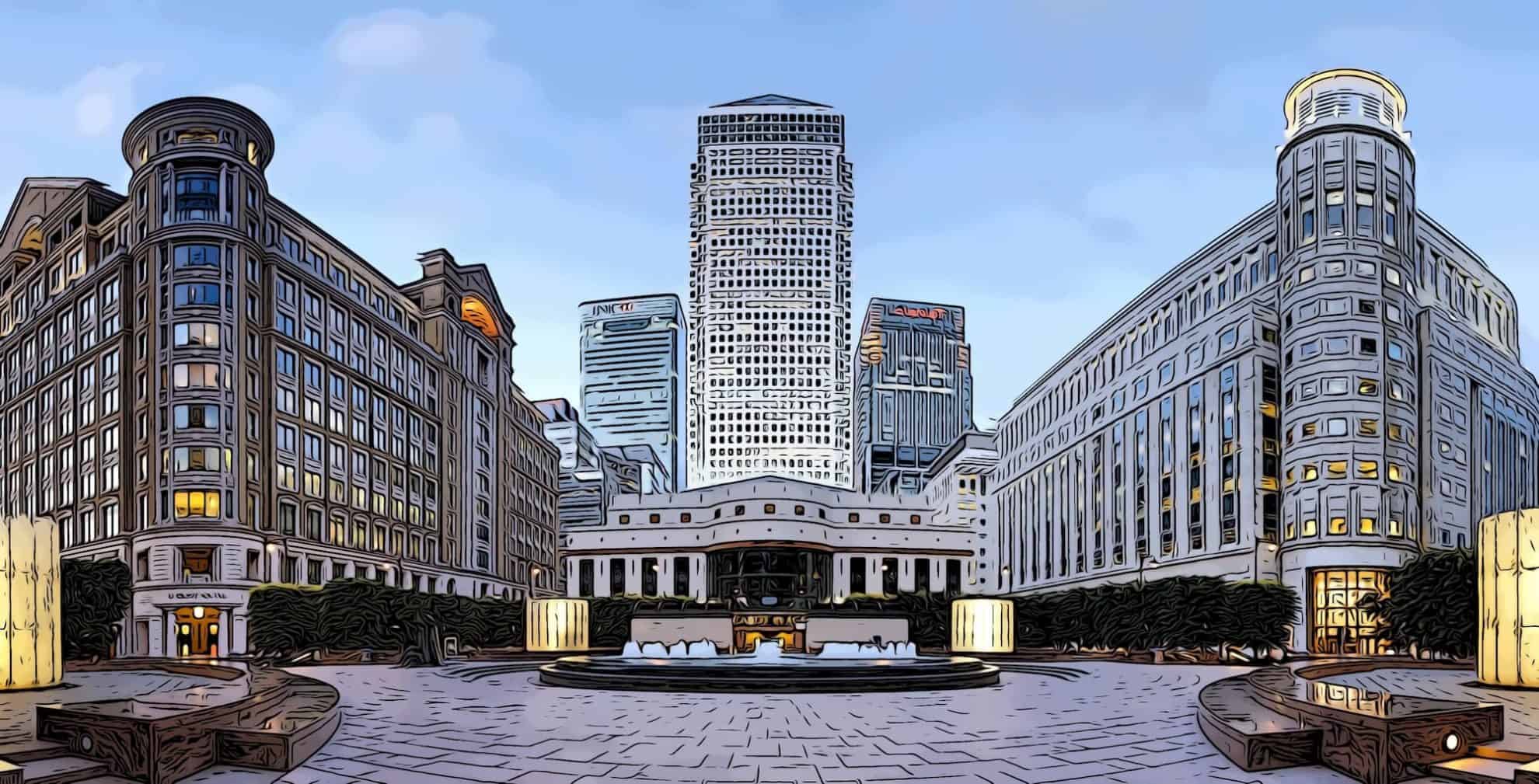 The scheme largely focused on towering office buildings, similar to the Canary Wharf site, with some additional residential units
The original plan designed by Rogers Stirk architects was approved by Tower Hamlets in 2009
Plan two: 2011 – 2013
Firmly into recovery from the 2008 financial crisis, a renewed effort to develop the Wood Wharf area began
Ballymore and the Canary Wharf Group presently owned 25% stakes each in the project, with British Waterways holding a majority 50% stake
Canary Wharf Group bought the freehold for the area from British Waterways and Ballymore in January 2012 to retain 100% control
This second series of plans had a focus on technology and media sectors, as the Canary Wharf group was looking to diversify its tenants away from solely financial services
Farrells had form with developing waterside locations in London, having drawn up the master plans for the redevelopment of Paddington Basin and were in the process of planning the nearby Royal Albert dock redevelopment
This diverse mixed use plan was beginning to take the shape of the final Wood Wharf we see under construction today, with two thirds residential and one third office based
Plan three: 2013 – Present
Huge shifts in global trends over the previous years, from the explosion of digital media and the financial technology sectors, to a focus on work life balance and remote working
The Canary Wharf Group did not want to commit to a rigid development plan that may not fit with future trends
April 2013, the third and final architecture practise were brought in to take another look at the Wood Wharf plans
Allies and Morrison were tasked with providing plans for the 23 acre site that would enable the area to be more flexible and adapt to any future trends in working
Leaning heavily on the second phase of plans, Farrell and Partners continued to work on the project as consultants 
For residents the final designs incorporated more open public space, such as parks and boardwalks 
On a commercial side, Allies and Morrison also encouraged smaller mixed use buildings, that would be able to accomodate different commercial uses if needs changed, and spaces that blended the residential and commercial sites together
The final plans were approved by Tower Hamlets in 2014 and in 2016 construction begins!
---
Where is Wood Wharf?
Wood Wharf is highlighted in red on the map below. It is located in the northeastern tip of the peninsula, and to the east of the current Canary Wharf estate. 
Wood Wharf is surrounded by water, located directly north of South Dock, and south of Blackwall Basin.
The Canary Wharf group bought rights to the land for 250 years from British Waterways, so like the financial center, the area will be a private estate. 
The local authority is Tower Hamlets. Wood Wharf will fall under the E14 postcode.  
---
Wood Wharf development plans
Designing a future proof area
Allies and Morrisons were tasked to bring flexibility and future proofing to the Wood Wharf development. 
They have achieved this by specifying a development framework, rather than defining individual buildings and their features on the estate. They have created 36 building plots. These are size and shape outlines, that other architectural firms brought in to develop individual buildings can work within.  
By removing rigid restrictions: this building must be 30 storeys high, this area will be used for retail only, Allies and Morrison have given individual architects more control over their buildings, enabling them to adapt their plans to any current or future needs.
While laying out a framework for the 36 building development plots, Allies and Morrison have designed three buildings themselves:
20 Water Street – A large office space that can be reconfigured or divided easily for flexible sized commercial tenants
30 Harbord Square – A residential building with 176 affordable homes and a ground floor level of retail 
Almost as a guideline for other developers, you can see from the buildings that Allies and Morrison have designed themselves, that there is a strong theme of mixed use and flexibility. The idea behind Wood Wharf was to blend residential, office and retail space together.
---
A residential focus
The Canary Wharf group had already begun to pivot away from the financial sector with over half of their commercial tenants not based in financial services.
The Canary Wharf Group began to diversify their portfolio with BTR brand Vertus
For this next development they wanted to create a largely residential estate, and Wood Wharf is over two thirds residential. There are currently plans for 3300 homes on the site, with at least 25% of them designated as affordable housing.
In total, Wood Wharf provides 2.6 million square feet of residential accommodation.
---
Facilities and infrastructure
Developers in the Isle of Dogs area have previously been accused of building a massive amount of residential properties without additional infrastructure required for the influx of new residents. 
To try and combat this the Wood Wharf site will house a new primary school, currently planned for 420 children. Alongside this there will be a new NHS surgery with provision for 9 GPs, and a community sports hall. Construction of an Idea Store —Tower Hamlets community library areas — are also part of the planning permission guidelines for Wood Wharf.
Aiming to provide more greenery than the commercial center opposite, 9 of the 23 acres in the site have been dedicated to parks and green space. 
In an effort to shake off Canary Wharf's reputation for being solely commercial, with little to do on weekends and evenings, the group have focused heavily on providing things to do on the estate.
Wood Wharf builds on that theme, with outlines for 150,000 square foot of restaurants and bars.
The architects have studied popular central London areas such as Seven Dials and Marylebone high street in an attempt to replicate the relaxed retail and residential combination.
Pop up food and drink stalls, alongside plans for a food market are in place at Wood Wharf. Additionally, a network of boutique shops and cafes are planned off a central high street area known as the lanes.
---
5 lessons learned from the Canary Wharf estate
Having developed a global financial center from a derelict docklands, the Canary Wharf group now has several decades of development experience behind them.
Despite the success of the groups offering at Canary Wharf, Wood Wharf gives them a clean sheet to implement some of the lessons from their four decades on the peninsula. 
It is interesting to see a shift in focus from the financial center as they seek to distance the development at Wood Wharf from the office based district next door. 
1 – Smaller, less commercial buildings
Even though Wood Wharf is primarily residential, it is still planned to have 2 million square foot of office space. Unlike the first iteration of their development plans, the group have seen a trend away from corporate mega offices, towards more compact locations and meeting hubs.
There are still high-rise buildings planned, but there is a much larger focus on having a diverse range of smaller tenants than the few financial conglomerates that dominate the Canary Wharf estate. 
Like the original estate with One Canada Square, Wood Wharf is being led by a flagship building, One Park Drive.
But as one of the few towering 50+ storey buildings on the estate, One Park Drive seeks to distance itself from the glass and steel commercial buildings.
Herzog & de Meuron designed, the flagship residential building has a circular form and a softer facade created by fluted terracotta cladding.
2 – Better use of the waterfront
Despite its docklands location, Canary Wharf makes surprisingly limited use of the waterfront. There are several plazas and parks, but a significant portion of the waterside is hidden away behind large commercial units — and as a result — receives little footfall. 
With a new focus on residential development, making the most of the waterfront has become a key point.
Foster and Partners, designers of South Quay Plaza — a residential development just to the south of the Canary Wharf — noted that a high density of commercial skyscrapers can create a hostile barrier to the area. 
This is something that the developers of Wood Wharf have also noticed and are keen to improve on here.
There are over 350m of waterfront walks planned within the Wood Wharf estate.
The wooden boardwalk area —currently partially opened — is eventually planned to stretch from One Park drive all the way past 10 George street and across the top of the South Quay dock.
At the north of the site, waterfront access to the Blackwall Basin is also planned, alongside new moorings. 
---
3 – Above ground facilities
Canary Wharf boasts a spiders web of underground interconnecting shopping malls. These now total nearly a million square foot. This is largely to maximise the space on the constrained private estate, with above ground areas taken up by commercial units.
In original plans for Wood Wharf this underground retail provision was continued. 
Newer developments from the group have instead focused on outside space. Crossrail Place station providing Londons largest roof terrace, has 4-storeys of above ground retail and restaurant space. Underground or large indoor shopping mall complexes have begun to fall out of favour, with a shift towards boutique shops and cafes interlaced within upmarket high streets. 
This trend was noticed by Allies and Morrison and in their new plan for Wood Wharf all of the retail units have been moved to ground level. They have since gone further, and aim to have every single development plot to have an aspect facing either a waterfront, green space or public plaza area. 
---
4 – A focus on startups
Post 2008 financial crisis a major diversification attempt was made by the group, in an attempt to reduce their exposure to one industry. 
Government figures from the Department for Digital, Culture, Media and Sport count nearly a third of all UK jobs as digitally enabled. Canary Wharf currently has over 35,000 employees based in the technology sector and supports over 200 start-ups. 
What the estate has found, is that the large corporate offices suited to massive global financial companies were not particularly suited to the requirements of Londons growing tech scene.
Canary Wharf have had success at Level 39, a tech incubator on the 39th floor of One Canada Square — now expanded to cover 3 entire floors.
But this success involved redesigning the entirety of the floor, re-configuring the lift access and adding additional features required. 
To bring Wood Wharf up to speed for the future, the masterplan for the area has realised that it needs to accommodate for these nimble tech startups:
The entire estate is planned to be one of the first areas in the UK with 5G. Additionally Wood Wharf has the latest Wifi-6 installed which means that internet access is available quite literally everywhere, from the parks to the inside of elevators. 
By developing the office space in Wood Wharf with flexible floor plate sizes and configurations they aim to capture the needs of startup tech firms, that often start on a shoestring budget but can expand in size rapidly.
5 such companies at their Level 39 tech incubator went from shared workspaces to requiring over 80,000 square foot office leases, including the now global fintech company Revolut. 
---
5 – Less car use
When the Canary Wharf estate first underwent development in the 1980s it was renowned for being an exceptionally difficult part of London to access via public transport. As a result over 6000 car parking spaces were built on the estate.
With heavy government lobbying and massive investment in infrastructure, Canary Wharf is now accessible by several different modes of public transport. This will only increase by the time the Wood Wharf development is completed in 2023, with the implementation of Crossrail. 
As a result car parking spaces have found themselves in less and less demand, with some of the original spaces built for One Canada Square built over to provide expansion. 
Seeing this massive increase in public transport use, there has been a significant shift towards providing walking and cycle routes and a huge reduction in car parking spaces. As part of the  planning approval process, a maximum limit of 1300 car parking spaces for the entirety of Wood Wharf was imposed. 
Additionally, it is a designated car free development, so residents will be unable to obtain on street parking permits from Tower Hamlets council. 
Barking and Dagenham based Bike Dock Solutions have installed over 2,600 bike racks and storage cages on the Wood Wharf site.
A new bridge links Wood Wharf to the Canary Wharf estate so that access to public transport at Jubilee Place will be less than a 10 minute walk for the majority of residents.