A guide to Yoga in Canary Wharf
Urban Yoga
---
Find your Zen in Canary Wharf
With 2021 looming and New Year's resolutions arriving shortly, it's that time of the year when people are considering fitness again. Yoga and Pilates have rapidly increased in popularity over the last few years — and could be a great option for anyone looking to start a new fitness regime or mix up their existing one.
It is estimated there are now over 10,000 yoga teachers in the UK, with anywhere between 300,000 to 460,000 people taking classes each week.
Despite its reputation for office blocks and financial services, you'll might be surprised to known there are a wealth of yoga classes in Canary Wharf.
In this short article we will explain:
Why you should consider yoga
The best places to do yoga in Canary Wharf
Some of the types of yoga that Canary Wharf offers
3 reasons you should be doing Yoga and Pilates in 2021
Low impact for joint health, great for stress relief and flexibility — it's no wonder that the yoga and Pilates industry increased by 6.8% last year alone!
In a year of lockdowns and social distancing, yoga makes the perfect exercise when gyms are closed, social distancing is required or via online classes.
Here are three reasons you should consider a yoga class in 2021:
01
Lockdown worries
In March 2020, we saw the highest interest in yoga in the past five years, a peak that lasted longer than any of the earlier ones.

Finder — Yoga Stats
With stress and anxiety reaching all-time highs during the coronavirus outbreak and associated repeated lockdowns, yoga's calming effect is welcome.
02
Posture benefits
Modern lifestyles and the use of technology have brought many benefits, but also a wealth of neck and back pain issues.
A recent study into screen time estimated adults in the UK will spend 34 years of their lives staring at screens!
Sitting at a desk all day does nothing for your posture, which might explain the amount of yoga classes in Canary Wharf's office-packed district!
03
Flexible fitness
No, by flexibility we're just not talking about touching your toes! Yoga is a great form of exercise but unlike many actives requires little specialist equipment or room — making it very portable.
While attending physical yoga classes are great, yoga is also something you can do anywhere:
Apartment friendly
In the park
While travelling
If you're new to Yoga — or looking for a specific class — here's a variety of yoga options available in Canary Wharf.
Beginners Yoga in Canary Wharf — Yin Yoga
One of the most popular types of Yoga, Yin Yoga is a slower pace of yoga. The practise involves holding poses for a longer period of time — usually around 2 – 5 minutes.
This aims to target connective tissue — releasing joints, ligaments and facia, alongside strengthening bones
Yin Yoga
Deeper stretching focused on joints
Closer to meditation than exercise
Great for long term bone health and posture
Poses held for longer times than alternative yoga types
Yin Yoga is great for beginners, as the longer time in poses enables you to perfect the postures and your form. For this reason, Yin Yoga is often used as a starting point or foundational yoga, before branching out into faster-paced yoga involving more complicated transitions between poses.
Many people prefer Yin Yoga for its relaxing and meditational benefits, and while a good fit for beginners — it's enjoyed by Yogi's of all abilities too.
If you are just starting out and looking for beginners yoga in Canary Wharf Yin Yoga might provide a great fit for you. One great option for yoga beginners in Canary Wharf is Third Space.
Not only do Third Space in Canary Wharf offer Yin Yoga classes, they actually offer 13 different types of "Mind and Body" classes. These classes are made up of yoga and Pilates of all types; Yin, Vinyasa, Hatha and more. For this reason, Third Space is a great place for beginners, as with one subscription you can start with a Yin Yoga class then begin to explore different types of classes and find your fit.
Bikram yoga Canary Wharf (hot yoga)
Carried out in a heated room
Bikram studios are heated to between 30-40 degrees
Great cardiovascular fitness Hot yoga gives a more intensive cardio workout than traditional yoga
Bikram yoga Named after founder Bikram Choudhury involves 26 poses held over 90 minutes
Bikram Yoga — often called hot yoga — is a practise of performing yoga in a heated room for a more intense workout.
Classes are held at around 30 – 40 degrees — with the heat increasing muscle and joint flexibility — enabling proponents for Bikram Yoga to claim it leads to a much more intensive stretch and cardiovascular workout than other types of yoga.
In keeping with Canary Wharf's financial background, Bikram Yoga London's founders were both investment bankers who took sabbaticals to learn yoga as a way of relieving the stress from their high-powered jobs!
One of two central London hot yoga studios, Bikram London's Canary Wharf yoga studio is located immediately south of the main bridge to Canary Wharf — South Dock bridge — around 5 minutes walk from Canary Wharf jubilee tube station.
Bikram Yoga Canary Wharf offer a range of classes, from calmer candlelight sessions to high intensity pilates-based sessions known as Inferno Hot Pilates.
A friendly class, while offering intense hot yoga sessions that will challenge even the most advanced yogi, the variety of classes offered means the studio is also perfectly suited to beginners — or those that haven't done hot yoga before. The Canary Wharf hot yoga studio is also exceptionally accessible, offering classes 7 days a week.
One-on-one and corporate yoga classes in Canary Wharf
If group classes aren't your thing, one great option for yoga is the ability to practise online and instead attend occasional one-on-one classes to improve your form.
There are plenty of Yogis in Canary Wharf offering online and one-on-one sessions, in the comfort of your home, or theirs. Equally, if you're interested in a relaxed working environment you could join many other large corporates in booking yoga classes for work.
With such a large portion of corporate offices, it's no surprise to see that many of the yoga instructors have previously held classes for large multinational companies.
Here's a few options from renowned local practitioners for 1-2-1 yoga in Canary Wharf, and corporate yoga in Canary Wharf:
Adam Hocke
Offering private sessions, online sessions and a podcast, E14 local Adam Hocke has even given headstand advice to The Guardian!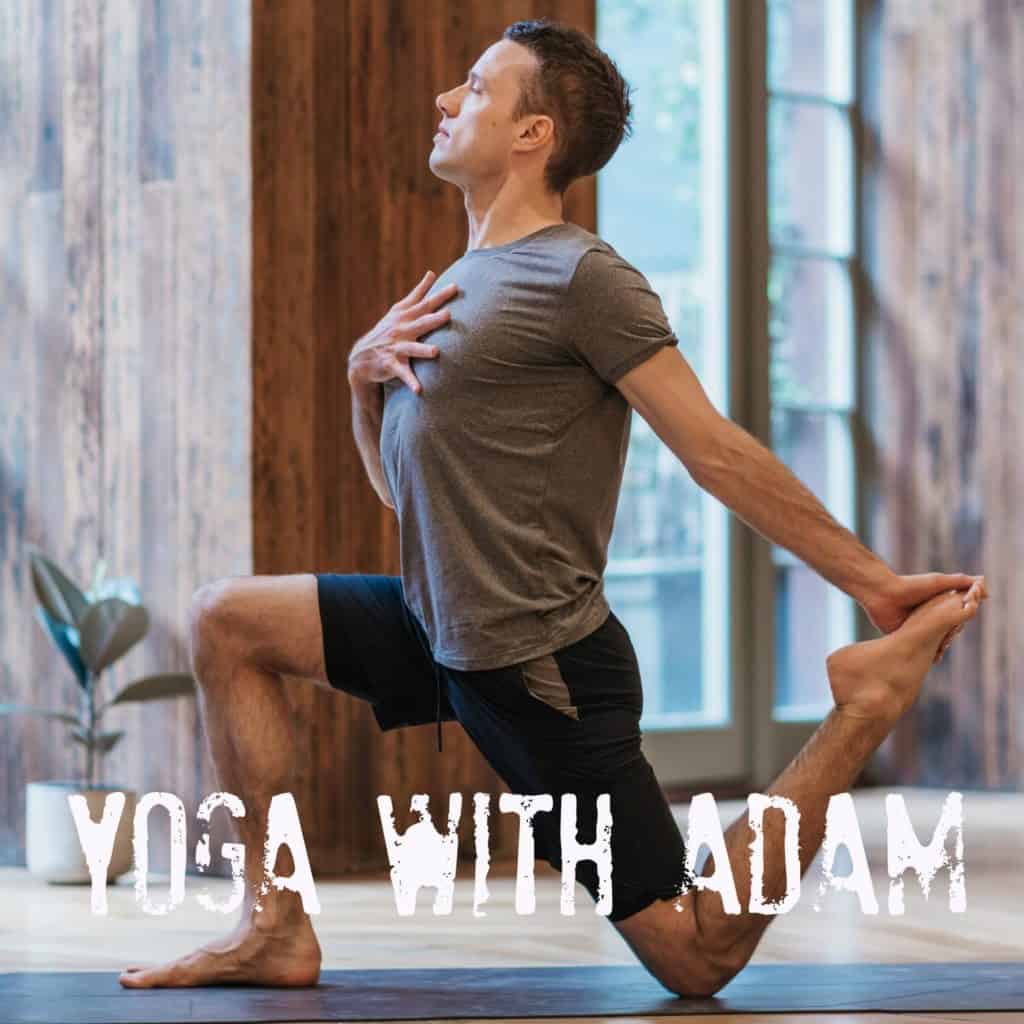 ---
Sarah Burgess
Sarah Burgess has been practising yoga since 2001 — and has taught a wealth of corporate clients including Merrill Lynch and Deutsche Bank. She also hosts 1-2-1 yoga tuition in Canary Wharf.
---
Agni Czarnecka
Yoga guru Agni teaches a wealth of yoga sessions from Baby Yoga to Hatha Yoga, from a beautiful studio in Burrell's Wharf — around 10-15 minutes walk from Canary Wharf's financial centre.
Yoga in shops! — Lululemon Canary Wharf Yoga classes
One final option that you may not have considered before are ad-hoc yoga classes — often held by shops! Canary Wharf has a wealth of retail options, and there are no shortage of sports shops for your Yoga gear.
Several sports brands offer expert tuition in-store — hosting community sessions that are free to attend — usually on a first come first served basis.
Of course, we have to float our own boat. Alongside our new Studio @ No.1 Carnaby offering London's hottest workouts daily, we offer over 70 free workout classes in our stores around the country.

Sweaty Betty
Both Sweaty Beaty and Lululemon Canary Wharf's stores are located in Jubilee Place shopping mall, and have previously offered free yoga classes.
Known as Wellness Wednesdays, Sweaty Beaty's Canary Wharf store sessions will make a comeback after the pandemic — and can be booked via instabook.
Previously also held on Wednesdays, Lululemon's yoga sessions in Canary Wharf are an early morning class — currently paused until 2021 due to COVID-19. To find out exactly when events are on, it's best to register on their site under the community section.
Summary
Yoga is a great way to get fit — for both your mind and body. The wealth of benefits makes it a great addition to any exercise regime, but it can also be great for anyone looking to start improve their fitness.
Canary Wharf offers a surprising variety of yoga classes, from one off sessions in stores, to intensive sweat-fuelled hot yoga!
With online sessions, the ability to practise with little space at home, and not requiring expensive equipment or large spaces, yoga is easy to try without significant investment!
Perfect for beginners and experienced practitioners alike — you should make 2021 the year to improve your yoga!