Third Space — Canary Wharf
Third Space
---
The largest luxury gym in Europe
An introduction to Third Space Canary Wharf
With beginnings dating back to Soho in 2001, The Third Space — as it was then known — is a fast growing, boutique fitness and luxury gym brand.
Acquired by Encore Capital in 2014 the group has undergone extensive renovation of all their gyms with their aim to be
Rebranded as Third Space, this is a brand with a strong focus on the ultra-premium end of Londons fitness market.
Third Space at Canary Wharf was the first — and is the largest — Third Space gym. It is often referred to as their flagship branch.
Third Space now have 6 clubs across central london:
Tower Bridge
Soho
Marylebone
Canary Wharf
City
Islington

This post will give you an overview of Canary Wharf's Third Space, alongside a look at some of the best — and some unique — features to this Canary Wharf fitness club.
So if you're new to the area — or just new to fitness to get 2021 off to a great start — read on! It's even got a Dojo.
The best gym in Canary Wharf
There are a wealth of fitness centres across Canary Wharf from boutique studios, to expansive affordable options like PureGym, and upmarket mega-brands Virgin Active and Nuffield Health.
However, three features make Third Space arguably the best gym in Canary Wharf.
01.

Size

Previously known as Reebok Active, Third Space Canary Wharf is located above Waitrose in Canada Square shopping centre.

Not to be outdone in the size stakes by the UK's largest Waitrose below it — Third Space is europe's largest luxury health club. It spans 3 floors of the vast building, occupying over 100,000 square feet of plush training space.
02.

Continued investment

Up-to-date fitness: After Encore Capitals purchase in 2014, between 2014 and 2018, Third Space invested £12m across Canary Wharf and their existing sites and there is no sign of this slowing down any time soon.
"We continue to invest in our existing clubs to enhance our member experience, and we have a strong pipeline of iconic locations that would see us achieve strong growth over the next five years in excess of our planned rate of one new club per year"

CEO Colin Wagget
03.

All-in-one package

With the level of size and investment in this flagship gym, Third Space is able to offer everything you could possibly want all in one place.

While the price tag initially seems significantly higher than Canary Wharf's other gym offerings, when looking and the sheer volume — and diversity — of the facilities on offer here it begins to make a lot more sense.

I think you would struggle to find another gym in the world that you could first use leading hypoxic chamber and spa facilities, followed by a world-class physiotherapy session. Then have lunch in the standalone restaurant — The Pearson Room — before deliberating whether to go climbing or attend scuba diving in the afternoon!
Canary Wharf Third Space classes and facilities
Classes
Before heading up the team at Third Space, their CEO founded cult spin class Pyscle, so it's no surprise to see that Third Space Canary Wharf offers classes that are worthy of any boutique "classes only" studio.
There is everything you can think of here — over 300 classes a week — ranging from Yoga to Boxing, and Street Dance to Triathlon Swimming.
In addition, there are a multitude of more traditional studio cycling and athletic fitness classes including their world renowned Formula 3class.
Facilities
With changing rooms more likely to be found in a members club, Third Space sets a high standard in all areas.
The facilities speak for themselves, but if you want a succinct summary, here's global PT and founder of 1st-man.com's Kris Sturney's take
I am a member of the gym and have been for the past 8 months. As a former personal trainer I believe this gym has the best facilities anywhere in Europe.

Fitness expert, Kris Sturney
As the largest gym in Europe — there's a lot of room for equipment at this Third Space.
With all those to keep you busy, 2021's gym resolution should be no trouble!
13 m high climbing wall
Boxing ring and punchbags
85 IC7 bikes
10,000 sq/ft of free weight training space
A huge athletic rig
Multiple cardio areas and the latest treadmills and cross trainers
Wattbikes & rowers
Tyres, kettlebells and an assortment of functional fitness equipment
Pilates and gymnastics equipment
23 m swimming pool
Hypoxic chamber
Medical Centre and Spa
Third Space Spa
Another Canary Wharf only Third Space offering — the Spa and wellness centre offers a vast range of treatments.
Like most Gym Spa's they offer massage, body treatments and facials. But aside from the usual Sports Massage and Well-being treatments, there are some more unusual treatments on offer at the Canary Wharf Spa.
There is a Lynton Laser system offering everything from hair removal to slightly scary sounding Fractional laser for dramatic aesthetic rejuvenation.
The award-winning ResurFACE fractional laser system delivers dramatic results for complete skin resurfacing.
Additionally, there's IV nutritional drips and a variety of injectable aesthetic skin treatments.
LIFT at Canary Wharf
As any frequent gym goer knows, at peak times — in the famous January rush — can be a nightmare if you are trying to use free weights.
Branded LIFT, this area is Third Space Canary Wharf's answer.
It is the only gym I have ever been to without any frustrating gym sessions and extended workouts due to over utilised squat racks and not enough benches!
LIFT is the largest free weight space in the whole of the UK, spanning 10,000 square feet of strength training heaven.
The equipment is all from top brands — Technogym, Freemotion, Cybex etc — and there are rows of squat racks and more olympic bars than you know what to do with. In total there are over 110 pieces of strength training equipment.
The Yard
Another thing that sets Third Space apart from other gyms is the level of continued investment. They keep their gyms up to date.
Testimony to this is The Yard at Canary Wharf's Third Space. Once a full-size indoor basketball court, the group noticed that it was under-utilised in comparison to other areas of the club, and there was rising demand for something else.
'The popularity of our Rig and Athletic class programmes has risen over 30% in the last two years, along with a demand from members for more open spaces for functional training. Lauren Wilson, Marketing Director at Third Space.
As a result Third Space hired architect and design firm Studio RHE to convert the area at Canary Wharf into a glistening 7,250 sq ft open-plan functional training area.
Completed in 2018, The Yard is seriously impressive. It combines dedicated spaces for cross-training and athletics with workout spaces — used heavily by the in-house PT team — and even a combat training area.
If you've spotted the theme — the largest gym in Europe, the largest free weights area in the UK — you'll be unsurprised to know the Yard is 'London's largest multi-purpose training space'
Canary Wharf Physiotherapy and Medical Centre
Mobility and recovery and rehab have quite rightly gained far more attention in recent years. Fitness trends — especially at the boutique end — have evolved from a "get-big-or-die-trying" attitude towards a more holistic health and wellbeing approach.
To provide for this groaning trend, Third Space Canary Wharf have brought in equipment from Reach Wellness — experts in mobilisation and movement preparation.
In addition, they have also opened a Physio and Medical Centre on the second floor of the gym, which looks to offer world-class treatment to everyone — it is open to Third Space members and the public.
All team members are registered with the Chartered Society of Physiotherapy and the Health and Care Professional Council. The clinical team is accredited with all UK health insurance companies, so fees can be paid directly through your insurer, subject to the terms of your policy.
The staff span a range of disciplines from Osteopathy to Radiology, with a core focus on Sports Medicine. The staff list speaks for itself, and the medical professional getting you and your dodgy ankle back to peak physical fitness is also likely to be advising Premier League athletes or the International Tennis Federation — so you're in exceptionally good hands!
UV Swimming pool
Canary Wharf's branch of Third Space boasts a 4 lane, 23-metre swimming pool. Alongside this there is a dry sauna and menthol infused steam room.
Kitted out with plants and sleek recliners, the pool and steam area looks far more like a hotel than your local leisure centre, but the most notable improvement is in the filter technology.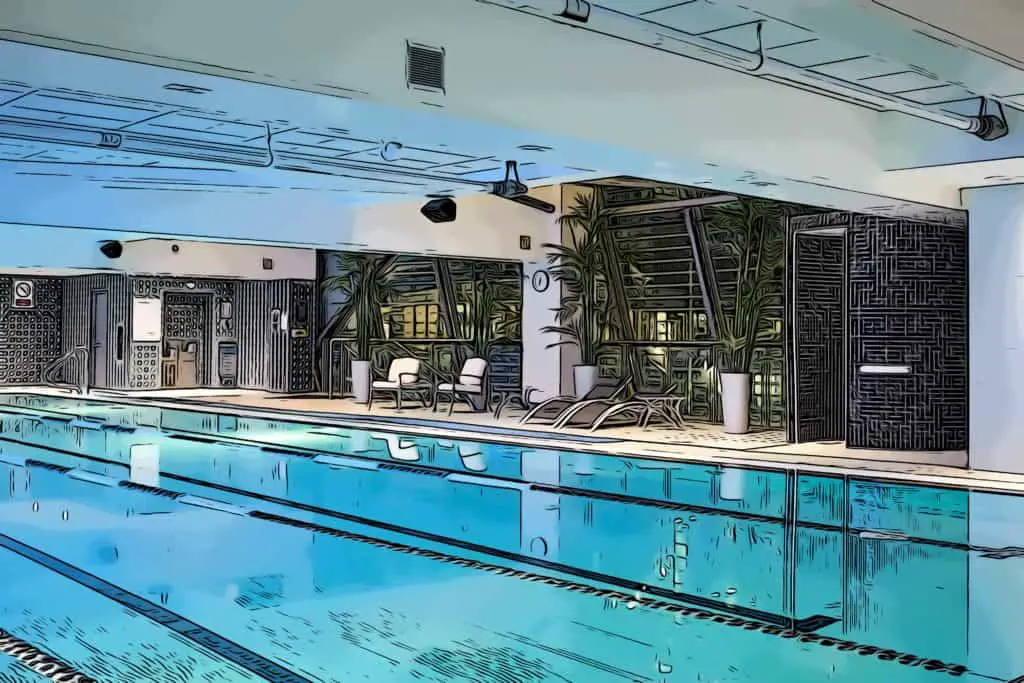 23 meter pool
4 extra-wide swimming lanes
Clean UV water filter technology
Steam and Sauna
Here UV light is used to purify the water, rather than large amounts of chlorine. It's an expensive upgrade — used at The Connaught and LabSpa — but it really makes a difference to your swimming experience. Swimming in clearer water without any stinging eyes or the lingering chlorine smell is a real highlight.
The pool also plays host to a Scuba Diving club — yes, really!
Based out of the aforementioned 23 m pool at Third Space Canary Wharf, City Divers Run the Third Space dive club. Open to both members and non-members, they offer a multitude of diving classes from fast track PADI certification to INON UK Level One Underwater Photography Course.
If you've never considered Scuba Diving before, or you want to get up to speed before a diving holiday it's great to have the ability to try it out from the comfort of your gym!
Coronavirus changes
Pre-coronavirus, Third Space at Canary Wharf already had quite comprehensive solutions to keeping the air in the club clean.
At the top end of the luxury gym market — but also situated throughout congested London — Third Space invested in upgraded air conditioning systems. There is a special focus on the often sweaty spin and HIIT studios. The air systems fitted at the Canary Wharf gym have ionisation technology and medical grade HEPA filters. This combination is claimed to trap 99.97% of airborne particles.
Post-lockdown there are several improvements, and the club have added a rigorous cleaning schedule. At the entrance there are airport style thermal imaging cameras to highlight guests with high temperatures.
Once inside they have increased cleaning schedules throughout the day, and are applying specialist 30-day antiviral protection, weekly, across all high touch surfaces.
Summary — Third Space Canary Wharf (2021 review)

With 2021 — and the inevitable new year's resolutions — rapidly approaching, should you look at joining Third Space Canary Wharf?
Definitely.
While Third Space undoubtedly comes at a premium price tag, it has an unmatched offering. There are some great gyms in Canary Wharf, but none offer the extensive range of facilities and classes on offer here.
Despite the impressive facilities, it's arguably the extent and quality of the 300 weekly classes that make the Canary Wharf branch of Third Space worth the monthly fee. With boutique gym classes around £20 a session, when you begin to add up the cost of any supplementary classes at some of the area's nearby boutique studios to your normal gym membership, the cost looks more reasonable.
Already having top quality air and water filtering, Third Space have boosted this with additional measures and responded quickly and effectively to coronavirus and the challenges 2020 has brought. It looks to be well-placed to deal with any uncertainty in 2021, and feels a safe and spacious place to work out.
If you are looking to invest or upgrade your gym membership in 2021, Third Space at Canary Wharf would be our first choice.