Everything you need to know about the largest Waitrose in the UK
---
Waitrose — Canary Wharf
Ever had date night in a supermarket?! Canary Wharf's Waitrose is the brands flagship store. With plenty of unique features — including a steak and oyster restaurant — this Waitrose spans 3 floors and includes Waitrose Home and Fashion sections.
Here's an overview what to expect, where to park, and how it became the UKs largest Waitrose. There's also breakdown of individual opening times — while the store remains open until 10pm, the Canary Wharf Waitrose wine bar closes at 8:30pm on weekdays!
About the store
Waitrose Canary Wharf opening hours
The supermarket section of the store has the longest opening hours, and is open 7 days a week.
| | |
| --- | --- |
| Monday to Friday | 07:00 – 22:00 |
| Saturday | 08:00 – 21:00 |
| Sunday | 12:00 – 18:00 |
Waitrose Canary Wharf opening hours
---
Steak and Oyster bar hours
| | | |
| --- | --- | --- |
| Monday to Friday | 08:00 – 11:00 | 12:00 – 20:30 |
| Saturday | N/A | 12:00 – 19:30 |
| Sunday | N/A | 12:00 – 16:30 |
Waitrose Canary Wharf, Steak & Oyster Bar opening hours
The Steak and Oyster bar can be found at the rear of the subterranean floor, in the far left corner. It is a quieter area of the store, with plenty of natural light so doesn't feel like you are stuck in the middle of the weekday crowds!
It opens for breakfast on weekdays, and lunch and dinner 7-days a week.
It is walk-in only, no bookings here, and the seats face inwards to the cooking area so you can watch your food being freshly prepared.
---
Waitrose Canary Wharf Wine Bar
The 30-seat wine bar is also found towards the back of the store, away from the checkouts. There are over 2,000 wines from 20 different countries to choose from at all manner of price points.
For wine aficionados, the good news is that wine prices are at the same rate as found in store, the only surcharge is a flat rate of £7.50 for corkage.
| | |
| --- | --- |
| Monday to Friday | 11:30 – 20:30 |
| Saturday | 11:30 – 19:30 |
| Sunday | 12:00 – 17:00 |
Waitrose Canary Wharf, Wine Bar opening hours
---
Waitrose Espresso Bar
Catering for the area's huge influx of office workers, Canary Wharf Waitrose's espresso bar is a standup coffee bar, located at the underground shopping mall level entrance.
| | |
| --- | --- |
| Monday to Friday | 07:00 – 17:00 |
Espresso bar opening hours
---
Waitrose Café opening hours
Need a coffee on a weekend or outside of office hours?
On the ground floor — above the supermarket level — you will find the Canary Wharf Waitrose Café.
Open 7 days a week the café upstairs serves hot and cold food alongside hot drinks.
| | |
| --- | --- |
| Monday to Friday | 08:30 – 14:30 |
| Saturday | 10:00 – 16:00 |
| Sunday | 12:00 – 16:00 |
Waitrose café opening hours
---
How to get to Waitrose?
Waitrose is located in Canada Square shopping mall in Canary Wharf.
Canada Square shopping mall is the main shopping centre, directly underneath the tallest building in Canary Wharf, One Canada Square. Waitrose Canary Wharf is located right at the eastern end.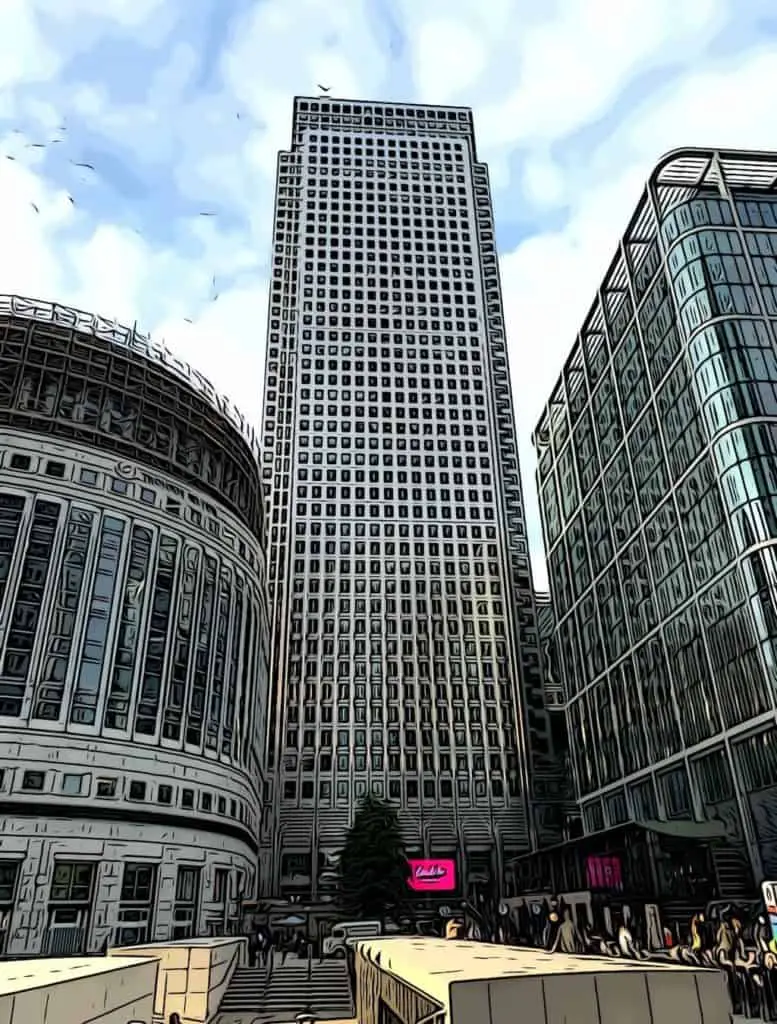 If you are arriving from the Jubilee line station and you want to avoid the rain:
At platform level, take either of the first two escalators up towards the main entrance and exit
After swiping out, turn right before exiting the station and follow the signs for "Canada Square, Churchill Offices and Shops"
Take the set of escalators up and into the shopping center without getting wet!
This will bring you out into the center of the shopping centre, with waitrose on your right hand side
Waitrose Canary Wharf free parking
Monday to Friday — 2 hours free parking if you spend spend £10 or more.
Weekends — 3 hours free parking if you spend £10 or more
The closest parking to Canary Wharf's Waitrose in is Canada Square Car Park, with an entrance on Montgomery Street, shown in the main photo. This can be found via SatNav using postcode E14 5EW.
Remember to ask for your parking ticket to be validated at the checkout to claim the free parking. Forget the coins — all the Canary Wharf Group carparks are now cashless.
John Lewis Canary Wharf
The first and second floors of the Waitrose in Canary Wharf are branded as Waitrose Home and Fashion. Once an entirely different store, after recent initiatives to bring the brands closer it is now essentially a mini John Lewis, and stocks their range of products — selling everything from coffee machines to TV's.
It is now listed as a John Lewis & Partners store. As a result, you can use click-and-collect to have items from John Lewis online delivered here.
Summary
By knowing their target audience and ploughing their largest ever single store investment into an already successful store, the John Lewis group have managed to keep the Canary Wharf Waitrose a flagship store for the brand.
There are plenty of unique features to the Canary Wharf store. Waitrose frequently use it as a staging ground for new products and services — such as DNA-based food advice — before rolling them out across the UK.
Remaining the largest store in the country, nearly a decade on, Waitrose Canary Wharf is still the best performing store in the UK.