Vetro London
---
30-storeys, West India Quay
Is this the UK's poshest Premier Inn? Vetro London is a 30-storey mixed-use tower a stone's throw from Canary Wharf.
A mixture of luxury apartments alongside a 400-room hotel, the development previously known as Westferry Quarter Tower is located in West India Quay immediately adjacent to Westferry DLR station.
There have been multiple plans for the 0.26 hectare site over the years, with developers Rockwell having approved plans for a 16-storey hotel and rejected plans for a 39-storey tower.
In 2018 plans for a 30-storey combination tower, providing 68 apartments alongside the 400-room hotel were approved. The hotel lease has been undertaken by Whitbread, to operate under the Premier Inn branding.
This is Rockwell Properties second hotel-combo development under construction in E14, with Canary Wharf's Quay House development also underway. This article will give a brief overview of the £151 million development, and take an in-depth view of the new apartments, features, and benefits to the local area.
---
Overview — Vetro, Canary Wharf
Designed by architects Simpson Haugh the 82 West India Dock road site is a combination of a 7-storey podium, and a slender tower rising to 30-storeys. The rear 28-storeys are occupied by the Premier Inn hotel with the new apartments spread throughout the front half of the building spanning floors 5,6 and 9-23.
While Vetro London is only around 700 m from the towering Canary Wharf estate, the local outlook changes significantly and unlike its financial counterpart, Limehouse has little in the way of skyscrapers.
As a result architects Simpson Haugh have designed the latest plans with a significant focus on the immediate surroundings, and blending the unusually tall building into the surrounding low-rise residential blocks.
This current iteration rises to just under 100 meters — nine floors shorter and nearly 40% smaller than the previously rejected application.
The design uses a 7-storey podium block to help blend into the surrounding developments, with local building Cayman Court a similar height.
Unlike the glistening all-glass tower architects Simpson Haugh designed for the nearby E14 development — Dollar Bay — this scheme has large amounts of brick. This is to help the new build blend into the brick DLR viaduct and surrounding buildings.

Construction timeline:
Planning permission granted in October 2018 by Tower Hamlets
Groundwork began in January 2020
Vetro London branded homes launched through Johns & Co in November 2020
Completion pushed back to early 2022 (from Q4 2021) due to delays
The 82 West India Dock Road site has been vacant for over a decade following the demolition of a former print works, warehousing, and office complex in 2008.
A difficult but well-located site, the 0.26 hectares Vetro London will sit in is an irregularly shaped island site enclosed by a hoarding and surrounded by highways.
Adjacent to Westferry DLR Station, the small site sits between West India Dock Road and Mandarin Street to the north; Salter Street to the west; and Westferry Road to the east.
Address
Vetro London, 82 West India Dock Road, London E14 8BH
5 features of Vetro London
1. Canary Wharf's first Premier Inn
Premier Inn, owned by Whitbread agreed to take a 30-year lease on the first 28-storeys of the development.
While the Premier Inn brand have mega-hotels at Gatwick and Heathrow, outside these this is the largest Premier Inn in the UK, with 400 rooms. The Canary Wharf Premier Inn will directly provide 138 full-time jobs, with 250+ indirectly supported.
It's arguably the fanciest Premier Inn yet. Designed by architects Simpson Haugh — who designed luxury central London developments, One Blackfriars and Battersea Power Station, the building is a sleek mixture of brick and glass and will be the tallest Premier Inn.
This scheme will achieve BREEAM 'Excellent' rating, the highest rating of sustainability used in the UK, and this Premier Inn is set to be a flagship hotel for the brand.
---
2. Vetro London luxury apartments
Spread throughout the 82 West India Quay site will is a mixture of 68 apartments including 47 high-spec luxury flats.
This is being marketed as Vetro London, and was launched for sale in November 2020. Vetro Canary Wharf has a separate lobby and concierge service to the Premier Inn hotel, located on the ground floor.
Apartments start on the 5th and 6th floors, with the remainder spread between floors 9-23. Developers Rockwell and architect Simpson Haugh are both familiar with internal partitioning of a development, with nearby Canary Wharf Development — Quay House — portioned similarly.
All the units are 1 or 2-bedrooms, with 6 duplex penthouses.
Luxury apartment breakdown
Eight 1-bedroom units
Thirty-three 2-bedroom units
Six duplex penthouses
Slightly setback from the Canary Wharf hub of skyscrapers, Vetro London will stand significantly above local development. As a result — and an advantage to locating all the flats above the 5th floor — is that all the apartments will have exceptional views across London regardless of orientation. The Penthouses are situated on the highest levels, and span floors 24-29.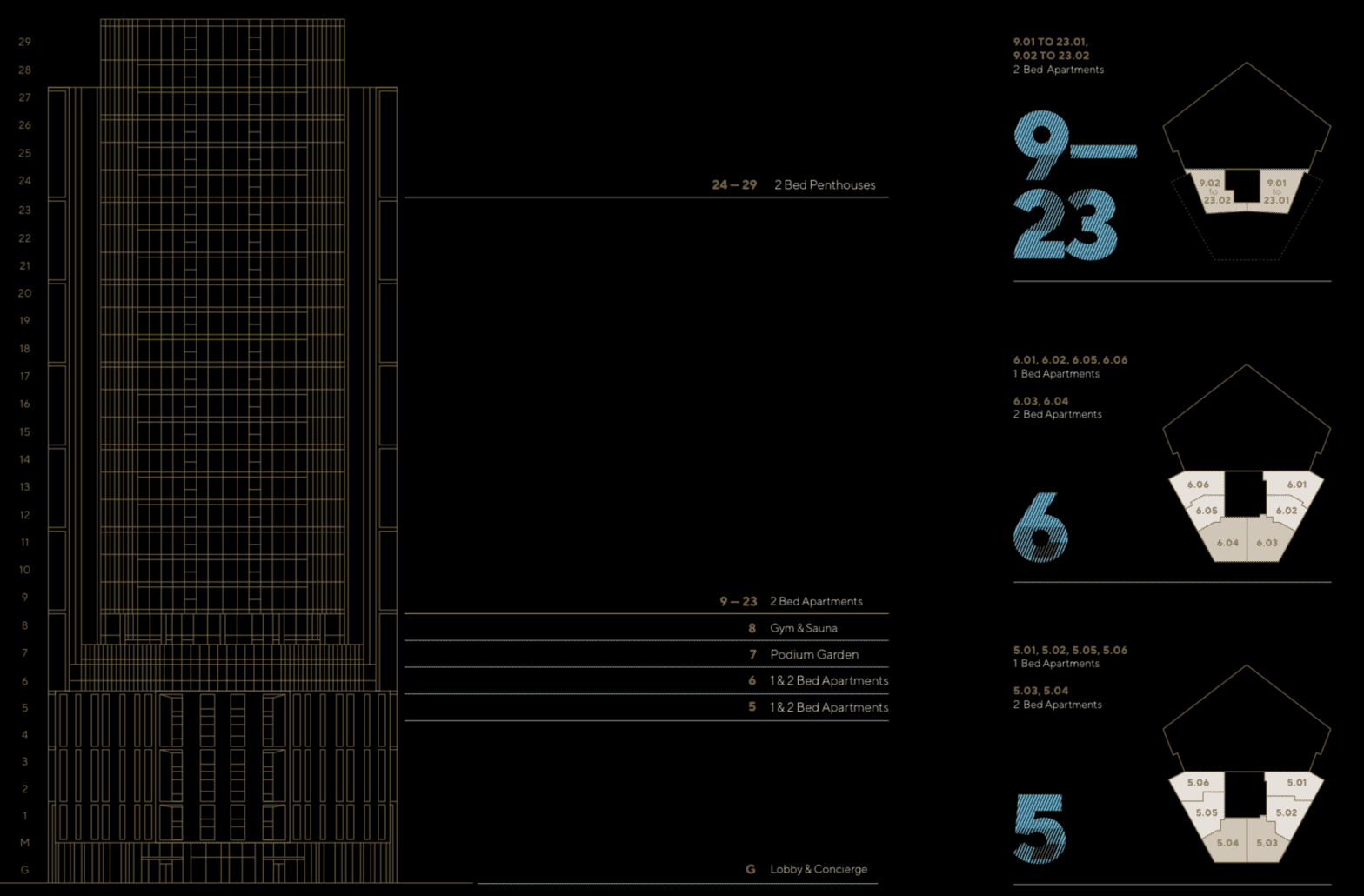 The apartments have a combination of winter gardens and Juliet balconies, with a residents terrace on the 7th floor.
In addition, Vetro London will have a small gym, with gym and steam room located on the 8th floor.
---
3. New affordable homes
Rockwell has partnered with Gateway Housing Association for Canary Wharf's Vetro London development. To meet the Mayor of London's Fast Track scheme for developments, 21 of the 68 apartments are designated as affordable homes to be available for local residents.
As the fastest growing London Borough Tower Hamlets has a constant need for new affordable homes, and this 35.2% portion is a significantly higher proportion than many new developments — as an example nearby Glengall Quay scraped through a recent planning application with only 16% affordable homes.
Gateway Housing Association is the largest provider of affordable housing options in London, and has taken a 250-year lease on the 21 affordable homes here located on the 5th and 6th floors.
While the Level 08 Gym and spa has been reserved for occupiers of the private flats only, Vetro London offers all the homes access to the landscaped rooftop garden and the 220 m children's play area. In addition, and to reduce charges for the affordable homes, while the facilities are shared the management and maintenance costs for the 7th floor roof terrace garden are covered by residents of the private flats only.
---
4. Community facilities
this landmark building which will be an important asset for the area, providing significant benefits for the local community with the creation of numerous jobs for local people, enhanced public realm and much needed new homes

Donal Mulryan, Founder of Rockwell
Squeezing the Canary Wharf Premier Inn and Vetro London development combination into a slender tower has enabled Simpson Haugh to free up space within the site which should improve the local area.
Landscaping at the site has been described as a 'green buffer and hotel frontage' around the proposed hotel and an 'urban arboretum' of tree planting within planning documents. The now-derelict 82 West India Road plot will have over half an acre of green space and 50 mature tree's planted on it, alongside facilitating improved access to Westferry DLR station.
In addition, there is ground floor retail, community space, and a children's play area. There is also a ground floor restaurant planned, with Whitbread currently owning the lease.
As a result, when planning permission for the site was put forward to local residents it was deemed a popular decision. Of the 62 nearby residents that wrote in to address the plans, 77% were in favour the Vetro Canary Wharf development.
---
5. Excellent transport connections
A real bonus to the 82 West India Quay site for both prospective owners and visitors to the hotel are its transport connections.
Access to the DLR will be further improved by remodelling of the access steps to Westferry DLR station depicted.
Rated 6a or Excellent on TFL's public transport accessibility scoring, the site is quite literally located opposite West Ferry DLR and spans a multitude of bus and DLR routes.
Access to Canary Wharf is 5-10 minutes on foot
the DLR takes 2 minutes (1 stop) to Canary Wharf DLR
7 minutes to Bank via the DLR
Future Elizabeth line train connections from Crossrail place are 10 minutes on foot
located to the northwest of Canary Wharf Vetro is also well-placed for the Uber Boat via Canary Wharf Pier (8 mins walk)

Cycle Access to Vetro London is also great. Cycle Superhighway 3 is located just 50 m away to the immediate south and spans 7.6 miles (ca. 12 km) through London.
Thirty-nine Boris Bikes — officially titled the Mayor's Cycle Hire scheme are also next door at the DLR station, Westferry.
---