9 Facts About Canary Wharf Station
Jubilee Place
---
Canary Wharf tube station — Zone 2
An impressive building, Canary Wharf tube station was designed by leading architect Sir Norman Foster. As part of the extension of the Jubilee Line, it was one of 11 new stations, with the initial design consultation beginning in 1990.
Canary Wharf tube station opened in 1999 and has rapidly grown to be one of the busiest tube stations in London. Arguably the most famous station on the Jubilee line extension, Canary Wharf station has won awards, hosted weddings, and even survived a zombie apocalypse! 
Here are 9 things you probably didn't know about Canary Wharf tube Station.
---
It costs £1.3m a year to advertise there
Anywhere with over 55 million visitors a year will obviously be able to command a high price for advertisements. 
What really sets Canary Wharf tube station apart in terms of advertising is the type of visitor.
A huge component of the travelling public exiting through here will work in the financial center, or One Canada Square itself, and the area is frequently covered by journalists.
This ensures that adverts here will receive publicity but will also be targeted at clients that are traditionally time poor and disposable income rich, making it a sought after place for many companies to set up a stand. 
Advertising space starts from £3542 per day, and for that you get… lighting. Signage, parking, photography, even Wi-Fi is an additional extra! That's the price you pay to advertise in an area with an average income of over £100,000 a year. 
---
Canary Wharf station is in Zone 2 (currently!)
Canary Wharf's tube station is located in Zone 2. But it might not stay there! There are plans to switch the station to Zone 1.
Why Zone 1?
TFL funding was stretched to breaking point due to Crossrail delays prior to Coronavirus — since the pandemic the financial situation has only got worse.
Transport ministers were looking at ways to generate more income.
Moving Canary Wharf station into Zone 1 was looked at as one way to increase revenue as the area has a huge proportion of public transport users.
By changing the fare boundaries, workers would be travelling further into Central London, resulting in Canary Wharf's wealthy workers paying slightly more money to come to work.
If implemented this small change to station zoning rules is forecast to add up to over £25 million a year in revenue for TFL from 2022 onwards.
---
It was voted the best transport building in the world
Canary Wharf tube station was designed by world leading architects Foster and Partners.
British architect Sir Norman Foster and his company have designed a whole host of famous buildings from HSBCs flagship office in Hong Kong in the late 1980s, to Wembley Stadium and the Gerkin in London. 
The design for Canary Wharf tube station has often been described as almost cathedral like. The distinctive feature being a cavernous internal space, only visible from above ground by three glass enclaves to help bring in natural light.
As a result it won 9 architecture awards in 1999 alone, and later won the Best Transport/Infrastructure Building In The World at The World Architecture Awards in 2001.  
The Canary Wharf group were obviously impressed too, and several years later brought back Fosters and Partners to design the new Crossrail station, Crossrail Place.
---
It was the scene of a zombie apocalypse
No, thats not the morning commuters arriving to their desks.
The apocalyptic, Danny Boyle directed film series features the Jubilee line station too!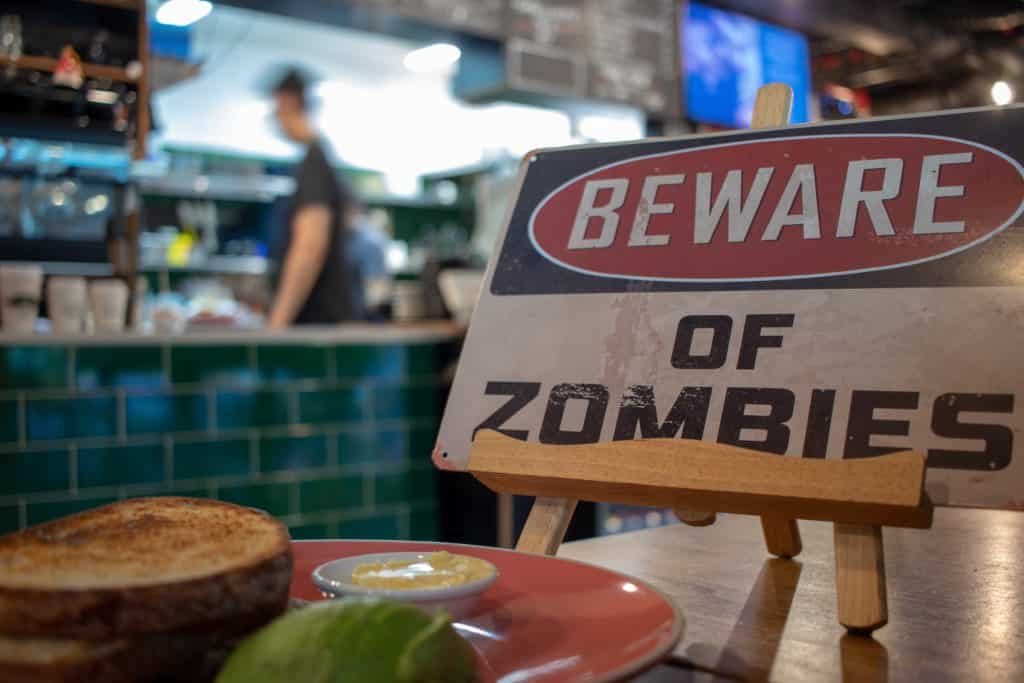 Canary Wharf was used for filming in the film 28 days later, and the sequel 28 weeks later. The sequel, 28 weeks later, featured Canary Wharf heavily, as it was used as the safe zone throughout the movie.
However the original film featured the iconic escalators at the main entrance to Canary Wharf Tube station, as the protagonist tries to use the tube to make his way to his parents house. 
While the four escalators at the main entrance get most of film credits, there are actually 20 escalators and three lifts throughout the station. 
---
You could fit the largest building in Canary Wharf inside
Most stations are big, but Canary Wharf is a behemoth. At 300m long, up to 35 meters wide and with ceiling heights of over 30 meters it has a total area of 31,500 square meters.
This means if you could take the 245m One Canada Square, the flagship and tallest skyscraper in Canary Wharf, and lie it down, it would comfortably fit inside. 
The construction method used to create this giant space is also quite unconventional as the area was a partially flooded dock beforehand. A construction technique called cut and cover was used. This is a technique often used for shallow tunnel construction.
A large trench was first excavated, before the roof – strong enough to hold an entire park above it – was constructed over the top. Major challenges in the construction lead to the project overrunning by 1.5 years, with the station taking 6 years to build in total.
---
The closest train station to Canary Wharf is London Bridge
With fast running DLR links and the Jubilee Line linking to mainline stations, Canary Wharf is very easy to access by rail.
The closest train station to Canary Wharf is London Bridge. And London's 4th busiest rail station is only 6 minutes away on the Jubilee Line!
---
Jubilee Park is the largest green space in Canary Wharf
While there are plenty of parks in the nearby area, the financial centre itself is not often associated with green spaces. Believe it or not, Canary Wharfs tube station is actually the largest area of green space in Canary Wharf. 
The reason for this is that the entire roof of the station was landscaped, and turned into a park spanning 10,000 square meters.
Planting was completed in 2002 by award-winning commercial landscaping company, Willerby Landscapes.
Despite being at ground level, this urban park is technically a roof garden, with the associated additional challenges that arise from a lack of soil depth.
As the Canary Wharf Group wanted the landscaping to keep up with the area, without waiting for planting to mature, over 250 mature trees from around Europe were imported.
Jubilee Park also has 22 linked pools, providing a cascading water feature that runs through, and serves to divide, portions of the park. 
---
Canary Wharf tube station is the busiest*
*On a single line!
With over 100,000 people a day working in Canary Wharf, and a huge proportion arriving by public transport, it is no surprise to see that Canary Wharf tube station is frequently in the top 10 busiest tube stations in London. 
The top spots are usually reserved for major rail interchanges, or major tube interchanges. As a result, stations like Waterloo, combining rail and tube are the busiest stations in London. 
However, if we filter out rail and take into account the fact that Canary Wharf tube station is only on the Jubilee line, you realise quite how busy this station is. Canary Wharf is actually the busiest single line station ever. 
---
It was the cheapest Jubilee line station
As Jubilee line station is located on the Canary Wharf estate, a private estate run by the Canary Wharf Group PLC, most of the cost of construction was borne without taxpayer assistance. 
In fact, the group lobbied intensively to have the Jubilee Line extension pass through the estate, recognising the benefit of the increased connections to the area.
As a result over £400m of investment for the Jubilee line extension came from the private company. So don't worry, the leading architecture didn't break the (taxpayers) bank!
It was a good job, as the rest of the Jubilee line extension did not go smoothly! The original cost for the 11 stop extension to the Jubilee line doubled to over £3.5billion. The construction time estimate, originally 1996, turned out to be woefully missed too. Full completion of the Jubilee line extension took two years longer than originally planned. 
It turned out to be quite a shrewd move on behalf of the Canary Wharf Group. A decade later in 2010, it was alleged that the construction of the Jubilee station had directly increased the land values of the Canary Wharf estate by over £2billion.