Phoenix Heights — Canary Wharf
Phoenix Heights
---
23-storeys, 4 Mastmaker Road
4 Mastmaker road — branded Phoenix Heights — is a mixed-use residential development located immediately south of Canary Wharf in E14.
It was a combined project between major developer Ballymore, and One Housing Group. With the development of Ballymore's first ultra-luxury property Pan Peninsula nearby, this development held the bulk of the affordable housing required by the massive 762 apartment Pan Peninsula scheme.
The sprawling 1.5 acre site is spread across 7 interlinked buildings. The two main towers Phoenix Heights East and Phoenix Heights West stand at 23-storeys and 21-storeys respectively. The remaining buildings are between 3 and 7 storeys. All the buildings are interlinked and surround two communal courtyards.
---
Phoenix Heights design
Designed by London based architects Brady Mallalieu, Phoenix Heights is an unusual design that has won many plaudits, including the 2010 Royal Institute of Architects in Ireland Best Building award, among many others.
The architects focus for this project was to create a desirable community feel, something that can be lacking in more clinical, modern apartment buildings.
As a result, the site revolves around a communal courtyard, garden and allotment section, alongside a community centre.
The site's location, to the immediate south of Canary Wharf's financial centre also significantly shaped the design. The building was tasked with trying to blend the significantly taller corporate skyscrapers of Canary Wharf with the low rise and commercial aspect of Millwall located immediately south.
In addition to the varying heights of the scheme architects Brady Mallalieu used an interesting combination of cladding to help the building mix between the low-rise brick built buildings and the steel and class clad commercial finance district.
The elevations are deliberately varied to allow the large complex to respond to local context around its different edges. Zinc cladding reinforces the corner of Mastmaker Road and Byng Street, while larch weatherboarding, with patches of red and orange fibre cement, provide a warm contrast to the cooler aesthetic of nearby office blocks.

Robin Mallalieu — Co-founder, Brady Mallalieu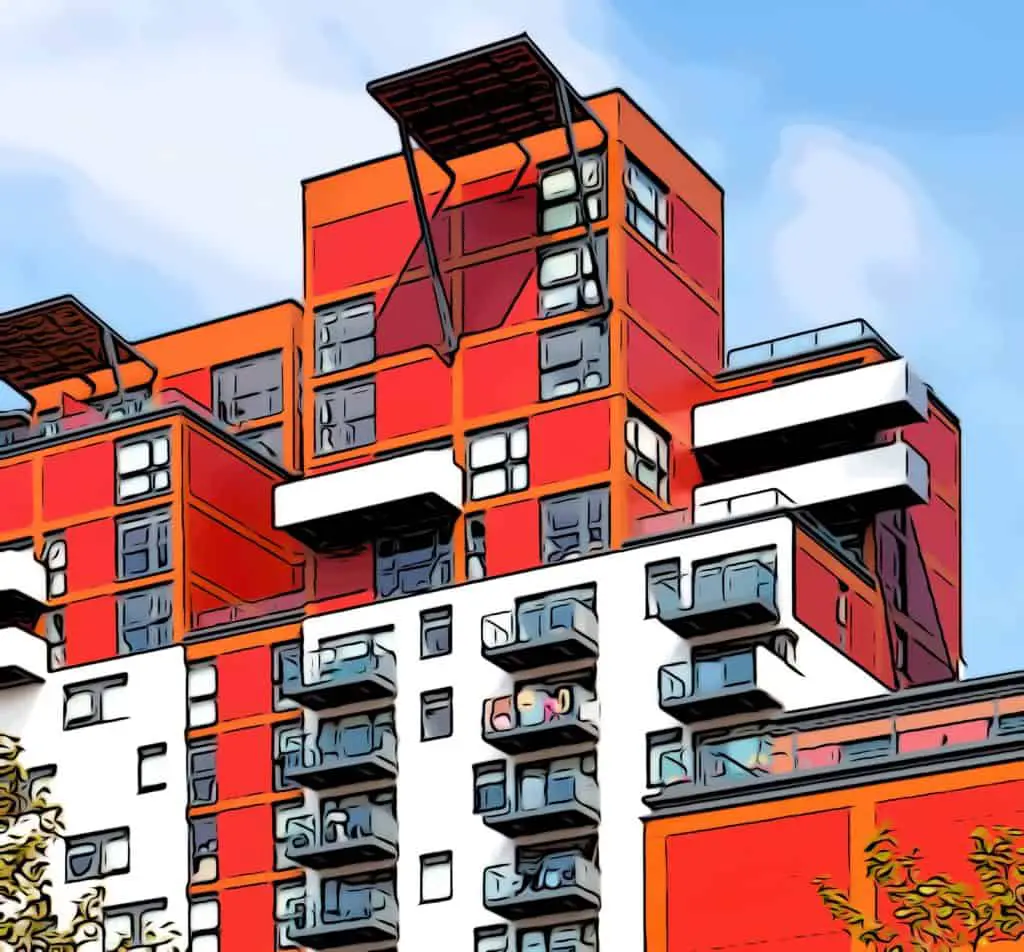 The design itself is unusual for its solar shading. Phoenix heights often is described as looking as if it is wearing caps, this distinctive design feature is known as, brise soliel.
These fixed-place solar shades help to regulate the buildings' temperature. In the height of summer the shades deflect the most intense midday sun, but they are positioned to allow sunlight throughout the rest of the day and in winter months.
Factsheet — 4 Mastmaker Rd
| | |
| --- | --- |
| Development cost | £35 million |
| Construction | June 2007-2009 |
| Completion date | December 2009 |
| Number of units | 199 |
| Affordable homes | 141 |
| Phoenix East Tower height | 213ft, 23-storeys |
| Phoenix West Tower height | 177ft, 21-storeys |
---
Location and connections
Address
Phoenix Heights, 4 Mastmaker Rd, Isle of Dogs, London, E14 9AJ
Phoenix Heights is exceptionally well located for Canary Wharf, with access to the Jubilee tube line under 10 minutes walk across South Dock bridge. The closest DLR station is South Quays, at 5-10 minutes walk.
There are limited parking spaces, and the development is accessed via Byng road, just off the main east-west route across the Isle of Dogs, Marsh Wall.
---
4 key features of Phoenix House
1. Community space
Community space was designed as an integral part of the project and Phoenix Heights incorporates a rooftop football pitch — situated on top of the five-storey community centre block — alongside a surprising number of community facilities.
Both ground level courtyards are south facing, to make the most of natural sunlight, and central to the development is Phoenix Heights Community Centre, run by One Housing.
The community centre facilities:
Meeting rooms
A free internet centre
Rooftop astroturf football pitch and changing rooms
Soundproof recording studio space

In addition to the community facilities, the commercial unit within the eastern tower of the 4 Mastermaker Road site houses the popular Turkish restaurant Moira.
---
2. Environmentally friendly
Like its luxury counterpart — Pan Peninsula — Phoenix Heights also used an energy-efficient power generation system for the building. This is known as a combined heat and power system (CHP).
The benefits to this system, more advanced than a simple central heating system many modern builds have, is that energy recovered in the process of generating electricity for the building that would otherwise be wasted, instead is used to heat the building. As a result, CHP systems generate approximately 30% less Co2 emissions, but also reduce the average energy bill by around 20%.
In addition, there are numerous environmentally friendly features aimed at increasing local biodiversity:
Green walls
Bird boxes
Bat boxes
Insect bricks
Biodiversity or Green roofs

This helped Phoenix Heights win the 2007 Sustainable London Award by The Building Centre. In addition, before the Sustainable homes schemes introduction in 2008, new residential developments where certified using the EcoHomes standard. Due to the green credentials at 4 Mastmaker Road, the development was awarded an EcoHomes Excellent rating, the highest available.
---
3. Family sized
There are two main problems for families in many local developments
Many developments have very limited 3/4 bedroom homes, with the majority being 1 and 2-bedroom apartments
Larger homes are often the most expensive, due to their views and placement — usually as penthouses — within the towers
Only one nearby development provides affordable 5-bedroom homes in the Canary Wharf area — Horizon Tower.

Unlike many developments, the architects sought to improve these features to make Phoenix Heights more suited to local families. Of the 199 apartments, nearly a third (62) are three and four bedroom homes.
There are a variety of outside spaces, terraces and balconies within the development.
In addition, the usual placement within the building has been reversed. The highest flats are 1 and 2 bedrooms within the towers, and the larger homes are towards ground level. This has several benefits.
By placing family homes at ground level, many units have their own front doors, and the number of occupants using the lifts within the two main Phoenix Heights towers is reduced.
Ground floor homes have access to their own gardens, with single occupancy homes having smaller balconies instead
Homes designed for families are closer to the communal courtyard and children's playground areas

---
4. Unique affordable housing
The reason this development has such a high proportion of affordable homes is that it was built in conjunction with the luxury Pan Peninsula development, around half a mile further along Marsh Wall road. As part of the negotiations with Tower Hamlets council the Phoenix Heights development was created with a substantial portion of affordable homes for the local area.
Developers Ballymore worked with local authority housing specialist One Housing Group to provide affordable homes that were in demand
As a result, not only does the 4 Mastmaker Road site have a larger proportion of family friendly homes there is also much more variety within the individual units.
The distinctive design means that of the 199 apartments, there are 58 different types of units — which must be a record for the area!

In total, there is a wide mix of housing tenure at the site, helping to go some way towards alleviating the areas need for more affordable housing options.