Student Halls + Canary Wharf McDonalds
---
McDonald's in Canary Wharf is back — well, shortly! An ambitious scheme to redevelop the 0.4 hectares, 2 Trafalgar Way site that acts as a gateway to Canary Wharf from Blackwall is finally underway.
The approved plans create 3 towering skyscrapers, designed with an intricate sky bridge link leaving the two tallest towers looking like a wishbone.
The difficult site is located to the immediate northeast of Canary Wharf, and is bounded on all four sides by roads. Trafalgar Way on the eastern and southern sides, Aspen Way to the north, and a main roundabout on the western side.
Part eco-friendly student accommodation, part office and commercial space, the 2 Trafalgar Way redevelopment also brings the return of Canary Wharf's McDonald's — closed in 2014.
Approved by Tower Hamlets in late 2021, the updated 2 Trafalgar Way plans signal the start of a new era for the site that has sat derelict since 2009. Here's the lowdown on what to expect.
---
Quick look
Two Trafalgar Square is a 3-tower design by London based APT Architects.
Location
2 Trafalgar Way, London, E14 5SP. It is located within a 0.4 hectare site at the northeast of Canary Wharf, next to Billingsgate Fish Market.
46, 36 and 28-storey towers
Development value: £220 Million
41,000 sq ft (ca. 3,809 m²) of office space and a McDonald's restaurant
1,672 student rooms
68 new homes within 9,071 sq/m of residential floorspace for University College London staff
Retail and office space located on lower floors
Crèche space with indoor children's play area
Work is expected to begin during the first quarter of 2022

---
A tale of two unique designs
This prime development area at the northeastern edge of Canary Wharf has sat undeveloped for over a decade. Interestingly, the previously approved plans for this development also featured linked towers in an unusual design known as the Helix.
Canary Wharf McDonald's
Closed in 2014, new plans for the Trafalgar Way site bring the only McDonald's in the area back to Canary Wharf — with a modern twist:
Access will be from the Preston Road roundabout, and this will once again be a drive-through, located on the northern side of the development
The restaurant will be joining the development's sustainability drive and will be supplied with 100% renewable electricity
While parking will remain exceptionally limited, an upstairs restaurant seating area is located on the first floor of the buildings' podium.

---
Build-to-rent and construction timeline
The build-to-rent market in the area is booming, with Canary Wharf brand Vertus owning 3 separate skyscrapers across the financial estate. Immediately south of the financial estate build-to-rent giant Greystar operate Sailmakers, alongside hotel and short term rental provider The Collective Canary Wharf.
The 2 Trafalgar Square site has been primarily earmarked for University College London students, and will be operated by Urbanest. Urbanest currently have 8 sites across London, and have been operating a modern twist on university dorms since 2008. The buildings all have a 24/7 security and concierge presence, alongside shared study and social areas similar to many other communal living developers.
Our vision for 2 Trafalgar Way was to create a vertical campus, where living, studying, and working successfully coexist, serving to create an enriching environment which will extend into the ground-floor public realm and beyond.

James Ewen, project leader at Apt
Student accommodation will be spread across the two tallest buildings of 46 and 36-storeys with 1020 and 652 bedrooms respectively. Within these buildings, each building will be subdivided into 4 student districts and linked on the 10th floor by the sky bridge.
4,078 sq/m of floorspace spread across two basement levels houses student amenities such as post collection and laundry rooms, alongside luggage storage, changing rooms for staff and thousands of bike storage spaces.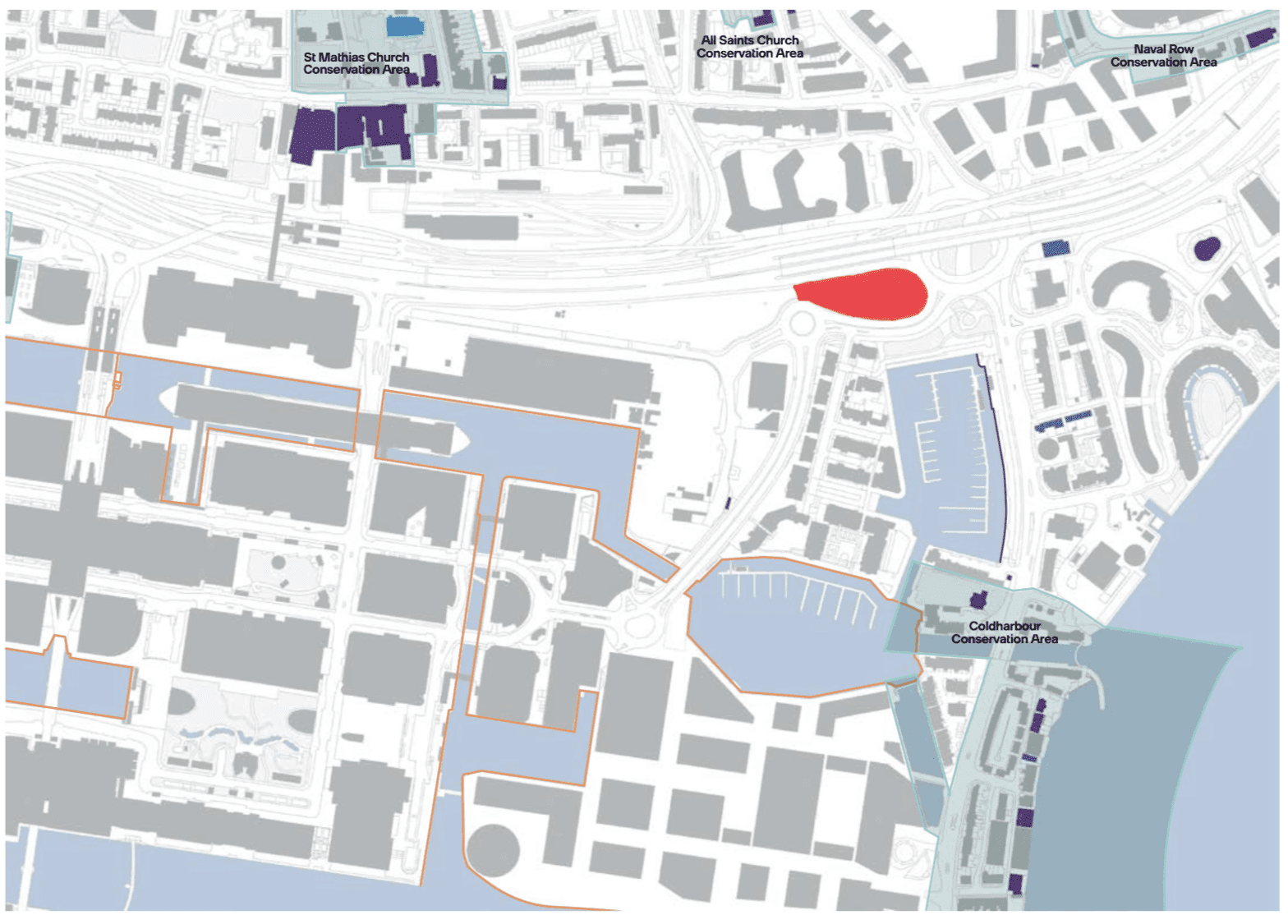 Trafalgar Way is not the first university building in Canary Wharf, with UCL's current School of Management located on the 38th floor of the famous One Canada Square. In addition to housing nearly 1,700 students rooms, the site will provide 80 rooms for UCL academics alongside commercial office space expected to be occupied by the university.
Construction will begin in the first quarter of 2022. There is an ambitious 3-year construction schedule, with aims for the project to be ready to house UCL students from the 2025/26 academic year.
---
5 features about 2 Trafalgar Way
1. It's an impossibly small outside space!
LDA design, the landscape architects for 2 Trafalgar Way, and lead master planner for the nearby Olympic Park, had their work cut out from the beginning to turn the busy roadside site into usable outside space.
Despite the green exterior — there are sedum moss rooftops, two-storey external balconies planted with trees and ground level landscaping — there simply isn't enough room to provide the recommended outside space. As a result, 2 Trafalgar Ways' plans actually break ultra-high-density space rules.
The Greater London Authority plans require 1.2 hectares of outside space per 1000 inhabitants. The unusually dense living arrangements generated by student accommodation plans set up an impossible task:
Two Trafalgar Way's calculated outside space provision by the GLA is 2.21 hectares — obviously impossible with the 0.4 hectare site area!
By moving a children's play area, internally — located on the second floor — open space has been increased to 917 square meters
The outside space of 0.09 hectares is still well short of the recommended 2.21 hectares.

---
2. Tower arrangement: Blackwall vs Canary Wharf.
Located on the northeast edge of Canary Wharf, 2 Trafalgar Way sits between two clusters of high-rise buildings. Canary Wharf to the west, and the rapidly developing Blackwall Tall Buildings cluster to the east.
With this change in plans from the original 2-tower Helix design, to this 3-tower high density development, questions were raised about the existing townscape, with a significant portion of the initial design process linked to how to arrange the towering heights.
Should the 2 Trafalgar Way site link the two developments, or act as an extension of one or the other?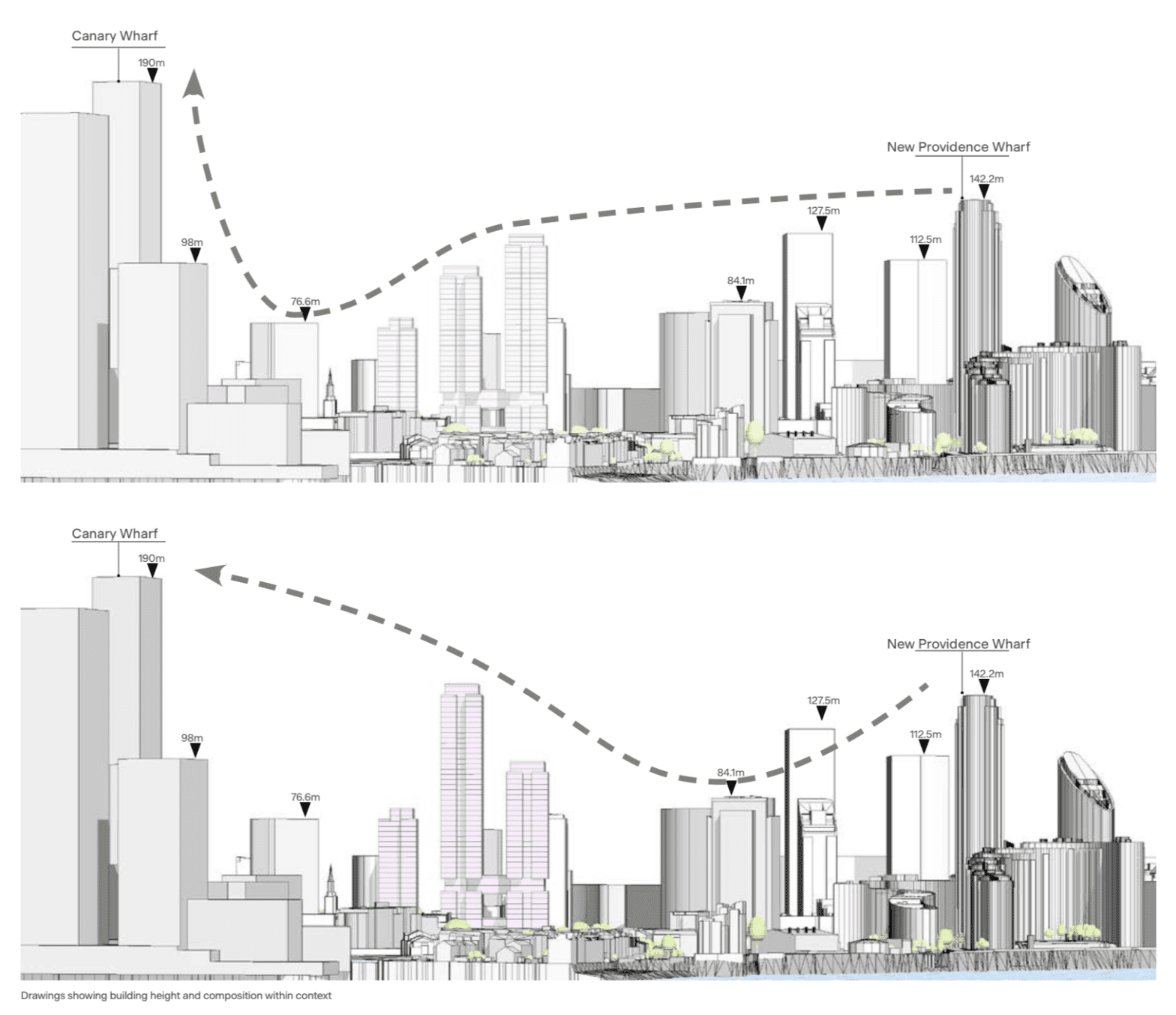 Tower Hamlet's planning reviews concluded two things:
The site should not help to blend the two tall building clusters together
The Blackwall towers should appear subservient to the Canary Wharf cluster

With the redevelopment of Wood Wharf extending the Canary Wharf eastwards, it was decided that 2 Trafalgar Way will become part of the Canary Wharf cluster when viewed from the south. As a result, plans for the varying heights of the three buildings were shifted to ensure that the two clusters remain separate.
This was achieved by reducing the overall development height to slightly below the tallest tower at Blackwall — 142 m New Providence Wharf — and shifting the order of Trafalgar Way's buildings to create a distinction when viewed from the south.
---
3. Creating an innovation hub.
At first glance the plans are dominated by student accommodation, however UCL have bigger plans for this new East London outpost following success at fostering start-up ventures, and innovation, alongside education.
Positioned in the heart of Canary Wharf and surrounded by global businesses, fast-growth technology companies and financial institutions, students have unique access to a depth of world-leading organisations.

UCL School of Management, Level 38 campus in Canary Wharf
UCL have experience with blending their classes with real-world industry knowledge in the Canary Wharf area.
In 2016, they announced a partnership with the Canary Wharf Group, embedding the School of Management on level 38 of Canary Wharf's flagship One Canada Square.
Five years later, following great success and postgraduate numbers increasing 70% year-on-year throughout coronavirus, UCL are expanding the School of Management to include the 50th floor of One Canada Square in addition to the 38th floor outpost.
Two Trafalgar Way aims to be a continuation of this innovative approach to higher education partnerships, and within the three towers there are provisions for commercial office space to facilitate traditional office functions but also start-up ventures.
---
4. Student spending power.
Changing demographics
The initial Helix design for 2 Trafalgar Way involved 396 new apartments.
By switching to a higher density 3-tower plan, alongside a change in use to student accommodation, this has been increased to 1,672 student rooms.
In addition, there are 68 apartments for academics and visiting lecturers.

As a result of this switch in demographics, impact assessments show that the local area is likely to benefit from substantially more spending
It is estimated the students will spend around £7.8m in the local area each year.
Studies have shown that 20% of total footfall for cafés, bars, and restaurants are represented by students.

The increased spending impact should also occur quickly:
Many new build developments in the area offer restaurant or café space which sits unused for several years. Developers slow construction awaiting higher margins, apartments are gradually sold, and bulk investors wait for property prices to appreciate before reselling. Communities take time to foster and build.
At the 2 Trafalgar Way site, the new UCL accommodation has an ambitious build plan — to be ready for 2025/26 academic year. Urbanest have an average of 99% occupancy rates across their other London university accommodation sites, and UCLs School of Management is oversubscribed.

---
5. A green facade — 2 storey sky gardens.
In addition to the green roofs planned for all the buildings, and the planted terrace space on level four, additional greenery has been added in the space-constrained plot by balcony planting.
Helping to take the stress after a busy day of lectures, and break up the predominantly urban environment, APT Architects have created a green exterior that runs vertically up the buildings.
The gardens are intended to encourage a sense of community and contribute to student well-being within each internal neighbourhood

APT Architects
Made up of two-storey external balcony areas, mature trees and planting are to be attached to the exterior of the building. These balcony gardens will form a feature point for the communal accommodation, with 1-4 communal kitchens overlooking each external garden.
External high-rise gardens featuring full-sized trees have been tried before — with Bosco Verticale in Milan the most famous example. While not as extreme as Bosco Verticale, 2 Trafalgar Way will join nearby developments such as Wardian London and 10 Park Drive, in putting green spaces at the heart of their designs.
---
Passivhaus — The most eco-friendly student building in Europe?
The plans for 2 Trafalgar Way have a very ambitious environmental target, aiming to be both BREAMM outstanding and obtain Passivhaus certification.
Wintergardens
There is one tradeoff for the high environmental standards — a lack of balconies.
Noise and the demanding insulation levels required for PassivHaus certification lead to choosing between wintergardens and balconies for the 2 Trafalgar Way developments apartments and student accommodation.
A combination of the sites' proximity to the busy Aspen Way and its resultant noise, alongside the need for carefully managed airflow to comply with Passivhaus standards, mean that the buildings amenities spaces above the podium levels are all winter gardens rather than balconies.
Unfortunately, even the two-storey external sky gardens are for show only, with restricted access to the green space only for maintenance staff.
Green features overview:
Reducing car use: The development will provide 1,500 bicycle spaces, and is well-placed for easy access to the upcoming Elizabeth line at Crossrail Place.
Air-source heat pumps are used to provide efficient heating and cooling within a building wide combined heat and power system
Rainwater harvesting, through "blue roofs" alongside basement water storage tanks allows rainwater to be stored and re-used as grey water for planting or toilet flushing
Triple glazed windows keep heat in, alongside heat recovery systems to take excess energy from heating to be used for hot water.
Enhanced green roofs use wildflower meadow planting — providing ecological value and an untouched space for habitation.
PV Solar panels located on the upper rooftops maximise solar potential by avoiding shading, and help contribute towards the building's electrical use
Summary
APT Architect's plans for the 2 Trafalgar Way are a rare exception to a well established trend in large-scale developments. Normally, when a site has sat undeveloped after approved planning permission for ambitious construction like the Helix Towers, the next iteration of plans are a watered-down, lower cost and complexity design.
The revision for this site is arguably more extensive. Trafalgar Way's new plans involve a higher density development, an additional tower, and more ambitious environmentally friendly features. In fact, the unique architectural design features from the original Helix linked towers has been improved, and is now a functioning walkway to link two clusters of student amenities areas.
With approved planning permission and an ambitious construction date — targeting completion for the 2026 student year — nearby residents shouldn't have to wait too long for the return of Canary Wharf's McDonald's either!