How to get to Canary Wharf by car
---
Parking | ULEZ | Charging Points and more
A huge proportion of people working in Canary Wharf arrive via public transport, over 85 percent according to Tower Hamlets data. Despite this, there are over 6000 parking spaces on the estate itself, and plenty more across the Isle of Dogs.
In fact, for its zone 2 location, its a relatively easy part of London to access via car.
If you are planning on visiting Canary Wharf for the shopping centres, staying overnight in a hotel, or just going on a drive, here's an FAQ to driving in Canary Wharf.
Driving to Canary Wharf
Can you drive into Canary Wharf?
Yes. However, there are security barriers at the entrance, and Canary Wharf is a private estate — so you could be refused entry in theory.
In reality the security staff are pleasant, and it is their job to maintain the security of the estate, not to prevent people from having a look around.
Is Canary Wharf in the Congestion Charge Zone?
No. Canary Wharf is not currently in the Congestion Charge Zone.
There are now three types of zoning areas in London, the Congestion Charge (CC) zone, the Low Emissions Zone (LEZ), and the Ultra Low Emissions Zone (ULEZ).
Canary Wharf is only in the LEZ and the ULEZ.
Is Canary Wharf in the Low Emissions Zone?
Yes. Canary Wharf is in the LEZ.
The largest of the three zones, the Low Emissions Zone is an area that covers the entirety of the M25. Canary Wharf is in this LEZ, however this zone currently only covers diesel heavy goods vehicles (HGVs).
Unless you are planning to arrive to Canary Wharf in an articulated lorry, you do not need to worry about it!
Is Canary Wharf in the ULEZ?
Yes. The Ultra Low Emissions Zone continues to grow. From the 25st October 2021, Canary Wharf and the Isle of Dogs are now in the expanded ULEZ.
You will be affected if your vehicle doesn't meet the ULEZ standards. As a rough guide this is any petrol vehicle made before 2001 and diesel pre 2015.
However, TFL have a good vehicle checker on their website, where you can enter your details beforehand and see if your vehicle meets the standards.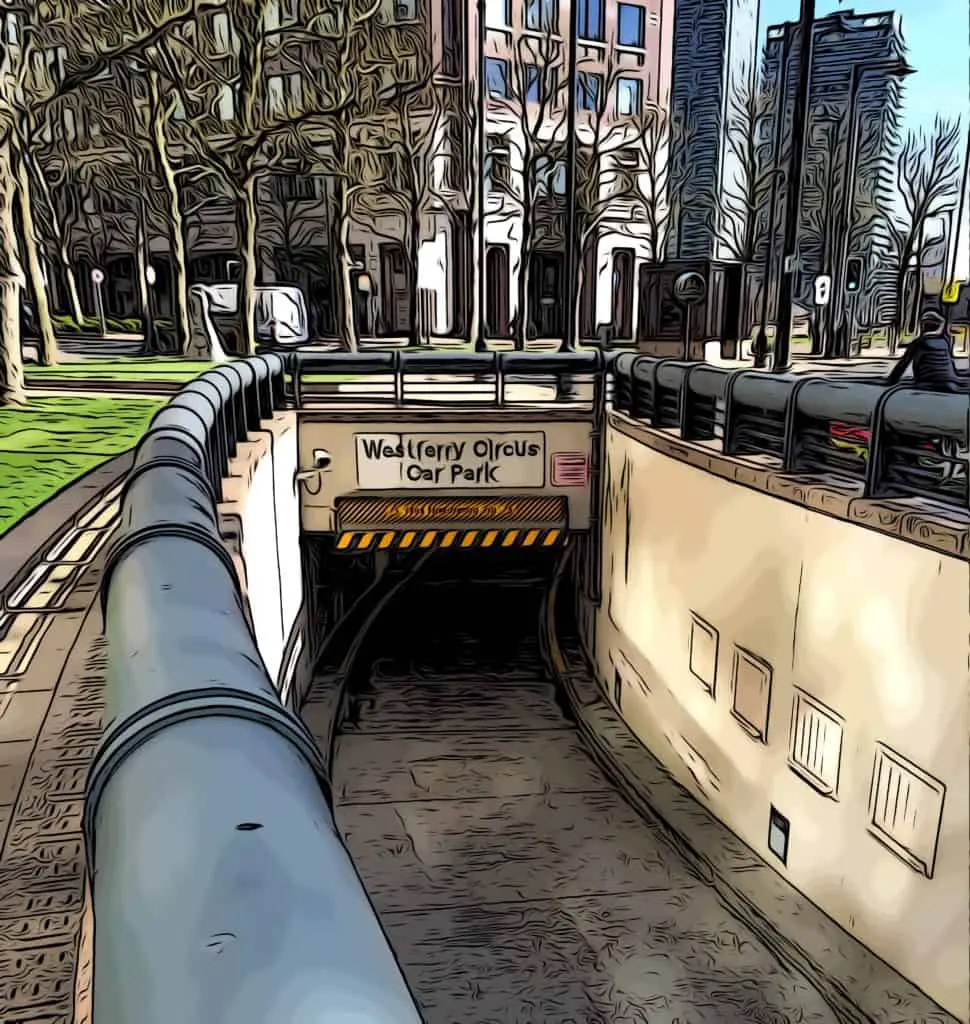 Parking In Canary Wharf
There are a multitude of options available for parking across Canary Wharf and the Isle of dogs. Here are a range of options from parking on the estate itself, through to free on street parking.
Canary Wharf shopping center parking
There are 4 car parks in total on the estate. Parking charges apply 24 hours a day 7 days a week. The latest car parking hourly rates can be found on the Canary Wharf website.
If you are using the shopping centers, the good news is you can ask for your ticket to be validated, and obtain 3 hours free parking. (excluding bank holidays). 
If you are visiting Waitrose in Canary Wharf, you can obtain two hours free parking during the week, and three hours free parking on weekends. For this you need to validate your ticket at the store when you spend over £10.
Free parking near Canary Wharf
While the estate itself is private and largely full of double yellow lines, there is on street parking across the rest of the peninsula within 10 mins walking distance.
As a general rule parking is free in the evenings after 5:30pm (until 8:30am) Monday to Friday, and free on Weekends.
The area falls under Tower Hamlets, controlled parking area Zone D. Details of the exact conditions can be checked on the Tower Hamlets website, but entering Marsh Wall into Parkopedia will enable you to filter by available streets.
Staying at a hotel in Canary Wharf?
Due to their central location, most of the Canary Wharf hotels offer very limited parking. In an ideal world it is best to use public transport to access them, as most of the hotels looked at have limited spaces and significant parking charges.
However its not always possible to use public transport. If you are staying in a hotel in Canary Wharf or the Isle of Dogs and arriving by car, here is a roundup of the parking at the main hotels.
Hotels with parking in Canary Wharf
Hilton Canary Wharf parking
Despite being the larger of the two Hilton Hotels, it actually has more limited spaces than its newer and smaller Hilton Curio Cousin! There are 25 spaces in total. 
| | |
| --- | --- |
| Self Parking | Yes |
| Valet Parking | No |
| Cost (per day) | £20 |
| Pre-Booking | No |
| Limited Spaces | Yes |
Hilton Canary Wharf parking
Radisson Blue Canary Wharf parking
There are limited spaces, but the Radisson Blue is the only hotel servicing Canary Wharf that currently offers valet parking.
The trade off is that this hotel is slightly further away from the center of Canary Wharf than many others, located just under a mile to the north east of the financial center.
Hilton Lincoln Plaza Canary Wharf parking
The newer of the two Hilton hotels on the peninsula does have underground parking, beneath the Lincoln Plaza Complex.
Designated hotel and restaurant spaces are still technically limited but the car park is frequently empty.
Britannia hotel
The most expensive on the list at £25 per day, it also has the largest car park at 90 spaces. Despite this, it doesn't offer any pre booking, even for hotel guests!
Car parking is located under the hotel itself.
Hotels without parking in Canary Wharf
Novotel Canary Wharf parking
This slender high-rise tower doesn't have any parking available onsite.
However, it is just across the road from the Britannia Hotel, so parking in their car park (at £25 a day, see above) could be an option if you need to arrive by car.
Marriott Canary Wharf parking
There is no parking available at this hotel and One West India Quay residential complex, but the hotel are able to arrange off site parking if required. 
This parking is at West India Quay car park, a 5 minute walk from the hotel. West India Quay car park is similarly priced to the other hotels in the area, at £24 per 24 hours.
There is a small discount (£2 per day) for those staying at the Marriott hotel.
Electric and Hybrid Vehicles
Are there car charging facilities at Canary Wharf?
Yes, there are multiple car charging facilities. These range from Tesla Superchargers, to pay as you use normal electric chargers on the estate itself, and across the Isle of Dogs.
Car charging on the Canary Wharf estate
Four Tesla Superchargers, alongside a bank of normal electric chargers are located in the Canada Square car park in the Canary Wharf estate. These are provided by the Polar Network.
Car charging near Canary Wharf
There are several options for electric charging across the Isle of Dogs within 10-15 minutes walk of the Canary Wharf estate.
Source London provide a bank of 4 car charging points located just off Marsh Wall, infront of the Lincoln Plaza complex. The latest charging availability can be found by entering Lincoln Plaza into their interactive station map.
In addition to the Tesla superchargers provided in Canada Square car park, the Polar Network providers also have electric charging points in two NCP carparks on the Isle of Dogs:
West India Quay carpark is 5 minutes walk to the north east of the Canary Wharf estate, near to the Marriott Hotel. This large multi-storey car park also provides electric car charging points. 
There is currently one Tesla Supercharger, and one additional charging point. Charging is free, and parking charges can be found at Sabaparking West India Quay.