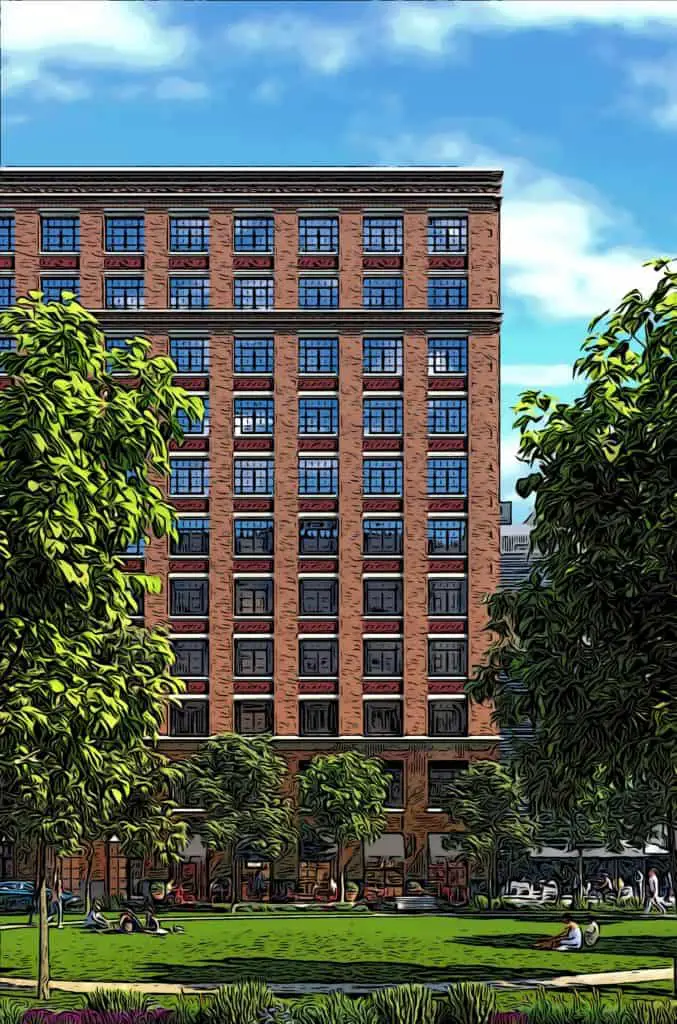 Manhattan loft living
---
12-storeys, Wood Wharf
Manhattan living comes to the UK! Nestled in the centre of the rapidly expanding Wood Wharf residential district lies 8 Harbord Square.
At 12-storeys with brick construction, you might be forgiven for thinking it is overshadowed by its towering neighbours such as 10 George Street, or Herzog de Mueron designed flagship, One Park Drive.
In reality, the demure building brings one of the Canary Wharf Group's more original takes on waterside living, and offers some of the estate's most interesting apartments! Constructed with a converted warehouse style — in a nod to Canary Wharf's docklands past — the Harbord Square apartments are a world apart from neighbouring high-rise towers.
Here's a brief overview of the Manhattan living concept, 8 Harbord Squares location and design, and a look at the pros and cons of one of the latest Wood Wharf developments.
8 Harbord Square —Quick look
Architect: Karakusevic Carson
Developer: Canary Wharf group
Height: 12-storeys
Type: Mixed use; residential, office, and retail
Apartments: 82 studio only
Address: 8 Harbord Square, Wood Wharf, London, E14 9QG
Floor plans of the rectangular 8 Harbord Square have been subdivided into 8 apartments.
Unlike some of the more intricately designed buildings — leading to a myriad of differing flat configurations, bedrooms, shapes, and sizes — this leaves the apartments at 8 Harbord Square remarkably straightforward. All apartments are studio flats in two sizes of around 800 and 1050 square feet (ca. 98 m²).
Each floor's 8 apartments are divided into two types, Gramercy and Prospect lofts:
Prospect lofts are the four central portions with one large feature window wall looking east or west.
Gramercy apartments span the four corners of the building, and are slightly larger, with two external aspects providing significant light.
All apartments have 2.9 meter high ceilings, a notable height increase from many high-rise developments nearby, helping to create the spacious feel. These ceilings are left as polished concrete, with sleek black fans alongside exposed conduit and piping providing the industrial aesthetic.
Internally, there is only one division to the rectangular rooms — the bathrooms. Here the low-key industrial style has been mirrored: freestanding baths, clean lines, and Crittall window shower enclosures adding character.
Aside from the walled off bathrooms, the rest of the apartments are completely open plan. Engineered wooden flooring and plain white internal walls allow the industrial style feature walls to stand out. These are the window elevations — two in the Gramercy and one in the Prospect apartments — where giant Crittall windows are set in exposed brick walls, and paired with wall-mounted black industrial style radiators.
---
Pros
Canary Wharf and the surrounding Isle of Dogs has some spectacular new developments featuring well-known architects, but not all age gracefully.
Miami-style neon lights once lit up premium development Pan Peninsular, but light complaints and changing tastes have led to them being quietly switched off.
Patchwork multi-coloured cladding alongside the chunky design of Lincoln Plaza led to the well-liked development to be named the Ugliest new building in Britain upon winning the 2016 Carbuncle Cup.

With most of Wood Wharf either newly completed, or under construction, it's too early to say if any of the planned developments will age poorly — however it's highly unlikely Karakusevic-Carsons building will find itself winning a Carbuncle Cup! Clean lines and high-quality brick construction has lead to a timeless, gimmick-free design.
Specialising in public housing and masterplanning projects, East London architects Karakusevic-Carson have won numerous awards for their high-end but functional designs.
At 8 Harbord Square they have taken inspiration from the vast number of warehouses that line the thames, and incorporated modern sleek lines to create a subtle but striking building from the outside. From the inside, high ceilings, spacious rooms, and vast windows create a blank canvass that can be rearranged and modernised however you see fit.
The Lanes, which will bring vibrant energy reminiscent of Soho with an eclectic mix of shops and bars, cafés and restaurants.

Canary Wharf Group
Eight Harbord Square is located in a privileged position in Wood Wharf. Located on the private estate, the development benefits from the safety and security of Canary Wharf, and is closer to transport connections than new developments further into the Isle of Dogs and Millharbour area.
Despite the proximity to the banking and tech hub, 8 Harbord Square's location feels detached from the financial estate, with its central location in the new residential district ensuring it is surrounded by residential buildings and parkland.
Immediately west of Harbord Square park, residents look out from to the east across the largest green space in Wood Wharf.

At ground level, the 8 Harbord Square's 2-storey podium forms part of a small cluster of buildings known as The Lanes and designed to be the hub of Wood Wharf's boutique shops, independent cafés and bars.

To the immediate west, residents will find themselves a stone's throw from both the floating restaurants of Water Street and futuristic grocery store Amazon Fresh.

Access to the Jubilee line is a 5-minute walk, with Crossrail access around 10-15 minutes walk.

With space at a premium in many nearby high-rise developments, plenty of apartments in the Canary Wharf area are often very comfortable, but only for their intended number of occupants. It is rare to find apartments so accommodating to guests.
Limited floorspace is reserved for comforts like walk-in wardrobes or small wintergardens, and the design of many skyscrapers can lead to smaller, intricately shaped rooms.
At 8 Harbord Square, the clean, rectangular warehouse style — alongside its notably tall ceilings and lack of internal walls — leads to a real feeling of openness and space. As a result, the expansive living areas really lend themselves to entertaining.
Unlike similarly sized one and two-bedroom apartments, there is no tradeoff between cramped breakfast bar dining or a three-piece suite. This layout provides space for large dining tables and a comfortable seating area.
Without internal walls — and fire regulations prevent owners from adding more internal dividers — the vast space is exceptionally customisable to add a bit of personality. Whether that's to accommodate a home office or giant dining tables is up to individual owners.
With such an expansive space to design from scratch, it can be a daunting task, but the Canary Wharf group have partnered with two design houses specialising in interior design, Monologue London and Naumov design, both offering full turnkey solutions.
Cons
While the warehouse aesthetic will suit many, these are essentially studio apartments with all their associated drawbacks.
The silent show homes look fantastic, but the realities of studio apartment living — a whirring washing machine in the living room, kitchen smells in the bedroom, a lack of privacy etc — all remain despite the hefty price tag. Is £1,200,000 too much for a studio apartment?
While spanning more than 1000 square feet (ca. 93 m²), and marketed as perfect for two bedrooms, a single bathroom remains even in the larger Gramercy apartments. Most apartments in this size and price range in the nearby area have 2 or 3 separate bathrooms and bedrooms. This reduction in convenience for the wow-factor of the open space is a significant trade-off.
While the additional space and airy feel may be perfect for entertaining, a shared bathroom and no internal walls is unlikely to be appealing to families, or those with overseas family, or guests staying overnight with them.
Completion of 8 Harbord Square is scheduled for December 2023. These luxury Manhattan style apartments will eventually occupy prime position in the centre of a thriving Wood Wharf, but it is likely to be a long-term investment with a winding road of construction ahead.
Soho's Carnaby Street and Covent Garden's Seven Dials feature prominently as visions for the surrounding intricate mixture of bars, restaurants, and boutique shops branded as The Lanes.
However, it is likely to take several years for the letting of shopfronts and establishment of restaurants before this vision fully matures.
In addition to retail establishment of The Lanes, there is significant construction surrounding 8 Harbord Square remaining:
Forty Charter Street is located to the immediate southwest, with current plans detailing a 185 m 50+ storey skyscraper that is yet to begin construction.
Located to the immediate south, buildings currently known as J1,J2 and J3 will be some of the last buildings completed in the 3rd phase of the Wood Wharf development. As a result, nearby construction will remain long after 8 Harbord Square is completed.

Since the completion of Ballymores Pan Peninsula in the late 2000s, new developments across the Isle of Dogs have featured an ever expanding amenities list.
Until now, Wood Wharf has continued this trend:
Vertus, the Canary Wharf Group's high-end rental brand with two outfits in Wood Wharf, offer everything from boxing rings, wine tasting and rooftop BBQs.
Most of 8 Harbord Square's neighbouring buildings, such as One Park Drive and 10 Park Drive, have amenities lists encompassing boutique fitness centres and deluxe spas.

Eight Harbord Square bucks the trend. There is a concierge, and a roof terrace available for residents to use, but this is a world apart from the private gardens, Third Space gym membership and swimming pools of neighbouring developments.
On balance, the excellent location of 8 Harbord Square means that there are plenty of nearby gyms and members clubs available. In addition, the minimal amenities reduce the service charge.
However, the estimated service charge of £5.98 per sq ft per annum is only around 20% less than the £7.33 charge of ultra-premium development One Park Drive, with significantly less on offer.
Summary
Eight Harbord Square is arguably one of the most interesting new developments in the Wood Wharf area. The Hackney-based architects have avoided joining in the area's race for increasingly tall and amenity-packed towers, and instead have focused on providing spacious high-quality living space.
All the benefits of a new-build home yet crave the 'urban loft lifestyle' of Manhattan and London

Brian De'ath, Director of Residential Sales
Due to the historic docklands, there are plenty of warehouse conversions that line the banks of the River Thames and the Canary Wharf area. While a new build may remove some character, this modern take has several advantages — there are no awkward hangovers from a historic conversion:
Draft-free. The exceptionally well insulated homes, require minimal heating in winter.
High insulation, and openable windows, without the large expanses of glass cladding found in nearby skyscrapers, negates the need for costly air-conditioning bills in summer
Uniform building design, with giant Crittall feature windows, means that all apartments are light and spacious without any awkward shaped or darker rooms.
Leading architects and high-spec design mean that even minor details like recessed electrical sockets for differing furniture layouts are conveniently located in hidden underfloor conduits.

Without a dazzling amenities list, or the sheer height of other recent E14 developments, 8 Harbord Square is arguably unlikely to make headlines.
The 12-storey building is not the tallest residential tower in Europe. It doesn't have the cachet of Herzog & de Meuron designed One Park Drive, or the amenities list of South Quay Plaza.
Instead, architects Karakusevic-Carson have achieved the wow-factor here through vast Manhattan loft-style living, creating a series of blank canvasses with endless possibilities for personalisation.
In a sea of high-rise identikit apartments, 8 Harbord Square is a refreshing change. There are certainly tradeoffs to studio apartment living, and these are arguably the most expensive studio apartments in the Canary Wharf area. However, despite the niche appeal of studio living, this development will undoubtedly be popular.