A collection of ideas for cheap days out
---
Crossrail Place roof garden
Days out in London can be expensive, but they don't always have to be. On a mission to make Canary Wharf more accessible and residential, the Canary Wharf Group have pushed for more activities and interactive art installations — many of them free of charge.
If you've never been to Canary Wharf, home to some of the tallest skyscrapers in the UK, it's also quite an interesting place to visit and have a wander around.
Here are 5 ideas to incorporate into a fun day out that won't break the bank.
A bonus free event in Canary Wharf
From the 2nd of December 2020 — 27th of February 2021 the Canary Wharf group are running their annual Winter Lights Festival.
This year its called Connected by Light, and while a smaller affair than normal, well worth a visit.
Learn about Canary Wharf's rich nautical history at the London Dockland Museum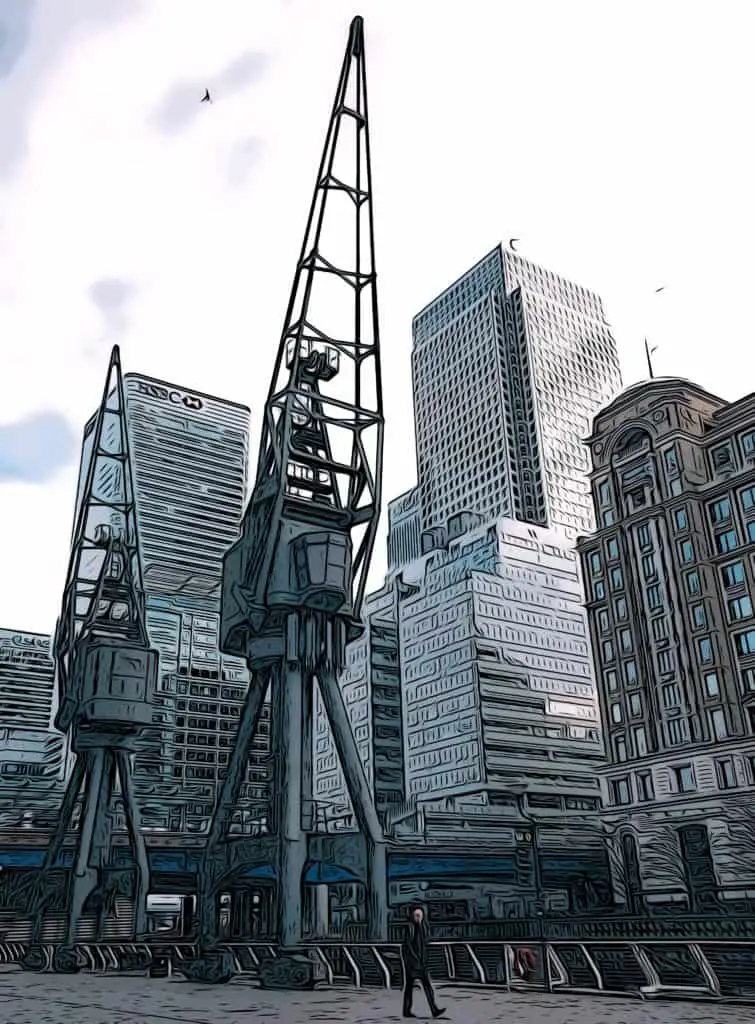 Pre financial center, Canary Wharf and the surrounding east London Docklands supported thousands of jobs and were the beating heart of Britain's global empire.
Thousands of tonnes of cargo were imported and exported from around the world at these docks annually.
There are several clues to this rich history dotted around the Canary Wharf estate. Dock cranes, anchors and various assorted nautical relics can be found on the pavements throughout the area. For a more in-depth look at the local history, the London Docklands museum provides a fascinating (and free!) insight.
Spread over 5 floors of what was originally the main warehouse of West India Docks, the museum houses a large number of exhibits, activities and talks. There's a cafe, restaurant, shop and toilet facilities.
Located just north of the Canary Wharf estate it can be accessed from the centre via North Dock footbridge. Or, if you are already on the DLR to get to Canary Wharf, stay on one stop and get off at West India Quay.
It's normally open 10am – 6pm every day of the week, but there are some current restrictions so its best to get up to date opening hours and book a free ticket on the London Docklands website, before you visit.
Get competitive at minigolf
Currently located in Bank Street park, Canary Wharf minigolf is a 9 hole mini golf course, perfect for a bit of competitive fun!
The estate has been running free minigolf and table tennis for several years now, with the location varying across the estate. As a rough guide minigolf generally open throughout the summer months until then end of October, and for 2020 its located in Bank Street Park.
Stewards are on hand to dish out the golf clubs, with the course open from 12-6pm weather permitting. There are also toilet facilities onsite.
It is completely free, and if it's currently occupied and you need to wait for a while, Bank Street park has plenty of space and places to sit.
Check out the plants at Crossrail Place roof garden
Not your every day train station, Crossrail Place has one of London's largest roof gardens on the top floor!
While it occasionally the space is used for music, theatre and even yoga, it's worth visiting for the plants alone. There's some interesting planting from all corners of the world as the theme for the garden is east meets west.
Canary Wharf is located north of Greenwich and the prime meridian. It is also the former site of one of the largest docks in the world, and Crossrail Place roof garden is designed to celebrate this heritage.
As a result you'll find towering bamboo, from the Far East at one end and unique ferns from New Zealand at the other. You will also see lots of crop producing plants, the likes of which were imported for years through the docklands.
These include coffee, sugar and of course bananas, imported from the Canary Islands, and the reason for the areas famous name.
Take a tour of Canary Wharf's growing art collection
The Canary Wharf estate boasts Londons largest collection of outdoor art, all accessible to the public for free.
Arguably the most famous are the 6 Swiss style clocks by German artist Konstantin Grcic. Located in Reuters Plaza, just in front of One Canada Square, the clocks seem to have been featured on every news shot of Canary Wharf having resided there since 1991!
There are regularly art exhibitions and performances held here, but the great thing about the majority of the main sculptural collection is that they are all outside and scattered around the estate.
No opening hours or booking required, simply print a map from the Canary Wharf website and go for an explore.
There are currently 67 exhibits listed on the official map. Some are slightly stretching the boundaries of "art exhibits" unless you are an art fanatic, iron railings and a wooden bench are listed as exhibits, but there are plenty of sculptures that are very worthy of a visit.
The most instagrammed award definitely goes to Richard Hudson's Tear. Placed in late 2018, it hasn't yet found itself onto the Canary Wharf exhibits official map, but you can find it located just outside of the entrance to the Jubilee line tube station.
The shiny surface of the teardrop shaped sculpture provides an interesting perspective of the towering skyscrapers that surround it.
Print a free story and relax by the water
Starting in 2019, Canary Wharf became the latest in a line of international locations including Hong Kong, Melbourne and San Francisco to install short story machines.
Select a genre and a length; 1,3 or 5 minutes, and hit print and the french made machines dispense free short stories.
If you are environmentally conscious you don't have to worry, the machines print using special ink on eco-friendly recyclable paper. There are 3 machines currently located in the Canary Wharf estate, in the Cabot Place and Jubilee Place shopping malls.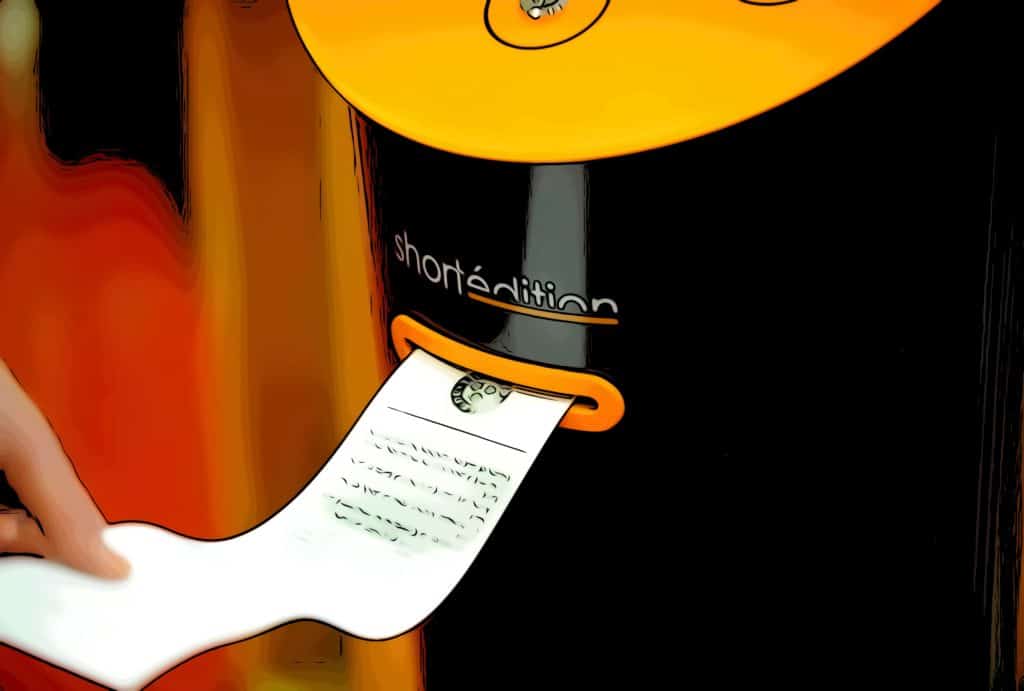 After grabbing a couple of stories, take a short walk east from the Jubilee Place shopping mall exit and you will arrive at the new Wood Wharf district. The new One Park Drive building is still currently under construction, but landscaping in front by the water is already largely finished.
This provides the perfect place to take a break from the bustle of the financial district, with space to sit and relax by South Quay Dock.
There is a garden and outdoor gym, in front of 10 George Street, but follow the steps down onto the dockside boardwalk for more seating and some lounging areas.
When the area is fininished the boardwalk will eventually be nearly double its current size as it is extended around in front of the One Park Drive development, and the area should house some nice cafes and bars too.