Last Updated on July 2, 2021 by CanaryDevelopmentAdmin
Connected by Light
---
Canary Wharf estate — 2021
June 2021 update: While this year's Winter Lights Festival is now over, for the first time the estate are holding a Summer Lights Festival until August!
In addition, several lit exhibits remain from Connected by Light as permanent art features, scattered around the Canary Wharf estate.
For information on which light festival works remain, and information on the free art trail, see the Canary Wharf Art Trail Guide.
With a focus on rebranding Canary Wharf as an interesting place in London in its own right — not simply a business district — the group have held free events on the estate for most of the last decade!
The culmination of the years free event schedule is usually the Winter Lights festival. The Winter Lights festival has been held annually since 2014, growing in popularity each year.
This year, with coronavirus restrictions placed on indoor events, the Winter Lights festival has been rebranded to "Connected by Light"
What is the Winter Lights festival?
The Winter Lights festival is a family-friendly event, spread over the entirety of the Canary Wharf estate. There are usually around 30+ exhibits of various sizes, displayed both indoors and outside.
The art exhibits are all illuminated, similar to the Lumiere festival that runs across the UK, and was displayed in London during 2018. For that reason, it's held in the darkest part of the year, running between December and January.
This year the festival is called Connected by Light, and is a smaller version of the festival with outside only exhibits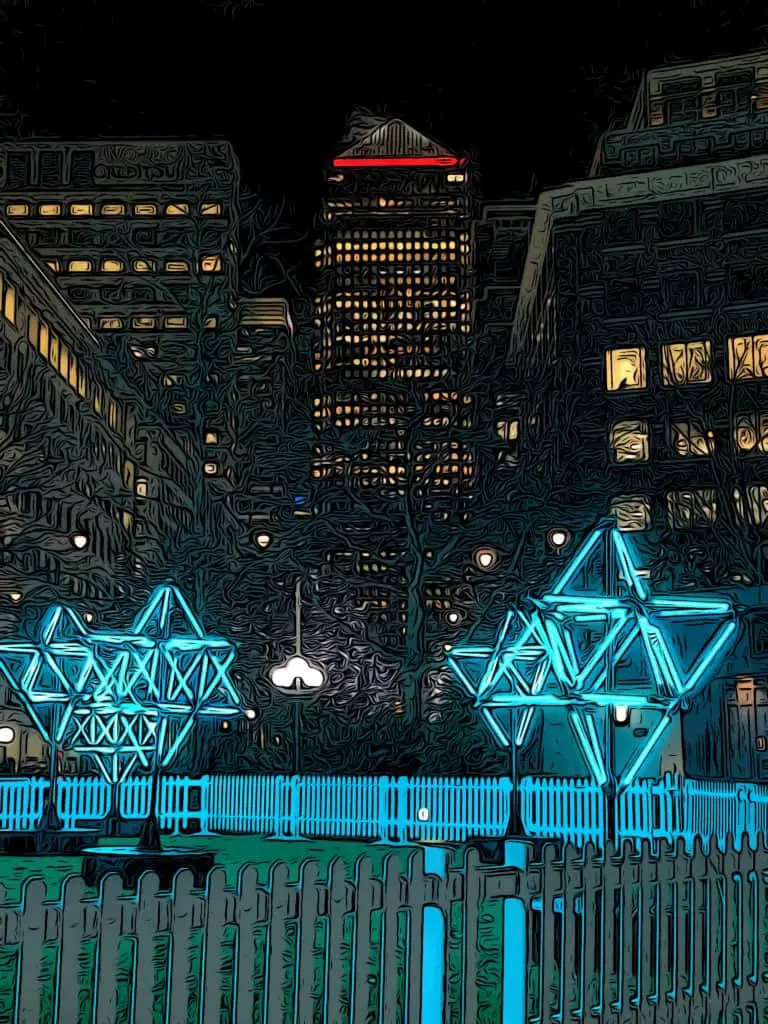 Connected by Light
A small number of pieces that can be appreciated from a distance, allowing us to safely bring people together once again to experience some of the UK's best light artists.

Canary Wharf Group
The current plans for 2020-2021 are for 9 larger exhibits to be held outside. However — planning events this year is very challenging — so it is worth keeping an eye on the Canary Wharf schedule.
December 2020 update : At the moment the event is open as planned — however it may be closed at short notice due to changing coronavirus restrictions or if social distancing rules are being flouted. The easiest way to view up to date information is via the groups Twitter
When is the festival held and how do I get there?
This year's light festival — Connected by Light — runs from the 2nd of December 2020 – 27 of February 2021.
Sunset for London throughout December and January is around 4pm, so ideally you will want to visit after then. The lights are switched off at 10pm.
The exhibits are scattered around the Canary Wharf estate and start near Jubilee Place, Canary Wharf's tube station.
There are several ways to get to Canary Wharf, the quickest and easiest from most parts of London being the Jubilee Line.
However, if you are worried this year about crowds, one suggestion would be to look at getting the DLR to Canary Wharf. You could also get off one stop earlier and exit at the northern end of the estate in West India Quay. In the evenings after rush hour, the DLR is usually significantly quieter than the Jubilee line.
Connected by Light's best exhibit (2020-2021)
This years top pick! — Murmuration by Squidsoup
The one to watch this year is arguably the easiest to find!
Located immediately outside the eastern exit to the Jubilee line station in Montgomery Square is an exhibit titled Murmuration.
The suspended bulbs each contain speakers, and the interconnected lights mimic flocking starlings with accompanying musical sounds.
5 top tips for the 2021 lights festival
If you haven't been to Canary Wharf or the festival before, it's well worth checking out. It's also rare to find free things to do in London!
Here's 5 top tips to help you navigate the Connected by Light event:
1 – Bring comfy shoes
Everyone talks about warm coats and jackets — which is true — but the lights' festival usually involves a surprising amount of walking!
The light features are scattered across the estate, so covering them all involves quite a trek.
There are plenty of places to sit though, glowing colour-changing benches are frequent exhibits!
2 – Don't worry about printing a map or working out a route
Like the Canary Wharf Art Trail, the Canary Wharf Group also offers a downloadable map with all the exhibits and a suggested routing for their Winter Lights events on their website. However, if you don't have a printer I wouldn't worry about it, as there are several support staff on the night outside the main tube and DLR stations, handing out pre-printed maps.
Occasionally, exhibits change last minute or get moved. So picking an exact route or singling out specific exhibits you want to see isn't advised, as they may change anyway. (This is a bonus of picking up a pre-printed map from the staff — with any unavailable exhibits on the day crossed out!)
3 – Go on a weekday
The busiest time for the Winter Lights festival always seems to be weekend days nearest to Christmas. There can be huge crowds, hence this year's decision to postpone the traditional festival and create a smaller outdoor-based event.
Some people love the buzz, but to get the best views of the exhibits and not be quite as packed-in, the best times to go are usually early December or January, during the weekdays.
4 – Bring a flask!
There are plenty of café's and bars scattered around Canary Wharf — and some pop up food vans too — that provide food and drink.
However, as it is usually cold and this year 100% of the exhibits will be outside for social distancing, it's probably best to bring a flask to keep your drink hot whilst you walk around to view the exhibits.
5 – Book early for food or drinks
Despite the reputation as solely a business district, Canary Wharf has a huge variety of food and drinks and some top restaurants.
If you are coming for the event it is nice to make an evening of it and get some food afterwards, but especially on weekends, it can be difficult to get a table.
This year with indoor seating restrictions, it is likely to be even more restricted, so if you are planning on eating or drinking in Canary Wharf afterwards, it's definitely recommended, to reserve in advance. For early birds, there is something for you too — Canary Wharf's breakfast offerings are great!